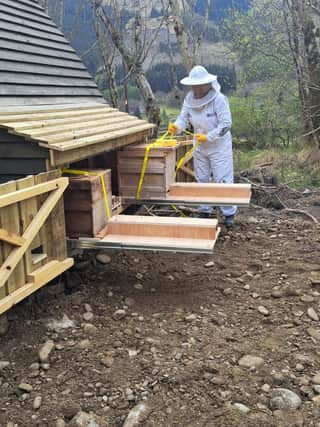 Apipods - a wooden hut with beehives around the exterior - have been popular in Eastern Europe for years.
The scent of honey and vibrations from the bees are believed to have healing properties in countries like Ukraine and Slovenia for treating respiratory conditions.
It has been launched in the grounds of Monachyle Mhor Hotel in Crieff, Perthshire.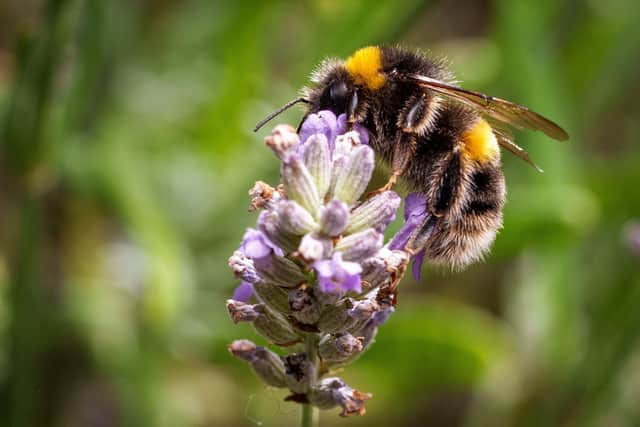 Charlotte Blacker, who runs company Herb Majesty, tried the experience in Slovenia and wanted to give guests a chance to relax in the same way.
Six beehives housing 60,000 honey bees have been placed in compartments underneath the pod, hidden in a wooded glade.
The bees come and go freely through their own special entrance and don't pose a threat to humans - and bookings have already been made for the launch in June.
Mum-of- two Charlotte, 49, said: "Bees are so therapeutic. The notes they buzz in help out nervous system, there are trials with people with PTSD.
"There's loads of therapeutic value with bees. We have the perfect spot to do it.
"We've got bookings already. Everyone has really embraced it.
"The hotel had been looking at nature tourism. We are in a wilderness with freshwater lochs, we want people to immerse themselves in the magnificent location.
"They are absolutely fascinating creatures and a lot of it is therapeutic for us, with antiseptic and antiviral properties.
"The benches are as close to the bees as you can be, the micro-vibrations are like a massage.
"It really is the most relaxing experience - and it's so good for you.
"Guests can relax or fall asleep on two sheepskin-covered beds inside the apipod which are situated directly above the hives.
"You de-stress listening to the sounds of the bees going about their daily life, surrounded by the aromas of honey, propolis, nectar and pollen.
"The vibrations caused by bees' wings also have a positive energising effect which calms and relaxes.
"I work closely with the Lewis family, who own Monachyle Mhor raising milk-fed Mangalica cross pigs in the woodlands here, so we already have a good working relationship.
"So I knew it would be something which they would love.
"Why not spend the day immersed in nature, wild swimming, hiking and relaxing over lunch before being lulled to sleep by the gentle vibration of thousands of tiny wing beats enveloped in the heavenly scent of warm honey from the hives beneath you?"
Chef patron Tom Lewis, chef patron said: "We absolutely love the idea of working in harmony with the bees to create this unique experience.
"It has been a really tough few years for the hospitality, but we always do things differently.
"The apipod fits with what we already do here, which is to provide our guests with great food, warm hospitality and unforgettable memories. "
The apipod costs £80 for single use, and £120 for two people.
Each 45 min session includes a hamper of fresh lemon balm tea, picked from the kitchen garden, and raw honey on unique Mena bread, and a snack bar made by Charlotte's health food company.