Swimming with sharks: The Scottish 'artivist' using ink to save marine life
Many might balk at the idea of getting in the sea with a shark the length of a shipping container with jaws as wide as a fridge, but not Rachel Brooks.
The Oban-based 'artivist' would leap straight in. She loves the ocean and everything in it, and has done so ever since she can remember.
After studying zoology and learning to dive amongst some of the world's most awe-inspiring marine life, Brooks has now carved out a multi-pronged career as an artist, podcast host and ambassador for marine wildlife conservation.
"After graduating I spent eight years working in the ocean, teaching people to dive in some of the world's most biodiverse reefs – guiding swims with charismatic megafauna and working with local communities," she said.
"That time has had a huge influence on my art work. My dive career started on the SS Yongala Shipwreck in Queensland, Australia, which is still one of my favourite dives.
"Situated in open water, this wreck has become a huge artificial reef – absolutely teeming with life.
"It was always surrounded by giant Queensland grouper, barracuda, giant trevally, sea snakes, turtles and sharks.
"One of my most memorable dives there was when two visiting manta rays used the wreck as a cleaning station and spent the entire time floating above us. It is such a magical place."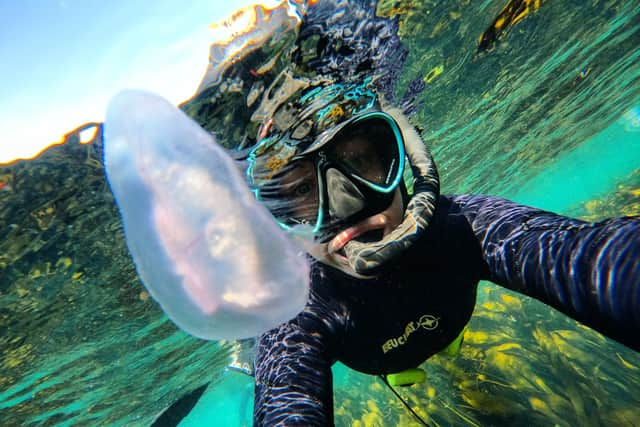 Brooks moved to the west coast of Scotland in 2020 to work on a research boat and has stayed on, still in awe of the cornucopia of sea life on the doorstep.
"Swimming with basking sharks is an incredibly humbling experience," she said. "These gigantic sharks with mouths spanning over a metre glide by without a second glance, honing in on the dense plankton that leads them to our waters.
"It is a really incredible experience to watch them silently go by.
"The seas around Scotland are incredibly productive during the summer months – huge plankton blooms, bait balls of fish, thousands of seabirds returning to breed and resident whales, dolphins and seals.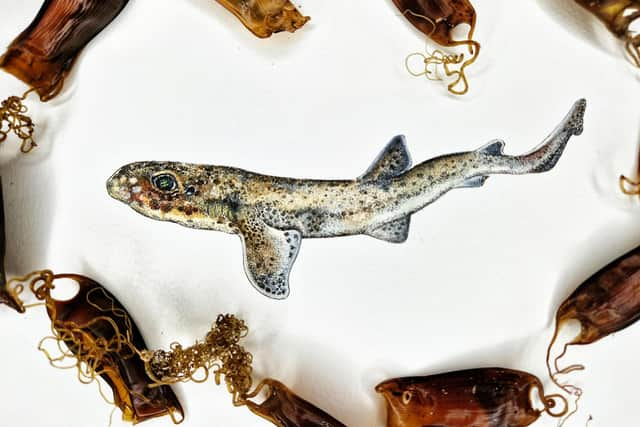 "It feels truly wild being out in the Atlantic, seeing a bait ball being dive-bombed by gannets as minke whales scoop up the fish from below."
On one of her favourite days at sea, Brooks watched two humpback whales feeding off the Isle of Coll.
"As the whales corralled the fish, the waters surface would start to simmer," she said. "Surrounding birds would follow the food, then the huge open mouth of a humpback would break the water.
"It happened time and time again. We watched them for hours. A super-pod of common dolphins were also taking advantage of the opportunity, as were a group of minke whales.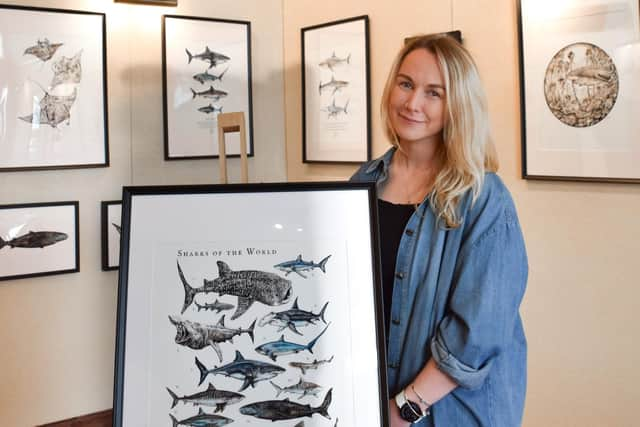 "It was one of those days that could have come straight from a nature documentary."
Brooks is working on Oceanic 31, a collaboration with the Shark Trust. She has donated an A1-size drawing of a basking shark to the exhibition, which has been touring the UK since November last year and comes to Glasgow next spring.
She also recently took part in the Argyll Hope Spot's artist residency, and will use the experience as part of a personal project on Scottish marine life in 2024.
Brooks can be seen in Samsung's Voices of Galaxy series, which features users who use their passion and creativity, along with technology, to make a positive impact.
Comments
 0 comments
Want to join the conversation? Please or to comment on this article.