Style icons: Why the coolest fashionistas dress to impress in preloved outfits
A vast mountain of discarded clothing has been building up in Chile's Atacama desert for a long time, much of it sent there after being thrown away by people living thousands of miles away on the other side of the world.
The pile has got so big it is now visible from space – and similar textile dumps are accumulating in lots of other parts of the world.
As well as its physical footprint, the fashion industry is also one of the biggest sources of greenhouse gas emissions globally, accounting for 10 per cent of the total – more than international aviation and shipping combined.  
Our throwaway culture and increasing shift to cheap, disposable, 'fast' fashion' and manmade fibres is causing an ecological disaster that needs to be urgently tackled, according to environmentalists.
In a bid to help tackle the problem, global anti-poverty charity Oxfam is spearheading its second annual campaign encouraging people to reuse and recycle their clothing and make more responsible choices when buying new outfits.
Choosing pre-owned fashion extends the life of garments, reducing the need for brand-new items which produce climate-damaging emissions and use precious water resources when they are manufactured.
Research by the charity has calculated that massive 12.5 billion kilogrammes of carbon dioxide emissions could be kept from entering the atmosphere if all UK adults bought half of their next wardrobe second-hand instead of new.
This is the equivalent to a plane flying around the world more than 17,000 times.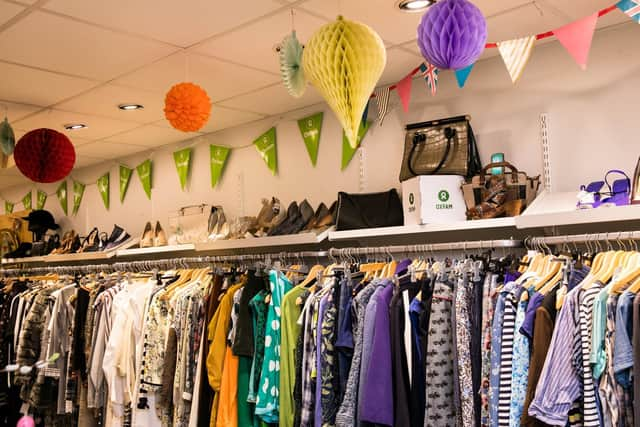 Tom Richardson, Oxfam's operations manager for Scotland, said: "The science is chillingly and consistently clear: we have reached a critical climate crossroads with devastating droughts, floods and cyclones already striking hammer blows to the low-income countries who did least to cause the climate emergency."
According to studies by climate action charity Wrap, the average adult's wardrobe contains 106 items, with only 10 per cent of those having been pre-owned. 
Oxfam has calculated that 4.9bn kg of carbon emissions could be saved annually if each adult in the UK donated all the clothes they have not worn in the past year so they could be used again by someone else.
That is equivalent to a plane flying around the world more than 6,600 times. 
Now shoppers across Scotland are being urged to join the charity's Second Hand September campaign and make a powerful fashion statement with sartorial choices that can have positive impacts across the world.
"Right now the fashion industry is a major emitter of the greenhouse gases globally which are threatening the future of our planet," Mr Richardson said.
"By consuming more consciously, people across Scotland can show they want a more sustainable fashion industry."
Edinburgh-based sustainable fashion influencer and expert Ruth MacGilp is backing the move, which she believes also benefits shoppers.
"Beyond the environmental benefits of reducing overproduction, overconsumption and waste of new clothing, I truly believe that shopping and wearing second-hand can have a huge positive impact on our personal lives," she said.
"From saving money and raising money for charity to decluttering overstuffed wardrobes and disengaging from the fast-fashion trend cycle, to connecting with the stories behind old clothes and learning to love what we already have, Second Hand September is the perfect opportunity to start on your own sustainable fashion journey."
Mr Richardson added: "When you shop second-hand with Oxfam, you're not only recycling and buying stylish outfits that don't cost the earth, but you're reinvesting your money into vital work beating poverty – supporting communities worldwide as they stand up to the climate crisis and fight the injustices that push people deeper into poverty.
"It's time to get changed for the world we want."
Comments
 0 comments
Want to join the conversation? Please or to comment on this article.