Sewage Scotland: Raw sewage spewed into Scottish rivers and seas nearly 60,000 times as drain networks burst
Raw sewage was spewed into Scottish rivers and seas nearly 60,000 times over the past five years, a damning new report has revealed.
But the true number of discharges could be ten times that amount, according to environmental activists who warn the country is "suffocating in sewage".
Analysis of event duration monitoring (EDM) data by campaign group Surfers Against Sewage (SAS) found untreated sewage was spilled at least 58,304 times at locations across Scotland from 2018 to 2022.
But since just 161 of Scotland's 3,641 combined sewage overflows (CSOs) were reported on during the time period, the group fears the figure is "a gross underestimation of reality".
The discharges come from overflow devices which are designed to release storm water and drain waste at times of extremely heavy downpours, to stop sewage backing up into homes, businesses and communities. It can also happen when pipes get blocked.
Everything from rainwater to material flushed down toilets and rubbish from gutters and street drains has regularly been sloshed into popular swimming waters and close to sensitive wildlife sites. The untreated waste can contain harmful chemicals, medicines, bacteria and viruses, and include items such as wet wipes, sanitary products, plastics and cigarette butts.
Statistics show there has been a steady rise in spill events in recent years, meaning what was intended as an emergency protection during "extreme" wet weather is now happening regularly.
And the true level of spillages is likely to be much higher, SAS warns, since only a fraction of overflow sites on the 31,000-mile network are automatically logged, raising concerns over health risks to people and nature.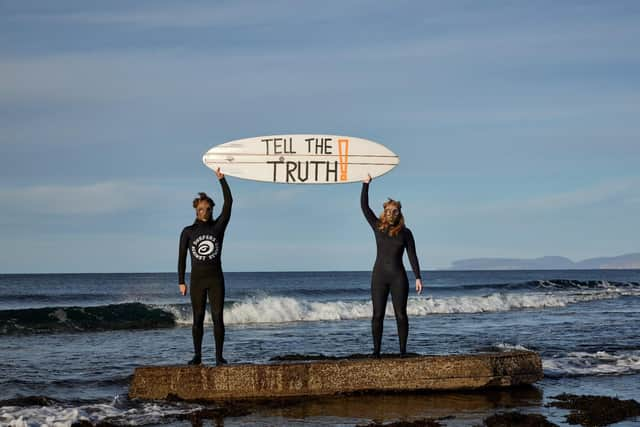 It is thought climate change, with increasing heavy rain and flooding, and more new homes being built will make the situation even worse as aging drain networks are pushed beyond bursting point.
Only 4 per cent of sewage overflows in Scotland are required to be reported on. In England and Wales, nearly all are monitored.
Many popular beaches and bathing sites across Scotland have no official reporting in place.
Scottish Water, the publicly owned company responsible for the country's drinking water, treatment plants and sewers, has pledged to install monitoring equipment on 1,000 of the highest-priority CSOs by 2024, with the remaining 2,600 to be considered in terms of cost and benefit.
SAS has accused governments, authorities and regulators of leaving Scots in the dark about the actual extent of spillages and their impact on the environment.
Scottish Liberal Democrats leader Alex Cole-Hamilton described the figures as "shocking" and the lack of monitoring "pitiful".
"Nationalist ministers have become little more than spin doctors for the failing government-owned water company and its outdated standards," he said. The campaigners are calling for monitoring systems to be fitted on all overflows and for the information to be accessible in real-time.
Progressive sewage-reduction targets – to end untreated discharges into bathing waters, popular water areas and important nature sites by 2030 – should also be set, they say.
Giles Bristow, SAS chief executive, said: "Yet again, our annual water quality report reveals the complacency and disregard of governments, water companies and regulators towards the health of rivers and coastlines in Scotland and across the UK – and by extension people's health.
"How much do our blue spaces need to suffocate in sewage before those we elect to keep us safe and protect our environment wake up and smell the s**t?"
The Scottish Environment Protection Agency (Sepa) publishes water quality test results during the official bathing season – June 1 to September 15.
The regulator, which has powers to punish offenders if standards are breached, has said the country's water quality is at its highest levels ever, with 87 per cent of water bodies rated good or better and a record number of bathing waters graded 'excellent'.
Scottish Water has committed to installing monitors on every CSO discharging to a bathing or shellfish water by the end of 2024, with near-real-time monitoring published for each.
"Sepa will ensure this commitment is delivered," said Nathan Critchlow-Watton, head of water and planning at Sepa. "While Scotland already enjoys some of the best water quality in Europe, Sepa is focused on ensuring improvement continues in the years ahead."
Campaigners from the Marine Conservation Society have also condemned the spills and joined calls for better controls.
"Our volunteers picked up over 30,000 wet wipes from Scottish beaches last year, most of which would have been flushed down the toilet and discharged in overflows right into our seas," said Catherine Gemmell, Scotland conservation officer for the charity.
"Today's report underscores the ongoing need for concerted efforts to prevent sewage from entering the sea and harming both wildlife and people."
A new group, Porty Water Collective (PWC), was set up earlier this year in response to worries over contamination at Portobello – a popular swimming beach on the outskirts of Edinburgh. The waters there are affected by several CSOs, which spill into a local burn and flow into the sea.
PWC is conducting regular testing in the area, with support from SAS, to monitor and publicise water quality test results.
Charlie Allanson-Oddy, founding member of PWC and a regional representative for SAS, said: "It's obvious from walking the beaches, from the number of baby wipes, that there is a massive sewage-related problem – something that is ignored by Sepa and Scottish Water."
He said sampling had revealed "dangerously high levels" of E coli and coliforms in the burn.
"Not all the locals know this," he said. "Most weeks we find levels that Sepa would consider poor by their standard of monitoring."
Infection with E coli can cause anything from sickness and diarrhoea to kidney failure and even death.
Scottish Water said £2.7 billion had been invested in the past decade, with an additional £500 million to improve monitoring and infrastructure.
A spokesperson for the company said: "As a public body, we are independently regulated and fully accountable to ministers. We remain on track to install 1,000 new monitors at discharge locations, with a further 1,200 monitors being placed elsewhere as we transform Scotland's waste water system to cope better with climate change and growth.
"Sewer discharges reduce the risk of flooding in homes and consist mainly of run-off from roads and roofs and grey water from household appliances, with less than 1 per cent coming from waste water from toilets.
"Water quality can also be significantly impacted from other sources, including agricultural run-off."
A Scottish Government spokesperson said: "SEPA's latest bathing water data to be published today [21st November] shows that Scotland now has the highest number of designated Bathing Water sites ever, with the vast majority classified as good or excellent. This reflects the overall good ecological condition of Scotland's rivers and coastal waters, and demonstrates the benefits of our continued investment in protecting and improving bathing waters across the country.
"We are not complacent and will continue to work closely with SEPA and Scottish Water to monitor and improve water quality, to make sure that as many people as possible are able to enjoy them.
"Scottish Water is committing up to £500m to improve water quality, increase monitoring of the highest priority waters and tackle debris and spills. However, it is important to note that overflows from sewers are wastewater which has been highly diluted by rainwater, and which normally consist of less than 1 per cent toilet waste.
"We are also launching today (November 21) a public consultation on Water, Wastewater and Drainage which considers how we limit the amount of rainwater in sewers to reduce overflows from sewers."
Comments
 0 comments
Want to join the conversation? Please or to comment on this article.