Sculpture park set to re-open in Scottish mansion grounds beside picturesque loch
You've heard of the Wicker Man. Now you can get up close to a wicker lady. And that's not all, as a new exhibition gets set to open at a remote hideaway on the west coast of Scotland.
An eclectic collection of artworks is due to go on show to the public in a spectacular open-air gallery set amidst some of Scotland's most beautiful scenery.
Nearly 50 sculptures by 14 Scottish artists have been installed in the grounds of Caol Ruadh, a historic mansion overlooking the Kyles of Bute, on the Cowal peninsula in Argyll.
Visitors can expect to have all their senses stimulated as they take in the diverse creations, which have been positioned around the 18-acre gardens and grounds.
Many of the country's leading sculptors have exhibited at Caol Ruadh over the years, with many returning again and again with their latest pieces.
Pieces by Moira Ferguson, Bill Williamson, Tom Allan, Kathy Bruce, Janice Affleck, Guy Elder, Frances Clark, Christian Ball, Vanessa Lawrence, Ellen McCann, Louise McVey, Illona Morrice, Rob Mulholland and Karen Westerbeek will feature in this year's exhibition.
Caol Ruadh was built in 1898 on the shores of Loch Riddon, opposite the Burnt Islands. It was a family home until 1939, when it became a residential school for children from Glasgow. The school closed in 1998, when it was bought by owners Karen and Colin Scotland.
Ms Scotland, herself an artist and sculptor, said: "It's a wonderful location with lots of fine spaces that are perfect for highlighting sculptures and installations.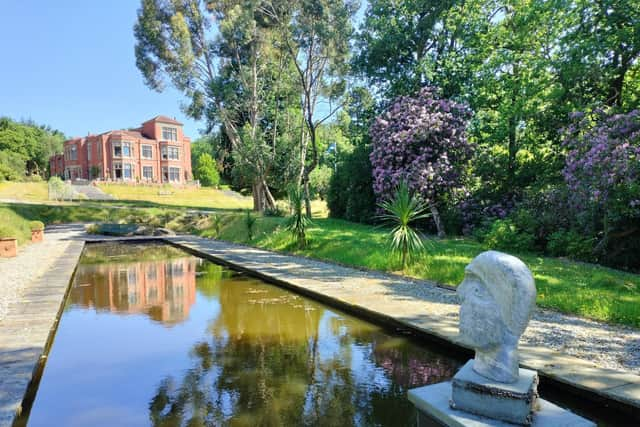 "We first opened the park up to the public in 2012 with co-curator Anne Edmonds and have since then welcomed thousands of visitors from all over the world, as well as many local people keen on engaging with our latest artworks.
"This year we will have around 48 works of art from 14 artists dotted around the gardens and we hope that people will enjoy this magical space. It's a real family-friendly experience, with children enjoying the open spaces and lochside whilst the adults muse and ponder over the sculptures.
"We are seeking to share this amazing place with as many people as possible and feel that it provides the perfect backdrop to thought-provoking artworks."
The land surrounding the house has gradually been turned into a series of gardens over the past 20 years. The landscape forms an amphitheatre that runs down to the sea, with rocky bluffs and cliffs providing a dramatic backdrop for outdoor sculpture.
The extensive gardens have many features, including a large pond surrounded by specimen trees and shrubs at the base of a spectacular cliff, with a stone staircase carved into the rockface.
It also boasts a formal reflecting pond, or canopus, a wildflower garden with ponds and bridges, a cottage nestling on the shoreline with a deck looking out to sea, a small walled garden and a woodland walk.
Caol Ruadh sculpture park opens on July 1 and runs on Thursdays to Sundays until September 3. There is also a special one-off bird-whittling workshop with artist Teresa Hunyadi on July 29.
And if you like the sculptures so much you can't leave them behind, all pieces are available to buy.
Comments
Want to join the conversation? Please or to comment on this article.