Scottish ministers' 20 per cent traffic cut target 'very challenging'
Experts say reduction would be unprecedented worldwide
The Scottish Government's target of cutting traffic by 20 per cent by 2030 has been described as "very challenging" by its Welsh counterparts in a pointed comparison with its own more modest car reduction goal.
The intervention by a Welsh Government roads official comes as a growing chorus of experts cast doubt on whether such an unprecedented reduction in fewer than seven years was realistic.
Andy Falleyn, deputy director for the strategic network in Wales, speaking at an Institution of Civil Engineers event in London, said: "The Welsh Government has an ambition to reduce private car use by 10 per cent. It doesn't sound like a lot, because I know Transport Scotland has a 20 per cent target by 2030.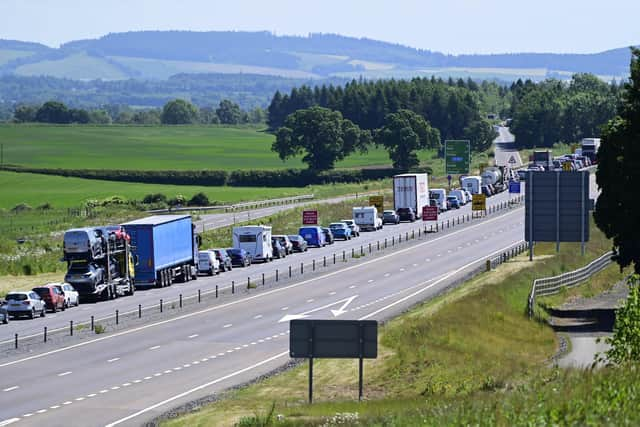 "I believe that's going to be very challenging. I think 10 per cent is going to be quite challenging."
Transport is the largest source of Scotland's greenhouse gas emissions, with more than two-thirds of that from road traffic. A jump in such emissions led to Scotland again failing to meet its reduction targets, figures last week showed.
Dr Christian Brand, co-director of the UK Energy Research Centre, said: "The traffic reduction target set out by the Scottish Government is doable but will be very challenging.
"No other country or city has achieved anything like a 20 per cent reduction in baseline traffic – we really are in uncharted waters. We need a comprehensive, integrated raft of policies to reduce traffic quickly as 2030 is seven years away."
Dr Brand said measures like "radical car restraint policies in urban areas" might be needed and "at scale and pace not seen before".
Neil Greig, the Scotland-based policy and research director of the IAM RoadSmart motoring group, said: "The target was always a big stretch but looks totally unachievable now that traffic is bouncing back after Covid. With most of the potential 'carrots' to get people out of their cars failing, the Scottish Government could only turn to 'sticks' such as new ways to charge for road use, but this is never going to be popular in a cost of living crisis as the main burden will fall on those least able to afford it."
Colin Howden, director of sustainable transport campaigners Transform Scotland, said: "The Scottish Government's target is precisely what is required, but we now need to see it back up its commitment by transferring investment from high-carbon road building into walking, cycling and public transport investment."
A Transport Scotland spokesperson said: "Our target of a 20 per cent reduction in car kilometres by 2030 will require a broad combination of interventions, including infrastructure, incentives and disincentives – while taking into account the needs of people in rural areas and those on low incomes to help ensure a just transition to net zero.
"The Scottish Government commissioned research on equitable options for car demand management to help inform the development of our policy measures, which we will publish later this year. Using the research findings, we will work with local and regional partners to develop a demand management framework by 2025."
Comments
 0 comments
Want to join the conversation? Please or to comment on this article.