Scottish farmer grows special Halloween pumpkin with face of Frankenstein's monster as name sought for scary vegetable
What do you call a grotesque giant vegetable that resembles the severed head of fiction's most famous monster?
That's the question being asked by an Aberdeenshire farmer who has grown a special Halloween pumpkin with the facial features of the murderous creature cobbled together from corpses by Dr Frankenstein, the original 'mad scientist'.
Members of the public are being asked to get in touch with name ideas for the scary squash, with some comical suggestions already put forward.
These include Frank, Freddie – referencing the famous Nightmare on Elm Street character – also Pumpkin McPumpkinface, Pumpkinstein and Stalk, short for Stalker.
Jenny Fyall, of Udny Pumpkins, a ten-acre smallholding near the villages of Pitmedden and Udny Green in Aberdeenshire, has been working on the unusual specimen for months.
"I've had quite a few people suggesting it's a hoax and he isn't real, but I promise he is," she said. "I'm absolutely chuffed to bits with it and just hope it survives until we open the pumpkin patch in mid-October so that all our visitors can see him.
"At the moment he's looking pretty magnificent as a sort of weird centrepiece on our kitchen table.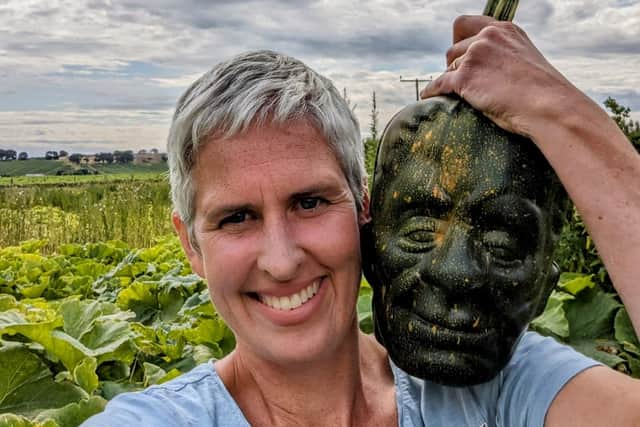 She used a special mould to create the pumpkin, which is still green in colour, but expected to turn orange later.
A previous failed effort was possibly more gruesome, she laughs.
"I tried last year for the first time, but didn't choose a big enough variety so it didn't quite fill the mould and just had half a nose and the beginning of a forehead," she said.
"This year was much more successful, although I had the opposite problem as it grew to fill the mould so successfully that it got completely wedged in and we tried everything to get it out."
The process was a bit like a scene from a horror film.
"We were banging it with a hammer, putting oil around the edges and it was totally stuck," she said. "In the end I left it in the sun on the windowsill for a few days and I think it shrunk a bit and then it just popped out."
Around 8,000 pumpkins are grown at Udny each year, with a wide selection of shapes, sizes and colours – from traditional orange to blue, pink, white, warty, mini and stripy. But bespoke moulds are expensive, so the Frankenpumpkin is likely to remain one of a kind at the pumpkin patch for the time being.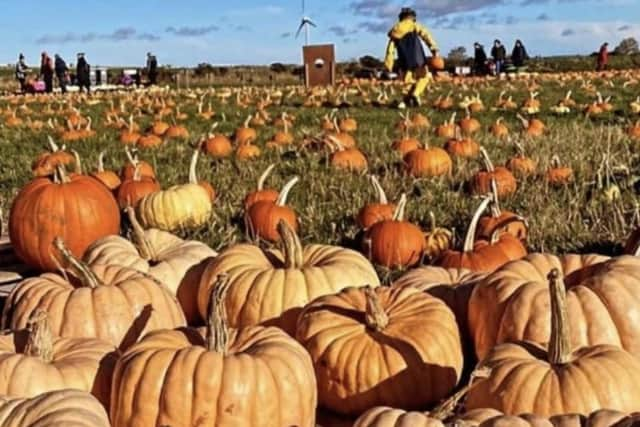 Although Ms Fyall admits she may try creating a special Trumpkin, parodying former US president Donald Trump.
"I have seen Trump moulds and if it turned orange it would be the perfect colour," she said. She has also tried other experiments in the past.
"A few years ago I tried growing giant pumpkins," she said. "The two plants were so massive they took up my entire polytunnel.
"They were incredible. I called them Betty and Bertha. They were huge – about 50kg each – and were way too heavy to lift."
Leftover pumpkins, not picked for Halloween, do not go to waste.
"Our sheep eat them, I cook a lot with them and make chutneys and pickles to sell at local Christmas markets," Ms Fyall added. "I also save the stalks to use on decorative velvet pumpkins I sell at the pumpkin patch."
Comments
 0 comments
Want to join the conversation? Please or to comment on this article.