Scottish charity creates buzz over hi-tech homes for threatened honey bees
A Scottish conservation charity on a mission to help reverse losses of honey bees around the globe have reached an important milestone in their ground-breaking project.
The team from the Lacrima Foundation, based in Edinburgh, has been working for the past five years to create the world's first ever 3D-printed wood log hive.
Inspired by "nature itself and a holistic approach to beekeeping", the hive is based on a traditional design used by Baskir beekeepers in Russia's Ural mountains for more than three centuries.
The cavity log hives are made out of a specially designed wood-based composite, which is fully biodegradable and allows the insects to live in an undisturbed ecosystem in synergy with their seasonal rhythms.
They can be hung up in trees to emulate natural nest conditions for honey bees.
Hi-tech remote monitoring systems are used to ensure the residents are faring well.
The project is the brainchild of Vince Moucha and Marian Ondruska, co-founders of the Lacrima Foundation.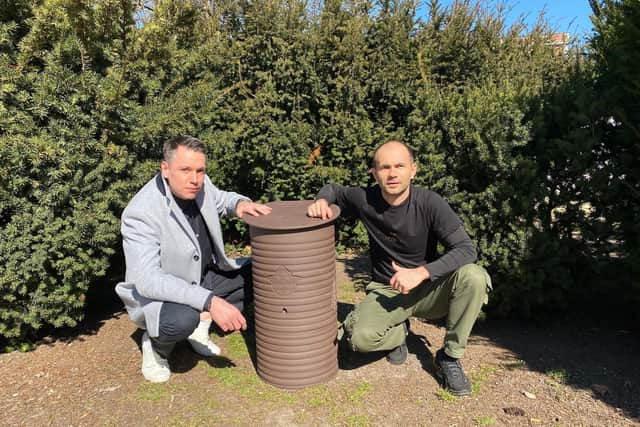 They and their team have been working with local and international organisations to develop the concept, with support from the United Nations and Scottish Government.
Their aim is to get more than three million of the hives made and installed in countries where honeybees are struggling for survival.
Now ready to press 'print', they have launched a new crowdfunding campaign to raise £35,000 to start mass production.
Mr Moucha, who has Baskir heritage, said: "About five years ago we realised that intensive agriculture, pesticides and climate changes were having a major devastating impact on the ecosystems that support our ability to grow food.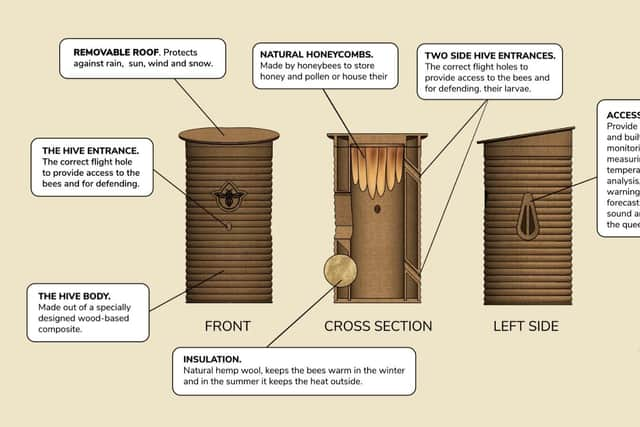 "We knew that the honey bee, as the main pollinator, is essential for food production and human livelihoods, was in imminent danger.
"The modern way of beekeeping was clearly failing, and there was no other fast, effective and scalable alternative to restore common bee health.
"We decided on a comprehensive approach to solve this problem.
"It was simple, the roots of my family are in Bashkiria, where the honey bee is a sacred animal, and beekeeping on trees is a master craft.
"We have developed a strategy to create a natural habitat for bees using stem hives.
"However, due to the need for scalability and cost, we invented a 3D-printed wooden trunk hive with a monitoring system to solve the problem."
Prototypes have already been tested and bees seem to like the printed nests.
Restoring the natural habitat of bees is an essential part of the foundation's efforts.
The hives themselves are installed in the higher parts of a tree trunk, up to 5m above the ground, to mimic the 'real' thing as closely as possible.
The insects' entry points are monitored by a built-in monitoring system that can be used with mobile apps, allowing beekeepers to collect data such as temperature and humidity, analyse bee sounds or forecast swarming from the hive.
Mr Moucha added: "The ultimate impact of our project is going to be an overall improvement of bee health and a significant contribution to the understanding and perspective of how we look at bees."
Anyone who would like to help build 'smart homes for bees' can sign up through Kickstarter.
Comments
 0 comments
Want to join the conversation? Please or to comment on this article.