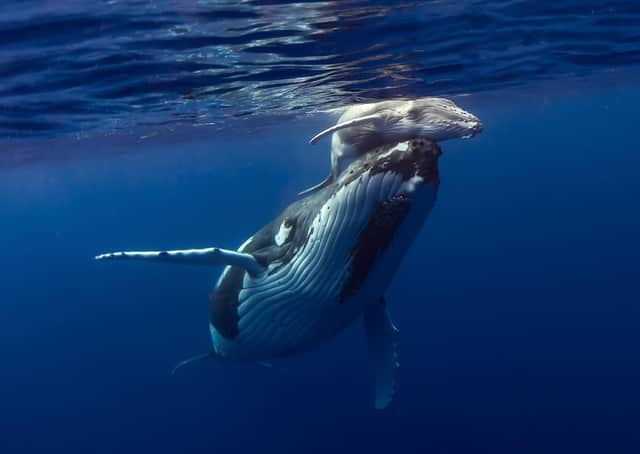 Gateway to the Hebridean Whale Trail will receive £250,000 to redevelop its visitor centre in Mull where humpback whales can be spotted. Picture: contributed
The National Lottery Heritage Fund is supporting five new schemes that will help promote the sustainability of Scottish seas and inland waterways and their habitats.
The projects are: Gateway to the Hebridean Whale Trail, which is getting £250,000 to redevelop its visitor centre in Mull; Plock of Kyle, which received £196,100 to improve parkland for the benefit of local people and wildlife such as otters; Restoration of Native Oyster Beds, Scotland's first community-driven maritime rewilding project, which will use a grant of £216,400 to create a self-sustaining population of the molluscs; Gateway to Gigha, a new community initiative aimed at encouraging green tourism and protecting the local environment, which has been given £228,100; and Discovering the Deep, a new exhibition in Edinburgh that will explore Scotland's globally important deep-sea heritage, which received £443,000.
Dan Renton, project co-ordinator for the oyster reintroduction, welcomed the grant.
"The Ardfern community is delighted," he said.
"The cash will help the project grow a million native Scottish oysters in Loch Craignish, where they were once plentiful.
"The aim is to achieve a local population that is sustainable and will continue to spread. Globally around 85 per cent of oyster beds have vanished, making the marine habitat one of the most imperilled.
"Science recognises that oysters are ecosystem engineers, filtering and cleaning water, capturing carbon and helping create fish spawning grounds and nurseries, so bringing them back will have a significant benefit for local seas."
Jane Millar, business development manager at Isle of Gigha Heritage Trust, says the funding will go towards upgrading and developing walking routes across the island and help protect its important heritage.
She said: "The Isle of Gigha has a number of important built and archaeological heritage sites. The lack of a coherent network in good condition has been identified by many visitors and members of the community as an issue.
"The project will encourage a reduction of car-borne visitors to the island through the promotion of the path network, and Gigha's heritage assets will be better accessed, interpreted and conserved."
Caroline Clark, Scotland director at the National Lottery Heritage Fund, said: "There has never been a better time to raise awareness of the important role our marine heritage has in the future of a sustainable environment.
"Not only is the direct conservation we fund vitally important, but we hope that through our projects there will be increased awareness of how and why we need to change our behaviours in order to protect our future."