Scotland's green energy future: Information sessions at Peterhead and Longside on Muir Mhòr Offshore Wind Farm
Initial plans for a new offshore wind farm off the east coast of Scotland have been drawn up – and the local community is being invited to have its say in how the plans develop. This is paid for content, and not necessarily the views of The Scotsman.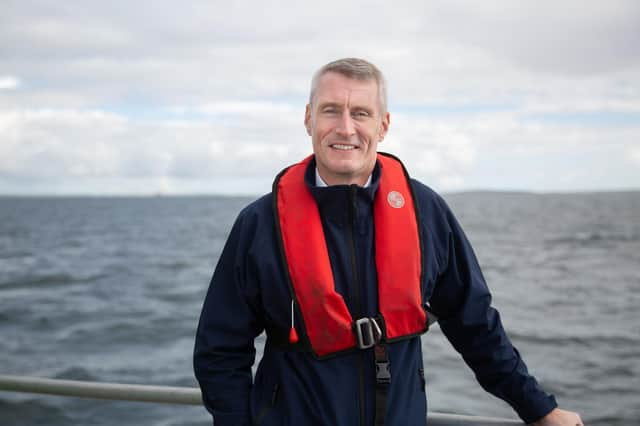 A changing climate and meeting future energy needs are among the biggest challenges facing this generation, and generations to come - both here in Scotland, and across the world.
Electricity produced from renewables can secure clean, reliable and safe sources of energy for the population. In Scotland, we can harness the natural resources that we have in abundance - wind, rain and water - to fully grow this renewable opportunity.
In 2022, with the support of the Scottish Government, Crown Estate Scotland awarded seabed rights via the ScotWind auction to 20 offshore wind projects in a historic vote of confidence for the offshore wind sector.
Muir Mhòr Offshore Wind Farm was one of the successful projects granted seabed rights, and is being taken forward as a joint venture between renewable energy leaders Fred Olsen. Seawind and Vattenfall.
The proposed wind farm is located on the east coast of Scotland, approximately 63 km from the coast of Peterhead. The project is being developed as a highly innovative floating offshore wind farm which, when delivered, will be able to generate up to 1 gigawatt (GW) of power – enough to provide electricity for up to 850,000 UK homes annually, and putting the UK on track to hit its target to generate 5GW from floating offshore wind by 2030.
Investing in green future
ScotWind represents a huge investment in Scotland's green energy future. The joint venture behind Muir Mhòr Offshore Wind Farm says it is determined to develop the project in a way that directly supports communities and the energy transition in the North East of Scotland, creating jobs and training opportunities, enabling skills development, and actively contributing to the development of a world-class Scottish supply chain.
To deliver that vision, the project will consult and engage with the local community from an early stage to understand priorities and gain more knowledge of the local area, taking a people-centred approach to the Muir Mhòr project.
Having undertaken initial ecological and environmental survey works both onshore and offshore, Muir Mhòr Offshore Wind Farm is now in a position to share an early-stage proposal for the offshore wind farm and associated onshore infrastructure with the local community.
Its forthcoming community consultation exhibitions will display the initial proposals, 3D offshore and onshore visualisations and receive feedback and comments from the public which will be considered to shape and influence the future development of the Muir Mhòr Project.
The exhibitions take place at the following dates and places:
Wednesday 15 November: 1pm-7pm, Peterhead Football Club, Balmoor Terrace, Peterhead AB42 1EQ
Thursday 16 November: 2pm-7pm, Longside Parish Church Hall, 4-13 Inn Brae, Longside AB42 4XN
Muir Mhòr Offshore Wind Farm says it hopes many people are able to attend the events to learn about the project, meet the team, and provide valued input which is integral to their approach to the project.
"Working together, we can shape Scotland's green energy future," says David Hinshelwood, Project Director for Muir Mhòr Offshore Wind Farm.
More information about Muir Mhòr Offshore Wind Farm can be found on the dedicated website at: www.muirmhor.co.uk.
The Muir Mhòr Offshore Wind Farm project team is keen to engage with local residents, community groups and all other interested parties to update you on project progress and listen to your feedback and comments. The project team can be contacted at any time at: [email protected]