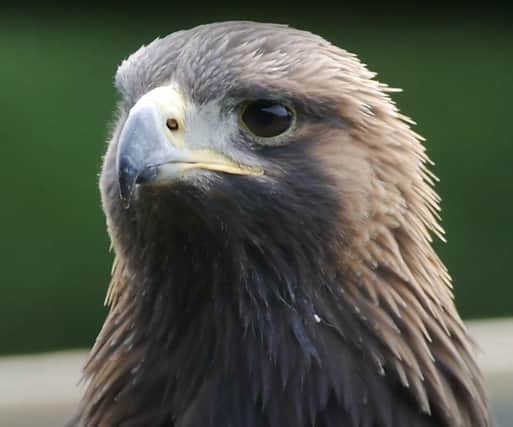 The two eagles are among a number of the iconic birds of prey translocated from elsewhere in Scotland in a bid to return the species to the area.
It is the first time courtship behaviours have been witnessed between translocated birds since the ground-breaking recolonisation effort began two years ago. Golden eagles pair for life.
Raptor expert John Wright, eagle officer for the South of Scotland Golden Eagle Project, spotted the birds displaying actions often used to communicate prior to mating.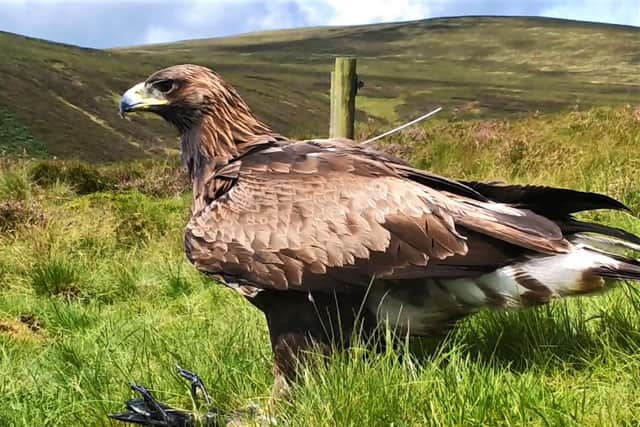 He watched in awe as female Beaky, who was translocated to the area in 2018, and male Skan, who arrived in 2019, performed an undulating flight together.
"I could see from the tag data that Beaky was in an accessible position, so being careful not to disturb her I went to check how she was doing," he said.
"When I got there I was delighted to find both eagles sitting a few metres apart on the fence, looking like they'd both just had a good feed.
"As the cloud cleared they took to the skies, shadowing each other, wing-tip to wing-tip.
"Skan appeared more dominant. Beaky rolled on to her back several times, legs outstretched and talons splayed, as Skan closely tailed her.
"It was an absolutely spectacular display which lasted about eight minutes before they went their separate ways.
"While it's difficult to say for sure, and Skan in particular is very young for an eagle to settle down, these amazing behaviours had elements commonly associated with eagles attracting a mate.
"It was a truly beautiful sight and such a privilege to witness it first-hand."
The golden eagle has been named as Scotland's national bird, but the species is absent across much of its historical range.
Estimates suggest Scotland is home to around more than 400 pairs - the majority of the UK population - but the species has been struggling in some areas. It is thought wildlife crime is largely to blame.
Before the project began, there were only two to four pairs of golden eagles across Dumfries and Galloway and the Scottish Borders.
The project was launched following a study by national agency NatureScot, which showed the local habitat is suitable for up to 16 pairs.
The interaction is potentially a significant milestone for the project and partners RSPB Scotland, Scottish Land & Estates, Scottish Forestry, NatureScot and the Southern Uplands Partnership.
Francesca Osowska, chief executive of NatureScot, said: "Golden eagles are one of Scotland's most majestic birds and used to be plentiful across Scotland.
"We work to enrich nature across Scotland, including returning wildlife to places where it used to thrive. This is a brilliant project which does exactly that, increasing breeding pairs of golden eagles in south Scotland."
Since 2018, the South of Scotland Golden Eagle Project has successfully translocated four golden eagle chicks from the Scottish Highlands to the south of Scotland.
The individuals have all settled into their new habitats and are fending for themselves.
Covid-19 restrictions have prevented the charity from translocating any birds this year, but there are plans to bring in more chicks in 2021.
A message from the Editor:
Thank you for reading this article. We're more reliant on your support than ever as the shift in consumer habits brought about by coronavirus impacts our advertisers.