Scotland windfarms: Increased tempo for renewables brings with it 'raw unfairness' for rural communities
Campaigners are calling for a better strategy to match the ongoing influx of windfarm developments and applications.
Five public information events are being held in Caithness next month to discuss a newly proposed offshore wind farm.
The new site, which will see cables being brought ashore at Sinclair's Bay if approved, appears to be the latest in a growing list of proposed renewable developments across the Highlands.
Residents in the council area are no strangers to planning applications for wind farms. As at July last year, Highland Council confirmed the region alone had 94 wind farms, 63 of which were approved, constructed already or under construction, and with 31 in the planning stage.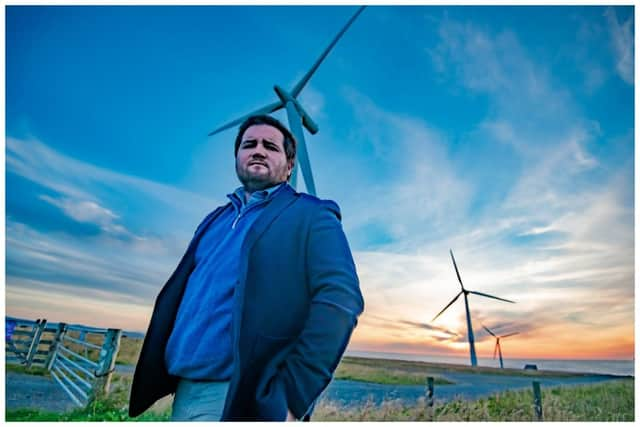 The newly proposed one-gigawatt Ayre Offshore Wind Farm, being developed by Thistle Wind Partners (TWP) some 21 miles to the east of Orkney, is expected to connect to the electricity transmission network at Spittal. The grid connection will be established in Caithness if approved.
If permission is granted, construction of the onshore infrastructure is expected to begin from 2028, with building the offshore wind farm starting the following year, and first power to the grid expected in the early 2030s.
It comes as First Minister Humza Yousaf committed to a funding injection of £500 million to "anchor" a new offshore wind farm supply chain as the country tries to shift from its reliance on oil and gas.
The Scottish Government, he said, is determined to push ahead with a "just transition" – the term used to describe the plan to gradually move away from fossil fuels while protecting jobs.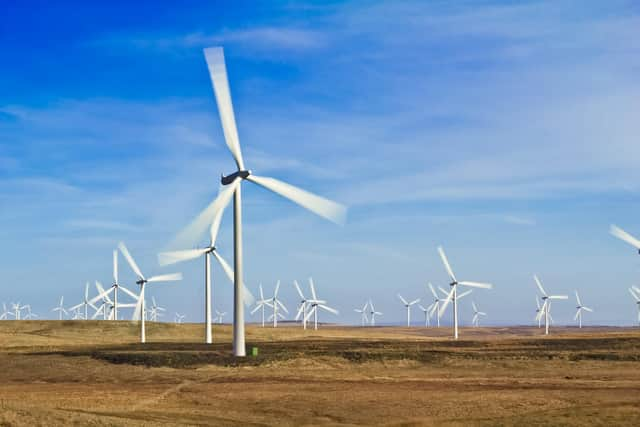 And that it is proving to do so. Just this week, Seagreen, Scotland's biggest offshore wind farm that has been ten years in the making, began operating at full capacity.
The set up is a joint venture between TotalEnergies and SSE Renewables, which have said it will displace more than two million tonnes of carbon dioxide (CO2) each year, helping reduce the UK's reliance on fossil fuels for generating electricity.
SSE Renewables' director of offshore wind Paul Cooley told BBC Scotland News that decisions taken now would determine whether 2030 targets for cutting greenhouse gas emissions will be met by the Scottish and UK governments.
He said: "I think if we don't speed things up, we'll just not hit the targets. That's the reality, so there's a real imperative now to move much faster in terms of hurdles like grids, like consents and like pricing in the supply chain."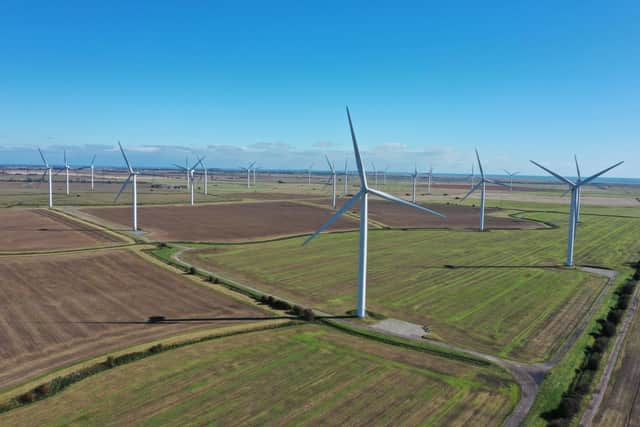 Last week, the first electricity was generated from SSE's 277 turbine Dogger Bank project off the coast of East Yorkshire.
And final construction is under way on the Neart na Gaoith (NnG) wind farm off Fife, which has previously faced a legal challenge by RSPB Scotland because of concerns over migratory birds.
Emma Harrick, from the industry body Scottish Renewables, which has some 20 offshore wind projects leased in Scotland, said there was a huge pipeline of projects in the country thanks to an abundance of wind.
"Scottish ports are the lynchpin for our offshore renewable ambitions and investing in this critical infrastructure will ensure the nation benefits from the fresh economic investment and regeneration opportunities a home-grown clean energy supply chain brings," she said.
But with the expansion of both offshore and onshore wind farms has come widespread unrest among communities directly impacted by the developments.
Over the past few decades, residents from Dumfries to the Hebrides have formed groups on social media to gather momentum to push back against wind farm planning applications in their areas.
Graham Lang, from Scotland Against Spin (SAS), a group set up ten years ago to support those affected by Scotland's wind energy policy and to push for change, said community groups had evolved extensively to the point where they were taking matters into their own hands.
"We still have a presence as a group and support those campaigning against developments, [but] a lot of groups have evolved to do it on their own," he said.
One of those is Highland campaign group No Ring of Steel (NORoS), which is pushing back against plans to build a wind farm members fear will encircle the Strath Oykel community in Sutherland.
NORoS member Tracy Smith said the community had already seen two wind farm applications granted this year alone for the area, with a third application going through a public inquiry after developers appealed its rejection.
"This rush for renewable energy cannot come at the expense of local communities," she said. "We are told that we need to accept change, but what we are experiencing is disproportionate.
"With the ongoing applications that we are seeing, we could end up with about 120 turbines around our small village."
Ms Smith said a growing concern in local communities was a "lack of strategy" in the face of a fast-changing energy policy landscape.
"It's a free for all for developers," she said. "There's no system in place that acknowledges some areas are having to accept more change than others.
"Small rural villages having industrial turbines built around them has a massive impact on the livelihoods of people living in them."
Environmental campaigners have also regularly voiced concerns the Highland scenery, arguably one of Scotland's greatest tourism assets, will be harmed by the ongoing projects, which will damage local economies.
Thurso and Northwest Caithness councillor Struan Mackie said Scotland's far north coast and harbours were "buzzing year-round with offshore activity and development".
He welcomed the announcement of public meetings organised by TWP for the proposed Ayre windfarm and has encouraged members of the community to attend.
But with another application set to impact a Highland community, and with new rounds of ScotWind expected to transform the region into an even greater net producer of energy, Mr Mackie said: "We are conscious that our region is contributing greatly to the net-zero agenda and the priorities of both Holyrood and Westminster governments, possibly more so than any other local authority area.
"Although this trade brings investment and job creation, communities that live in the shadow of renewable energy developments suffer from crippling fuel poverty.
"It is felt that there is a very raw unfairness that in the Highlands and Islands our resources, whether natural or renewable, will benefit those 'down the line' more than those who live here."
Comments
 0 comments
Want to join the conversation? Please or to comment on this article.