#RWP21: Rural workers protest Scottish Government over policies for the countryside
Rural workers are to hold an online protest amid growing anger and frustration at the Scottish Government's policies in the countryside.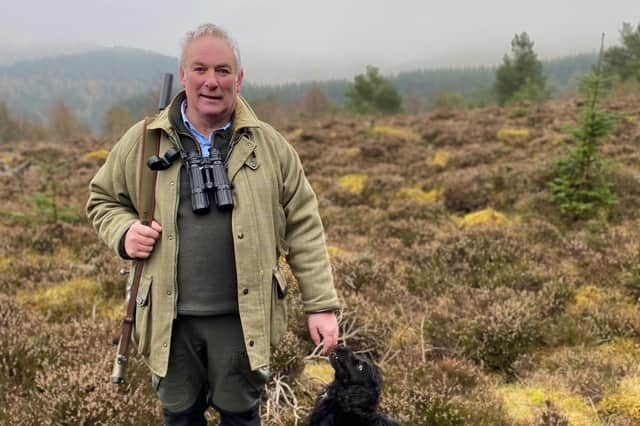 They claim that rural policies are often made using "emotive campaigns", that politicians are often detached from rural life and that the Scottish Government is more focused on pleasing urban voters and environment NGOs rather than those who are working on the ground.
The Rural Workers Protest 2021, set to take place on Friday, has been organised by Scottish Gamekeepers Association (SGA) and will be supported by all of Scotland's seven moorland groups.
Support for the protest has come from a wide range of interest in the country and abroad from fishing ghillies to chefs and international visitors to crofters who have been sharing the #RWP21 across social media over the last few weeks.
More than 1,000 people have responded to the event on Facebook so far which is expected to last all day.
Alex Hogg, chairman of the SGA and who is heading the protest said: "We are protesting because we have had enough, we will be pushed no further.
"The Scottish Government is draconian with its policies in rural areas.
"And what's worse is the people making the policies rarely come out and actually see what rural life is really like.
"We are calling on politicians to make more of an effort to see how some of us work and what we do before making decisions for rural industries.
"We are protesting because we are tired of being ignored, tired of not being listened to, and it's time for change.
"Enough of this Central Belt ruling what we do."
Mr Hogg explained some of the rural workers' concerns include the government's failure to curb the expansion of fish farming, which is blamed for a decline in numbers of wild salmon and trout which has impacted river ghillies.
He also said the government-run Forestry Commission is treating deer "like rats" with extensive culls to protect trees, and criticised the absence of support in promoting local venison initiatives.
"Our sector has not had a fair deal from this parliament," Mr Hogg added.
"And the gamekeepers are not the only rural workers affected.
"Farmers and crofters also share a lot of the same anger as ourselves over policies such as the curbs on muirburn, the latest restrictions on fox management, which saw only one politician come out to try and understand it from our perspective, and the reintroduction of species such as the lynx."
Mr Hogg also spoke about issues with rural vandalism where the countryside repeatedly faces problems with litter and claimed that the Scottish Government "through its agencies, seem only to be visible on the issue talking about how important access to nature is, in glossy magazines".
The Scottish Government responded saying it "did not recognise these claims."
Gamekeeper Peter Fraser told STV this week: "They [Scottish Government] don't take into consideration the benefits of what we do not only for conservation but for business in the rural communities."
Arthur Fernie, who has been working as a gamekeeper for 25 years, added: "There's a real concern that we are just being traded for Green votes."
After May's election, Mr Hogg said the SGA wants a specific cross-party forum established at Holyrood where politicians can hear rural workers' issues first hand and for practical demonstration visits to be planned.
Lianne MacLennan, coordinator of Grampian Moorland Group, said: "This protest is overdue.
"Workers in our traditional rural industries want a different politics, one where the vast practical knowledge they have is reflected in laws and bills.
"That's not what they are getting.
"Scottish Government's heads seem to have been turned by campaign groups and untested visions of how rural communities could be.
"People are fed up of bad laws when they are the ones facing the brunt of them."
This week SNP MSP Fergus Ewing, speaking about country sports, said: "They're not just for the toffs and the titles, they're for the ordinary folk up and down the country, and they generate a huge number of benefits for the industry."
A Scottish Government spokeswoman responded by pointing to a £1 billion investment in tourism and the rural economy, including support for farmers and crofters to plant trees and restore peatland.
She added: "We make no apology for supporting economic activity in rural and island areas which supports thousands of jobs and livelihoods. That includes aquaculture, which generates billions in GVA for the Scottish economy with 75 per cent of the supply chain supporting fish and shellfish farms also being based in Scotland.
"And no government has done more to support creel fishermen through the pandemic and now the Brexit chaos – recently we announced a package of support worth £7.75 million which they will benefit from, as part of our efforts to guarantee the future of this vital fishing industry in our coastal communities.
"We are also clear that we must tackle the twin crises of climate change and biodiversity loss with measures like better deer management to protect carbon in our woodlands and grassland. But there will be opportunities in all of this for rural industries and workers too to secure green, clean and new jobs. We know that rural communities will be at the forefront of this and we will work with all partners and sectors to support them to benefit from all the activity we plan as part of our green recovery."
Green MSP Mark Ruskell said: "It's disappointing that the SGA are so stuck in the Victorian past, because restoring the land must be at the centre of efforts to tackle the climate and nature emergencies.
"The £10m nature fund secured by the Greens in the Scottish budget is just the tip of the iceberg, we will need to see sustained investment in recovery and that means rural jobs for those who are open to change."
A message from the Editor:
Thank you for reading this article. We're more reliant on your support than ever as the shift in consumer habits brought about by Coronavirus impacts our advertisers.
If you haven't already, please consider supporting our trusted, fact-checked journalism by taking out a digital subscription.
Comments
 0 comments
Want to join the conversation? Please or to comment on this article.