Right to roam Scotland: England needs to 'take onboard Scotland's problems' if introducing 'right to roam', says health and safety expert
Calls have been made for land access guidance and legislation to be reviewed with an increase in roadside campers over the last two decades.
England should take a close look at the issues Scotland has experienced since introducing the 'right to roam' legislation two decades ago when considering it for south of the border, a health and safety expert has said.
Under the Land Reform Act 2003, the people of Scotland were given general right of responsible access, which is colloquially known as 'right to roam' to most land and inland water in Scotland for recreational or other purposes.
Activists have been drumming up support to pass the same laws in England where rules are different, with campaign group Right to Roam claiming this freedom of access is unavailable in more then 92 per cent of the English countryside.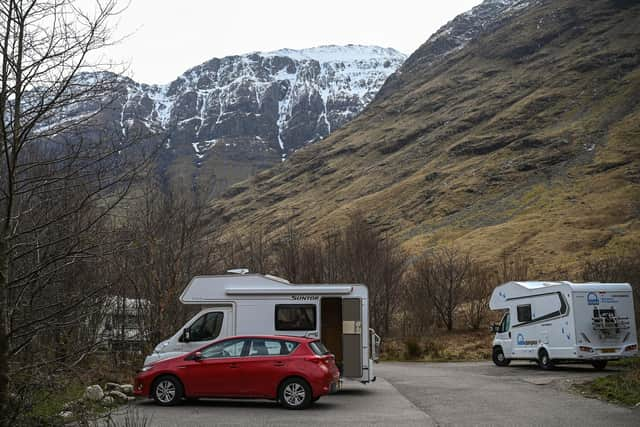 The Labour party has previously pledged to introduce a Scottish-style right to roam law in England if it wins the next general election, with access to green space enshrined in law.
Robin Pettigrew, chartered member of the Institute of Occupational Safety and Health, said passing such access rights south of the border would "benefit a large number of people in terms of their wellbeing."
But he said it is important to study and learn from the issues that have arisen in Scotland since the Land Reform Act 2003 was passed two decades ago.
These issues include extensive litter and human waste pollution, damage to flora and fauna, erosion of road verges by parked vehicles, obstruction to other road users, including emergency services, and disturbance to farm animals and wildlife, according to Combatting over tourism in Scotland, a report Mr Pettigrew authored.
"We absolutely don't want to lose the right to roam. It is enshrined in the law and it's integral to our freedom and wellbeing," he said.
"And the right to roam would be a good thing in England.
"But you have to take into consideration the collateral damage that is being caused predominantly by vehicle camping in Scotland."
The Scottish Outdoor Access Code – set of guidelines to follow when out and about to help ensure a person is accessing land in Scotland responsibly in accordance with the Act – does not extend to vehicles, which Mr Pettigrew said have a substantial impact on rural communities.
He said both the Code and existing road traffic law need to be "reviewed" in order to help communities cope with the influx of vehicle-based camping since access laws changed 20 years ago.
"The Code was formulated before we had this increase in the number of visitors and campers and before the big promotion of the Highlands with the likes of the North Coast 500 route," Mr Pettigrew said.
"People didn't envisage there would be people camping in laybys, overwhelming rural communities.
"I think it's wonderful they are considering it because it will benefit a large number of people but they must take on board the evidence and the problems we have had."
Right to roam activists are planning to trespass along the English-Scottish border later this month as they call for a change in the current English access law.
Isle of Bute resident Nadia Shaikh, one of the organisers of the demonstration, said there is "solidarity" north of the border to bring more access to land rights across the rest of the UK.
"There is an understanding that this access is hard fought for," she said.
The activist said introducing similar rules in England would alleviate pressure on rural communities in Scotland when it comes to tourism.
"A lot of the campervans you see on the likes of the NC500 are from England because they don't have that right to roam," she said.
"I do feel for rural communities in Scotland, but if there were these rights across the UK then it would be better for everyone."
Comments
 0 comments
Want to join the conversation? Please or to comment on this article.