The structure is part of a £1 million scheme being developed at Forth Port's Prince Albert Dock, which will use underground shafts and massive weights to store and large amounts of power that can be delivered to the network at a moment's notice.
The brainchild of locally based start-up firm Gravitricity, the 250kW system is made up of a 15m-high tower, two 25-tonne weights suspended by steel cables, plus a pair of grid-connected generator units.
The system works by winching the weights up to the top of the tower using excess renewable energy at times of low demand, then dropping them to generate electricity whenever needed.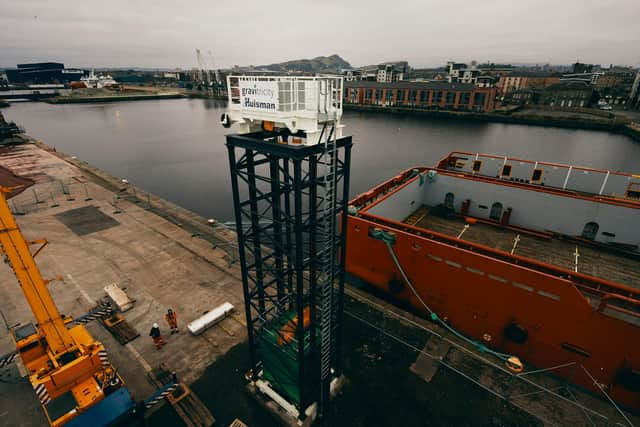 It means energy can be created and supplied within seconds, and the process can be repeated as many times as required without losing capacity.
If trials at Leith are successful, there are plans to deploy the technology in large-scale projects in disused mine shafts around the globe.
The first tests are due to begin next month, when the Gravitricity team will begin by lowering the giant weights together to generate full power and verify the speed of response.
The tower at Albert Dock was erected in "perfect weather conditions" last week, according to Gravitricity engineering project manager Frances Tierney.
"This week our focus is installing the electrical connection to the winch container, with the goal of being fully commissioned by April," he said.
During the test phase, the Gravitricity team will begin by lowering the weights together to generate full power and verify their speed of response.
"Our full scale projects will operate underground – but for this scale demonstator we've built an above-ground structure," Mr Tierney said.
"We calculate we can go from zero to full power in less than a second – which can be extremely valuable in the frequency response and back-up power markets.
"We'll then run tests with the two single weights, dropping one after the other to verify smooth energy output over a longer period, alongside a programme of other tests to demonstrate and refine the full capabilities of the system."
A two-month test programme will confirm modelling and provide important data for Gravitricity's first full-scale project, which will have a much greater storage capacity – up to 8MW – which will commence later this year.
Such a system could power around 17,000 homes for more than 15 minutes.
A shortlist of potential sites across Europe is currently being considered, with an announcement due in the next few months.
Analysts have calculated that Gravitricity's ground-breaking system can store energy at half the lifetime cost of lithium-ion batteries.
It means the Scottish firm is ideally placed to tap into the emerging energy storage market, which has an estimated worth around £450 billion globally up to 2040.
The demonstrator's lattice tower was constructed by ESL engineers in Hull, while other key components - including the base frame and weight baskets - were made by AJS Fabrication in Fife.
Gravitricity has also been working with Glasgow-based Industrial Systems and Control on operations and simulations.
The project is supported by a £640,000 grant from UK government funder Innovate UK.
A message from the Editor:
Thank you for reading this article. We're more reliant on your support than ever as the shift in consumer habits brought about by coronavirus impacts our advertisers.