Projects unleash the energy of Orkney
As the world continues to discuss climate change against the backdrop of COP26, read on to find out more about how one of Scotland's island communities is placing green energy at the heart of its - and Scotland's - economic future.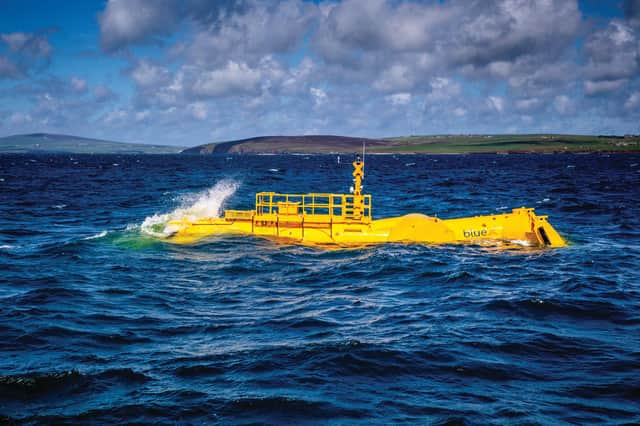 Tidal energy technology is being tested in Orkney.
Harnessing waves and tides
Orkney is blessed with abundant renewable energy resources.
On the odd days that the wind isn't blowing, the waves are crashing against our shores, and tides flow from the North Sea to the Atlantic Ocean every six hours – as predictable as clockwork.
The European Marine Energy Centre (EMEC) was set up in Orkney in 2003 to enable wave and tidal energy technologies to test in the sea, and to date more have been demonstrated in Orkney than any other site in the world.
Two tidal energy technologies are currently testing at EMEC – Orbital Marine Power's Scottish-built O2, pictured, is the world's most powerful tidal turbine, developed with 80 per cent UK supply chain content, and the Spanish-founded ATIR tidal turbine by Magallanes, pictured, highlights inward investment and export opportunities.
Edinburgh-based wave energy developer Mocean Energy is also testing at EMEC, with Scottish-based AWS Ocean Energy, gearing up to deploy soon.Around 20 per cent of the UK's electricity demand could be generated by wave and tidal technologies, offering domestic security of supply, as well as a global export market with an estimated value of £76 billion by 2050.
The testing activity in Orkney has been a catalyst for economic development with the creation of well-paid jobs and a world-leading supply chain exporting its skills and knowledge globally. It is calculated EMEC added £306 million to the UK economy between 2003 and 2019.
The industry has made significant progress in recent years with 43.8 GWh exported to the grid. Now we need to scale up, and for that, we need a route to market.
Funding remains the greatest obstacle to realising the full potential of wave and tidal energy, and the UK is at great risk of losing its lead.
The sector needs revenue support, payments above the standard market rate, to drive investment and support its transition from R&D to a commercial industry.
Islands' drive to green hydrogen
Orkney is a hotbed for green hydrogen R&D activities, demonstrating the use of hydrogen to decarbonise power, heat and transport applications.
When hydrogen is produced from renewable energy through electrolysis, splitting water into its component parts of hydrogen and oxygen, "green hydrogen" is produced. This is a carbon-neutral fuel as it does not emit carbon when burnt. Once generated, hydrogen can then be stored, transported and distributed to end uses across the islands.
While we started looking at hydrogen to overcome local grid constraints – essentially using it as a means of storage – a green hydrogen economy has burgeoned with research projects exploring how to use hydrogen to power ferries, planes and road vehicles, for heating at the airport and even in the distillation process to make hydrogen-powered gin.
Through these interconnected pilot projects, Orkney is building its collated hydrogen knowledge across the value chain, from production, through to storage, transport, supply and end use, and with this a new knowledge economy and specialised skills have developed.
Continuous, proactive collaboration has been critical to the innovation taking place and is credit to local partners including the European Marine Energy Centre (EMEC), Orkney Islands Council, Community Energy Scotland, and islands' development trusts working together to overcome many challenges.Hydrogen R&D projects have instigated significant private sector interest, with major consortium looking at how to repurpose the local Flotta oil terminal to create a green hydrogen hub.
Powered by offshore wind, the plans would contribute significantly to the UK's low carbon ambitions, create long-term skilled jobs and place Scotland front and centre of the evolving global hydrogen revolution.