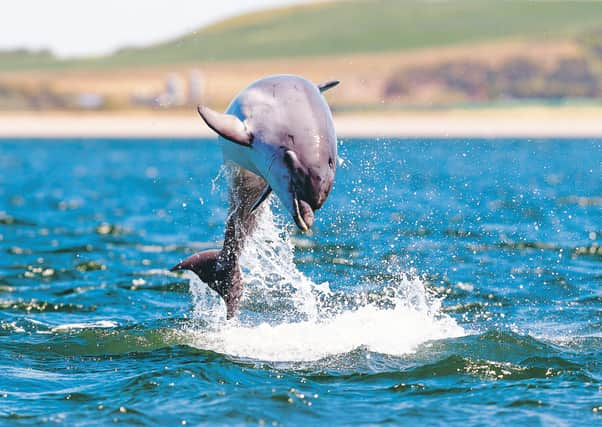 Scottish cetacean experts are among more than 250 international scientists warning of "grave concern" over the impact of human activities on the survival chances of threatened dolphins, whales and porpoises.
In an open letter to world leaders, academics from more than 40 countries around the world have called for urgent action to tackle the precarious situation of many populations of marine mammals caused by harmful human activity.
Threats include incidental bycatch by fisheries, chemical and noise pollution, global warming and ship strikes.
The letter states: "Each one of us is a cetacean specialist and each one of us believes this issue is now critical.
"The lack of concrete action to address threats adversely affecting cetaceans in our increasingly busy, polluted, over-exploited and human-dominated seas and major river systems, means that many, one after another, will likely be declared extinct within our lifetimes."
The letter calls for nations to "take precautionary action to ensure these species and populations are adequately protected from human activities, including implementing appropriate and fully resourced monitoring" and "work with and strengthen the relevant international bodies that seek to address threats to cetaceans".
Scottish signatories include Dr Andrew Brownlow and Nick Davison from the Scottish Marine Animal Stranding Scheme, Dr Kevin Robinson from the Cetacean Research & Rescue Unit, Dr Denise Risch, pictured inset, and Dr Steven Benjamins from the Scottish Association for Marine Science (SAMS), Dr Gill Braulik and Dr Luke Rendell from the University of St Andrews, Dr Alison Craig from Edinburgh Napier University and Dr Ursula Verfuss from SMRU Consulting.
Scottish waters are important for cetaceans, being home to or visited by 24 of the 83 species.
Scotland hosts the UK's most northerly resident population of bottlenose dolphins, in the Moray Firth, and a resident pod of eight orcas known as the west coast community.
As well as their ecological value, cetaceans have an economic value for Scotland.
Wildlife tourists flock to hotspots for a chance to see the mighty creatures, with whale-watching on the west coast bringing in around £8 million each year.
Benjamins, left, a marine mammal researcher at Oban-based SAMS, said: "We are very fortunate in Scotland that we still have more than 20 species of whales and dolphins in our waters and that we can often observe them, even from the shore. But they are facing the same threats as marine mammals worldwide. We are therefore calling for increased protection measures for cetaceans."
His SAMS colleague 
Risch added: "Whales and dolphins in Scotland are harmed by becoming entangled in fishing gear, being exposed to toxic pollutants such as PCBs and by ecosystem changes caused by climate change and commercial activities.
"We study, in particular, the effects man-made noise may have on marine mammals. ]
"Because it's hard to see far in the sea, hearing is the most important sense for many marine animals, including whales and dolphins.
"Noisy human activities such as shipping, aquaculture production, energy extraction, seismic surveying and navy sonar can drive these fascinating animals away or cause them serious hearing loss."