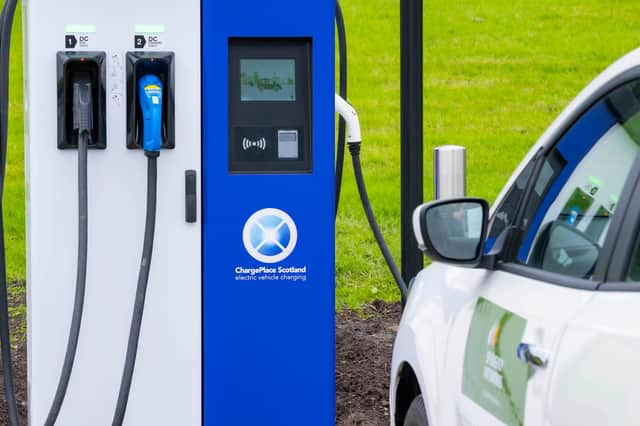 The move to electric motoring will bring a surge in demand for electricity, but a new smart charging scheme will see drivers able to sell back stored power to help balance the National Grid at times of peak demand
Edinburgh-based Flexitricity, a specialist in demand-response energy, is pioneering a service which will allow countrywide grid-to-vehicle smart charging services for electric vehicles (EVs) that can trade their stored power on the electricity market.
Flexitricity bosses say the scheme will allow customers to save – or even earn – money, whilst also helping National Grid balance increasing quantities and the intermittent nature of renewable energy needed to achieve Scottish and UK climate targets.
The move will also enable energy suppliers to deliver renewable energy to their EV charge point customers.
It comes as a result of a new partnership between Flexitricity and cloud-based smart charging platform Ev.energy, which will see them register the first aggregated balancing mechanism unit made up of domestic EVs.
Andy Lowe, chief commercial officer at Flexitricity, said: "Whilst setting the goals is hugely important, the hard part will be fully committing to deploying green technologies and ensuring that the energy system of the future is not merely coping but thriving under the new conditions.
"Electrification of transport and more variable renewables coming onto the system represent both a hugely positive change but also a significant challenge for National Grid.
"If the energy system is not fully prepared for the influx of EVs, we'll end up increasing demand on the grid at the worst possible time – for instance, in the evenings, when demand is already high and renewable energy production, particularly from solar, tends to be low.
"The solution to this is smart charging."
Most electric vehicle owners come home from work, plug in their car and start charging immediately – during the natural peak in energy consumption.
This increases demand at times when it is highest, which is expensive, can have greater carbon impacts and puts pressure on local electricity networks.
Smart charging can unlock useful flexibility to help balance the grid.
Ev.energy's smart charging platform and Flexitricity's automated system will work in unison, reacting to real-time electricity price signals, to ensure the optimal charging strategy is deployed.
"We're aiming to charge electric vehicles at the greenest times of the day, while making sure we meet the needs of the car's owner," Mr Lowe said.
"Especially in Scotland there are often periods when there is so much wind energy it can't be used locally and it can't all be carried in the wires going south.
"That's a great time to get ahead on charging cars north of the border – saving a lot of money while we're doing it and putting green energy to work rather than seeing it getting curtailed by National Grid.
"The other challenge – or opportunity – is looking at ways EVs can help National Grid balance supply and demand in the system and participate in various balancing services and markets.
"When something happens, like a power station failing, National Grid needs to fill the gap very quickly.
"We can pause charging of electric cars within seconds of an event like that, and bring them back on as soon as the grid is stable again.
"Typically, that can take between a few minutes and an hour.
"If we do that, we earn money for our customers and save both money and carbon for the grid."
William Goldsmith, Ev.energy's head of commercial and grid services, said: "With a rapidly growing 60MW capacity of EV load currently on our platform, Ev.energy is in an excellent position to help balance the GB energy system.
"By partnering with Flexitricity we are able to offer energy suppliers an advanced trading service that reduces their cost, benefits the grid, the environment, and delivers better value to their customers."
The Balancing Mechanism is one of the main tools National Grid ESO uses to balance supply and demand on the electricity system in real time.
It's a profitable market where providers can offer to increase or decrease their generation or demand to help balance the system.
Now, as the UK moves towards its 2050 net-zero carbon target, smaller, more agile energy providers are being encouraged to contribute.
A message from the Editor:
Thank you for reading this article. We're more reliant on your support than ever as the shift in consumer habits brought about by coronavirus impacts our advertisers.