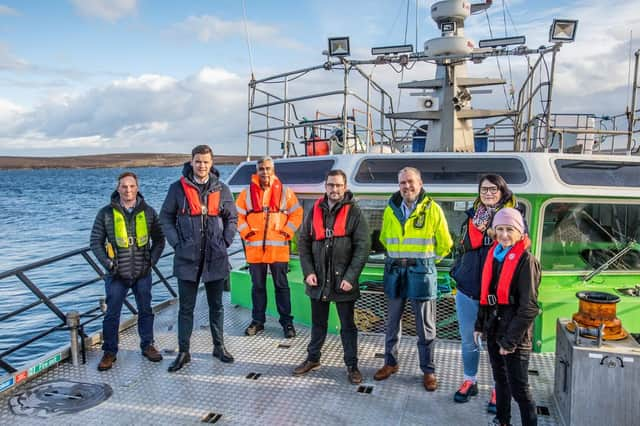 Fred. Olsen has a long-standing connection with the Orkney community
With the ScotWind leasing round due to be announced in January – Orkney Islands Council (OIC ) has been scanning the horizon and working alongside partner organisations and potential developers to maximise the economic opportunity for the islands.
This includes signing an agreement with Crown Estate Scotland to work together to develop a deep-water quay in Scapa Flow.
The memorandum of understanding between OIC and Crown Estate Scotland reflects a shared ambition to promote sustainable growth for the offshore wind sector in the seas around Scotland.
The planned deep-water quay would be used for the construction and assembly of wind turbines, and as a base for maintenance and the storage of components.
Designed for use by large vessels involved in the construction of offshore wind farms, it would have a water depth of 15 metres.
OIC leader James Stockan said: "The project we're developing has huge potential as a key strategic asset underpinning Scotland's climate change ambitions.
"As a purpose-built facility surrounded by the safe and sheltered waters of Scapa Flow, it would have a vital role to play in enabling a major expansion of offshore wind farms in Scottish waters.
Stockan continues: "It's encouraging that wind farm developers have expressed considerable interest in getting involved in the project – and we are delighted that Crown Estate Scotland will be working closely with us as it develops.
"I regard this as a once-in-a-generation opportunity, a transformational project that would deliver a major boost for our local economy – creating jobs and business opportunities throughout our islands."
OIC has agreed to move ahead with the next phase of the deep-water quay initiative – a detailed appraisal of the costs involved and of potential sources of external funding for the project.
Colin Palmer, director of marine for Crown Estate Scotland, said: "This is an exciting example of how we are working with local authorities around Scotland to help tap in to our fantastic natural marine resources in a sustainable way, as we build towards helping Scotland get to net-zero.
"Projects like this can drive investment into the blue economy and can hopefully help communities in Orkney realise the economic benefits of the major strides Scotland is taking in the development of offshore wind."
ScotWind partnership cements commitment
Fred. Olsen has a long-standing connection with the Orkney community so it was only natural, as part of its ScotWind partnership with Vattenfall, that it should build relationships with the islands' offshore service providers Green Marine and Leask Marine, alongside Orkney Harbour Authority.
This will facilitate the development of local suppliers, enabling the creation of highly-skilled jobs and maximising the opportunities that offshore wind can bring to the area.
The partnership has signed three separate memorandum of understandings, which will see local suppliers work collaboratively to deliver large-scale offshore wind contracts, should they be awarded an option as part of the forthcoming ScotWind leasing announcement.
The agreements focus on utilising local skills and services, while supporting local businesses to expand and be ready for future business demands, including preparing for the purchase of new assets and training staff in key skills areas.
The partnership recently visited Orkney to work with stakeholders to understand the skills and core competencies in marine operations, and explore how to co-ordinate to realise shared ambitions and maximise opportunities for the region, as well as develop a sustainable approach to supply chain growth.
By combining the skills and experience of two of Europe's leading renewable energy developers, the partnership has the advantage of utilising Fred. Olsen's mobile port solution, which will allow Orkney to expand its port capacity for offshore wind construction, creating local manufacturing and fabrication facilities, and long-term sustainable jobs.
The partnership has identified opportunities to:Use local service providers to support local fisheries' liaison services, work on site, provide specific anchoring solutions, and utilise local vessels and crews for marine operations.
Undertake activities to support local businesses in preparing to support the deployment of offshore wind facilities.
Bolster Orkney Islands Council Harbour Authority activities, including securing full investments for the Scapa Deep Water Quay expansion, supporting local skills development, and working together to deliver a wet storage area in Scapa Flow as a long-term asset.
This is only the start of the support that can be provided to Orkney to bolster its ambitions.
ReFLEX (Responsive Flexibility) Orkney is a £28.5 million innovation project aiming to create an integrated energy system for the archipelago.
The project aims to interlink local electricity, transport and heat networks into one controllable, over-arching system, digitally connecting distributed and variable renewable generation to flexible demand.
Funded by UKRI through the Industrial Strategy Challenge Fund, the project is led by the European Marine Energy Centre (EMEC), with cross-sector partners including Aquatera, SMS, Community Energy Scotland, Heriot-Watt University and Orkney Islands Council.
At the heart of the project is the demonstration of "flexibility", using tech such as battery storage, electric vehicles, smart chargers and smart meters.
ReFLEX Orkney is encouraging early adoption of these by the community in the collective drive to decarbonise the islands.
As part of the project, a new local energy company, ReFLEX Orkney Ltd, was launched in December 2020, offering a range of new low-carbon transport and power services exclusive to Orkney residents and businesses to further decarbonise the islands' energy system.
Flexible energy technologies are available via affordable leasing and other financing methods, helping customers to avoid large upfront costs.
The project has also initiated larger-scale and community-focused initiatives in Orkney, such as electric vans for island communities and a local electric car club.
Uptake of technologies has been encouraging and one of the biggest successes has been in influx of electric cars, with more than 100 new electric vehicles on Orkney roads thanks to the project.