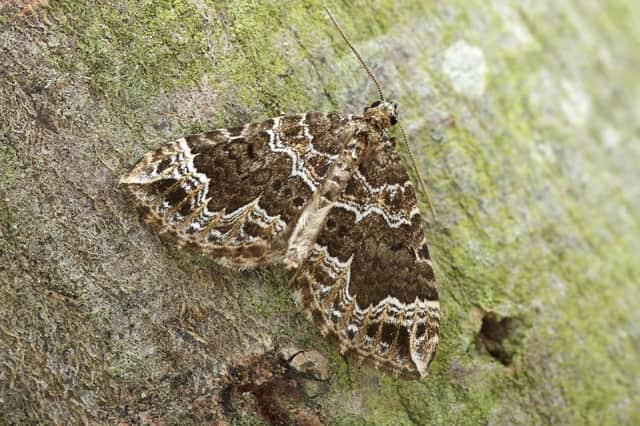 Declines have been more severe in southern parts of the country than in the north.
The findings come from a new report by the charity Butterfly Conservation, in partnership with the UK Centre for Ecology and Hydrology and Rothamsted Research.
The report is based on analyses of millions of records gathered through the National Moth Recording Scheme and Rothamsted Insect Survey between 1968 and 2017.
It summarises how around 900 species of larger, or macro, moths found across the UK are faring, demonstrating long-term changes in abundance and geographical distribution.
Trends show that 41 per cent of species have decreased dramatically in abundance and 32 per cent have suffered significant decrease in distribution.
Over the same time period, only 10 per cent of species increased in numbers, while the remaining 49 per cent showed no notable change.
But despite overall declines, more species – 37 per cent – have seen their distribution expand rather than shrink.
Evidence suggests there has also been a northwards movement of some populations – shifting by an average of 5km per year from 1995 to 2016.
Climate change and other human pressures on nature are thought to be behind the trends.
The report states: "Habitat destruction and deterioration remain pressing concerns, driven by land-use change and chemical pollution.
"Artificial light at night has negative effects on moth development and behaviour, but links to population-level decline are yet to be proved.
"Climate change is the principal driver of range expansion, but there is also growing evidence of
negative impacts, particularly on moths that are adapted to cooler conditions in northern, western and upland Britain."
The UK is home to around 2,600 moth species, including around 900 macros and 1,700 micros.
In Scotland there are approximately 560 macros and 940 macros.
One significant and rapid change has seen the Devon carpet moth expand its range from the south-west of the UK northwards, reaching southern Scotland in 2013.
Its range margin shifted northwards at 16km per year between 1995 and 2016.
Overall distribution of the species more than doubled nationwide from 1980 to 2016 and its abundance increased more than five-fold over the past five decades.
"This decline is worrying because moths play a vital role in our ecosystems," said Dr Richard Fox, associate director of recording and monitoring at Butterfly Conservation and lead author of the report.
"They are pollinators of many plants, with some wildflowers, such as orchids, relying on visiting moths for reproduction.
"They also provide essential food for thousands of animal species, including bats and many familiar birds.
"We're lucky enough to have almost 900 species of larger moths in Britain.
"Because moths are dwindling, we can be pretty sure that other wildlife are also in decline and that our wider environment is deteriorating."
Dr Colin Harrower, spatial data analyst at the UK Centre for Ecology and Hydrology, added: "Our analysis of the millions of records showed that, over the past 50 years, four times as many moth species decreased in abundance as increased.
"It is possible that our rarest species, for which we cannot easily produce reliable trends, are facing even greater threats to their populations."
A message from the Editor:
Thank you for reading this article. We're more reliant on your support than ever as the shift in consumer habits brought about by coronavirus impacts our advertisers.