As many as 77,000 green jobs could be created by 2050, they say, more than replacing those lost as fossil fuels are removed from the mix.
Presenting the draft new energy strategy for the country, net zero and energy secretary Michel Matheson outlined aims to dramatically increase renewable power, develop a new hydrogen sector, support pumped hydro storage and push forward novel carbon capture technology, which is designed to prevent emissions from reaching the atmosphere.
This growth will allow Scotland to meet a large proportion of power demand through renewables alone, while also creating export opportunities for the surplus.
It will also help protect Scots against price fluctuations and supply interruptions in the global energy market, helping to create a "flourishing, climate-friendly energy system that delivers affordable, resilient and clean energy supplies for Scotland's households, communities and business".
Proposals in the new strategy, which will update the 2017 original, include an aim to create an additional 20GW of renewable electricity generation capacity by 2030, including 12GW of onshore wind, plus more offshore wind, solar, wave and tidal schemes.
This will more than double Scotland's existing renewables generation capacity, which currently stands at 13.4GW.
There is also a target to provide 5GW of hydrogen hydrogen production capacity by 2030 – around 15 per cent of Scotland's current energy needs – rising to 25GW of by 2045.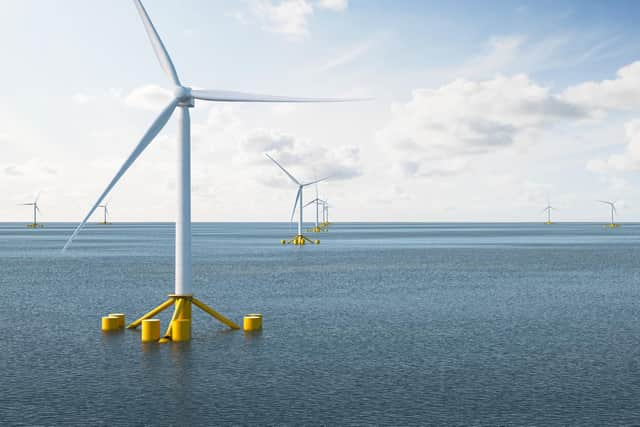 A draft of Scotland's first ever Just Transition Plan has been released alongside the energy strategy, showing a routemap for how a greener society can benefit the whole of society.
Mr Matheson said oil and gas was "part of our identity" in Scotland but continued use of fossil fuels was "no longer appropriate" on the route to reaching zero climate emissions.
Ministers highlighted the "mature" status of the country's oil and gas industry, with estimates suggesting reserves will be used up in the next 20 years, and said the consultation process would be used to help decide whether it should be left to die a natural death or its end hastened.
The strategy reiterates that no new nuclear power will be built in Scotland, there will be no coal extraction, no use of unconventional oil and gas and no exploration for onshore conventional oil and gas.
The document also sets out recommendations for action by Westminster in reserved policy areas, including powers relating to energy security, network investment and market mechanisms and regulation.
Scottish ministers have also invited the UK government to join an Energy Transition delivery group to drive forward the vision set out in the new strategy.
Official figures for 2020, the most recent year available, show Scotland's emissions had fallen by 58.7 per cent from 1990 baseline levels.
That means the interim target for a 56 per cent reduction by 2020 was achieved, although analysts have concluded this was largely due to the impacts of Covid lockdowns.
Scotland's legally binding targets demand an overall reduction in emissions of 75 per cent by 2030 and 90 per cent by 2040.
The aim is to reach net zero by 2045 – five years sooner than across the rest of the UK.
But a recent report from independent government advisers at the Climate Change Committee warned that Scotland had lost its lead in the move to decarbonise and is now on the same track as the UK, despite tougher goals.
Analysis found that progress in reducing emissions in Scotland had largely stalled in recent years, with failure to achieve seven of the 11 legal targets since the Scottish Climate Change Act became law in 2009.