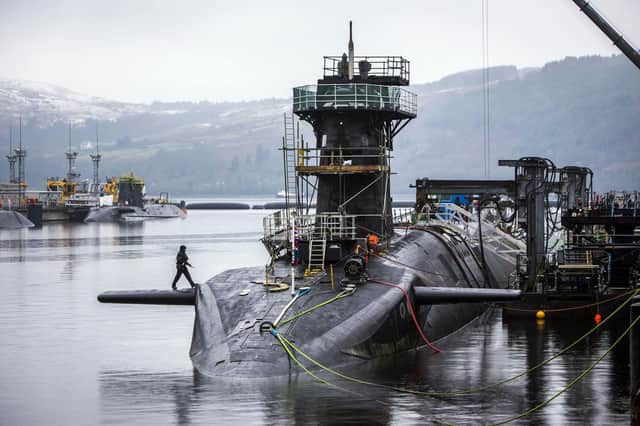 HMS Vigilant, one of the UK's four nuclear warhead-carrying submarines, at Faslane. Picture: PA
Campaigners say the proposal from HM Naval Base Clyde, home to the UK's Trident nuclear missiles, could see up to 50 times more of some contaminants being released into the environment.
The MoD is planning to build a processing hub that will deal with waste material from submarine and weapons operations at Faslane and Coulport in Argyll and Bute.
It also wants to install a pipeline that will channel radioactive effluent into the Gare Loch.
The proposals, submitted to the Scottish Environment Protection Agency (Sepa), also recommend lowering the maximum volume of effluents allowed to be released.
The MoD application suggests discharges of tritium, a radioactive isotope of hydrogen, could rise by as much as 30 times and of cobalt-60 by almost 50 times.
Now Sepa has launched a public consultation on the plans, although the MoD is exempt from regulations.
The document states there could be increases in discharges of radioactive waste but does not quantify them.
If approved, the permission will replace four previous waste disposal agreements.
Campaigners are urging people to speak out against the propsals, which they fear could harm the environment and human health.
The Scottish Campaign for Nuclear Disarmament has lodged an objection.
Lynn Jamieson, its chair, said: "The MoD is making the situation look much better by emphasising the lowering of discharge limits, which distracts from the fact that they are increasing the quantities of discharges – some of them by a significant amount."
Richard Dixon, director of Friends of the Earth Scotland, said: "The official scientific view is that no level of radiation is safe, so even if it's a low level the more you have the greater the risk that it will do something to you – including causing cancer.
"The environment has some natural radioactivity but every little bit we add increases the risk of humans being exposed. That includes through the food chain if you're eating fish.
"We should be reducing 
discharges, not increasing them.
"It's quite a significant increase and not worth the risk for local people, Faslane workers or anyone who might eat fish from the area."