A celebrity chef will be offering hungry locals and visitors the chance to taste an exciting menu of dishes at a special pop-up restaurant which is touring Scottish cities.
And the food on offer has a unique twist – it's all cooked up from tinned ingredients.
Julie Lin, who appeared as a contestant on television show MasterChef in 2014, is bringing her mobile eaterie to locations in Edinburgh, Glasgow, Dundee and Aberdeen next week as part of a campaign that aims to help tackle the cost of living crisis and cut food waste.
The chef, who is half Malaysian and half Scottish, was in her 20s when she appeared on the cult cookery show and got as far as the quarter-finals.
She now runs her own bar and restaurant in Glasgow, called GaGa, which celebrates her Malaysian heritage.
Julie's Can-teen will open its hatches in the Scottish capital on Tuesday for the first leg of the tour, serving up an exotic selection of cuisine which champions the affordability, versatility, long shelf-life and wide choice of canned foods.
Must-try dishes, inspired by the Southeast Asian cooking the Glasgow-based chef is renowned for, include: honey and soy glazed bao buns with pineapple and pickled cucumber; Thai-inspired fishcakes with a charred apricot sriracha dip; and saag curry with chickpeas, spinach and paratha bread.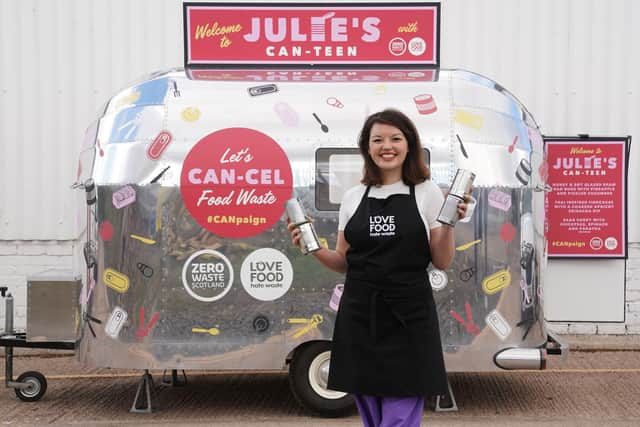 "Tins are an unsung 'double whammy' of a hero in any kitchen," she said, "helping us to keep our rising food bills lower and reducing the amount of food we buy that goes off and gets thrown away, which is a major driver of climate change."
What's more, it turns out there actually is such a thing as 'a free lunch', with diners invited to head along and pick up lunch on the house – meals will be available on a 'first come, first served' basis from 12pm to 4pm in Edinburgh, and from 12pm to 2pm in Glasgow, Dundee and Aberdeen.
An exclusive dining experience will be available for up to four diners within the Can-teen itself, with lunch personally served by the chef herself.
The campaign is being run in partnership with Zero Waste Scotland (ZWS), which has recently carried out research into attitudes towards tinned foods – many of them mistaken.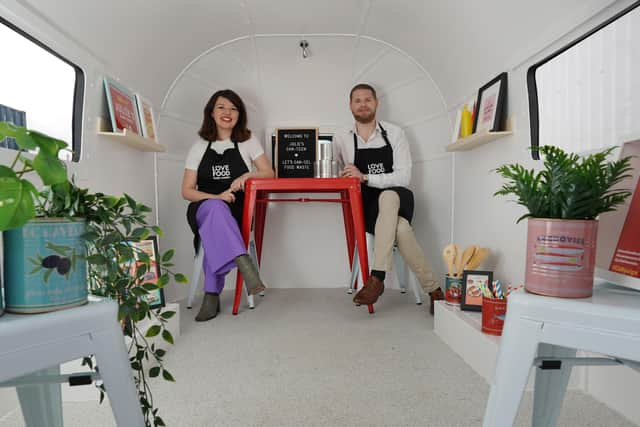 The environmental organisation is keen to highlight the benefits of tinned food, which can be cheaper for consumers and less costly to the environment than some more perishable ingredients.
Canned goods are shelf-stable – meaning households have much longer to use them up, cutting the amount which ends up in the bin.
There are also plenty of options that are packed full of nutrients.
And the tins themselves are fully and repeatedly recyclable.
But ZWS surveys have revealed more than half of Scots have concerns over canned goods.
Asked for the key reasons why they might choose not to eat them, one in five said they believed canned goods were less healthy than other foods, while one in six felt it was difficult to make meals from them.
Ms Lin aims to demonstrate the contrary, letting customers taste the evidence.
She said: "Zero Waste Scotland's research shows that nearly a quarter of people in Scotland think of tinned food as a 'last resort'.
"That's why my trusty Can-teen and I are taking to the road to encourage people to give tins a chance and taste for themselves how easy it is to make delicious meals that needn't cost the earth, or the planet.
"What's even more amazing is that tins are infinitely recyclable, meaning they can be made into other tins again and again, just by recycling them from the kerbside – which is a win-win (or rather tin-tin) for us and our environment."