Man relives terrifying moment sea wall walkway collapsed beneath his feet in Pittenweem
Disaster struck on Sunday, when Rob Allen and his wife were returning home after walking their dog
A Pittenweem man has had a lucky escape after a seafront walkway in the picturesque coastal village disintegrated beneath his feet following wild weather and exceptionally high tides last weekend, plunging him into a giant hole which had opened up.
Rob Allen lives in one of the oldest parts of Pittenweem, in an area with listed properties dating back to the 1600s with links to the Jacobites that feature in tourism advertising for the village.
Disaster struck on Sunday, when he and his wife were returning home after walking their dog.
"I just looked over the sea wall," he said.
"I could see a few boulders at the bottom of it and I just sort of thought, 'oh no, the wall has been damaged, we've got a bit of a problem here.'
"As my wife walked towards me I could hear it echoing, and I just knew that the entire thing was a hollow cavity beneath me.
"I said, 'step back', and she jumped back. As I said that it just collapsed underneath me and I fell into the hole.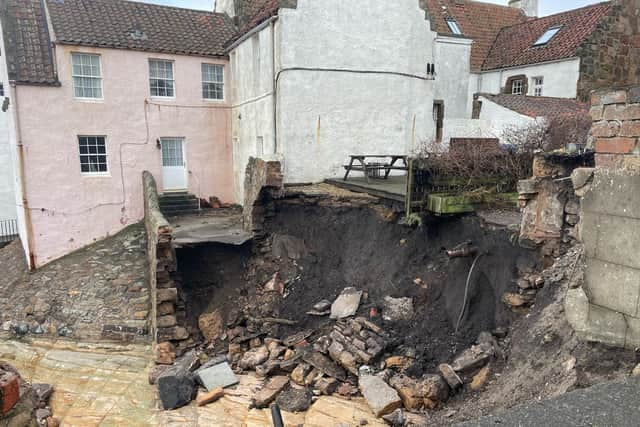 "I could have been killed. The hole was probably at least 2m deep.
"The walkway level was above my head, so I was looking up out of the hole and had to climb out – miraculously unscathed."
As well as the shared walkway, which is publicly accessible, part of his own garden has been lost and his broadband connection severed.
But more chunks of ground have been falling away each day since the cave-in first occurred.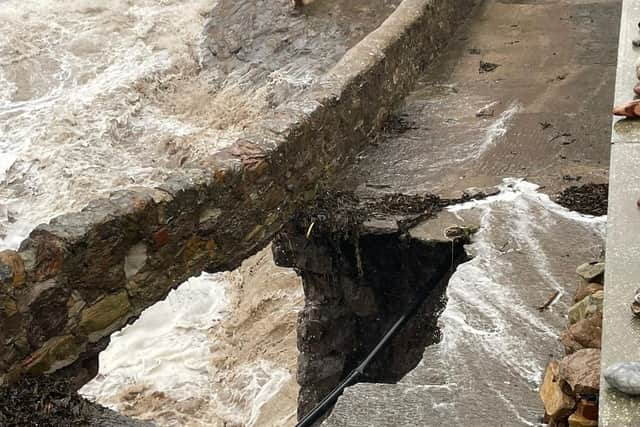 Now the 44-year-old IT manager is warning that the collapse of the sea wall could leave the historical properties, known as the Gyles Houses, vulnerable to both the sea and heavy rainfall which has been battering the coastline in recent days with more to come.
"There is a heritage catastrophe unfolding here, as grade A listed buildings that are a jewel in the crown of Fife tourism are under threat," he said.
He has hit out at the lack of action by the local authority in the wake of the incident, with ground continuing to give way and the hole growing every day.
"What I'm really amazed about is the complete lack of response from Fife Council.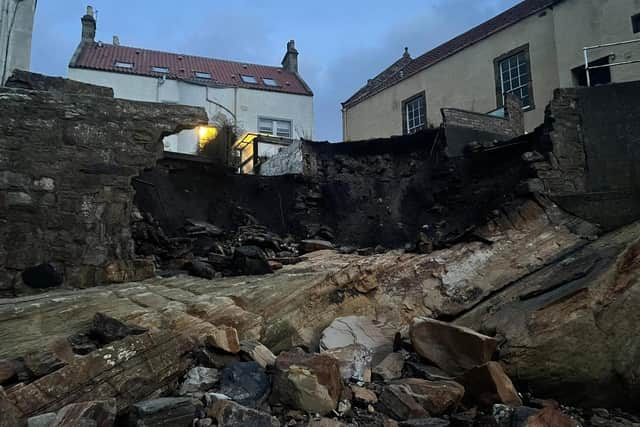 "It has been absolutely incredible.
"I cannot believe what has happened since I reported it.
"I phoned them at 2.30pm on Sunday, when this happened, on their emergency flood line number.
"They phoned me back at 6.45pm and said there was a team on the way out. A couple of guys, a road repair crew, came out with a few sandbags.
"They escalated the issue to a duty manager, then somebody else came out and said there was nothing they could do but they would send out a sea engineering team the next day.
"So on Monday afternoon, just before high tide, another team came out. And they said they couldn't do anything – it was way beyond their capabilities.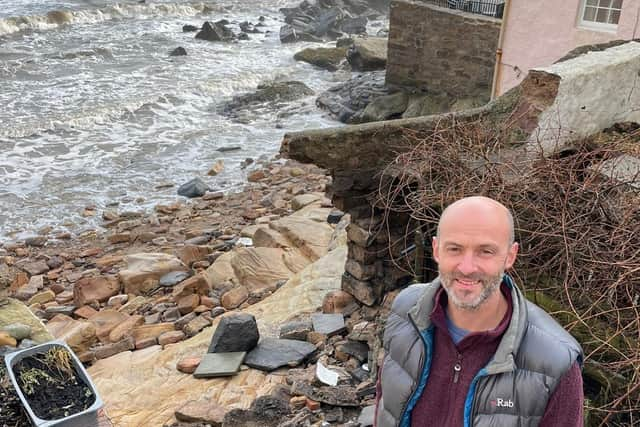 "I asked what they were actually here to do and they said to prevent access and put up some fences.
"Since then, not a single Fife Council representative has been out to talk to us, to see if we're okay, to see if our neighbours are okay.
"There has been absolutely nobody. It's just unbelievable."
He said his family and neighbours have been left feeling "anxious and very upset".
They are also afraid what might happen next if nothing is done.
"It's terrifying," he said.
According to Fife Council, it's unclear who owns the wall in Pittenweem and who is responsible for its maintenance but the authority would step in if residents were considered to be in danger.
Garry Nicoll, service manager for Building Standards & Public Safety, said: "The properties affected are privately owned.
"We continue to closely monitor the situation.
"If any serious concerns emerge regarding the integrity of any of the buildings or if public safety becomes compromised, we may require the buildings to be evacuated and the wider area further restricted.
"We are engaging with the occupants and all interested parties, encouraging the owners to seek their own independent professional and specialist advice.
"This includes making contact with their insurance provider so that the necessary steps to best protect their property can be identified and progressed.
"In the meantime, we have arranged fencing to restrict access and direct people away from the area of the collapsed wall, in the interest of public safety.
"We are establishing the ownership of the retaining wall to identify the responsible interests and agree how best to move this situation forward."
Comments
 0 comments
Want to join the conversation? Please or to comment on this article.