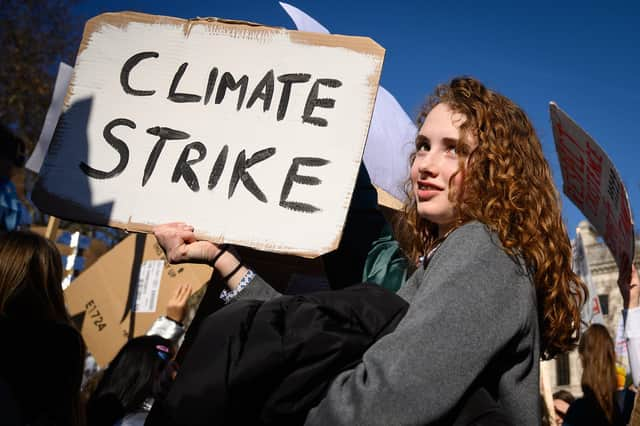 Two-thirds (68 per cent ) of adults identified the environmental crisis as an issue in the 2019 Scottish Household Survey, up from 46 per cent the previous year, marking a rise of almost 50 per cent There was also a slight improvement in attitudes towards schools in the survey of more than 10,000 households across the country.
In 2019, for the first time, a majority of each age group viewed climate change as an "immediate and urgent" problem. The largest increase is amongst 16-24 year olds, increasing from 38 percent in 2013 to 69 percent in 2019.
Scottish Greens co-leader Patrick Harvie said: "An overwhelming majority of Scots in every age group now recognise that the climate emergency is an immediate and urgent problem.
"It's time for the Scottish Government to stop tinkering at the edges and finally deliver an emergency response.
"We've shown how climate action can support hundreds of thousands of jobs, deliver a fair transition for those currently working in fossil fuels industries and make our villages, towns and cities healthier places to live. All that's missing is government will."
People aged 35-59 were most likely to agree climate change is an immediate and urgent problem, at 72 per cent , compared with 69 per cent of those aged 16-24.
Fabrice Leveque, WWF Scotland Head of Policy, added: "Its clear from the results of the survey that people are really waking up to the climate emergency and recognising that the window for action is rapidly closing.
"Young people in particular are ringing the alarm, highlighted by the near doubling (to 69 per cent ) of 16-24 year olds saying that climate change is an immediate and urgent problem."
The survey also found that satisfaction with schools has fallen since 2011, from a high of 85 per cent in 2011 to the current level of 73 per cent.
Community feeling also remains strong in Scotland, the survey finds, with more than three-quarters of adults (78 per cent in 2019) reporting a very or fairly strong sense of belonging to their neighbourhood. This figure has remained at this level since 2012. Satisfaction with housing is high, with nine in ten households reporting they were very or fairly satisfied.