LEZ Glasgow: Judge gives green light for court challenge against Scottish ministers over fines for 'dirty' cars in Glasgow low-emissions zone
Fines issued to drivers of older, more environmentally polluting cars and vans for entering areas where limits on traffic fumes have been set could be scrapped if a new legal challenge is successful.
Campaigners battling penalties being imposed in Glasgow's low-emission zone (LEZ) have welcomed the announcement of a new judicial review into the scheme, the country's first where financial penalties are enforced on those entering the restricted area with non-compliant vehicles.
The case against the Scottish Government will go to court in October after a judge ruled that it met the "real prospect of success" test set down in law.
Statistics suggest around 2,500 Scots die prematurely each year as a direct result of breathing toxic air pollution, with exhaust emissions from petrol and diesel transport a large contributor.
Glasgow became the first Scottish city to introduce a LEZ at the end of 2018 in a bid to improve air quality around the most heavily congested roads, with regulations initially aimed at buses.
The scheme was extended from the start of this year, banning all vehicles which don't meet modern emissions standards from entering a square-mile zone around the city centre. Penalties for those in breach of the limits were imposed by the council this summer.
Environmentalists have hailed the move, which they say will help cut unnecessary deaths and provide "breathable" air. Similar schemes are due to be introduced in other parts of Scotland, including Edinburgh, Dundee and Aberdeen.
But businesses in Glasgow have launched a backlash against the scheme, which they insist disproportionately penalises poorer people, the elderly and those with disabilities. They have branded the LEZ scheme "hugely detrimental and redundant" because air quality has already improved through the measures against diesel buses.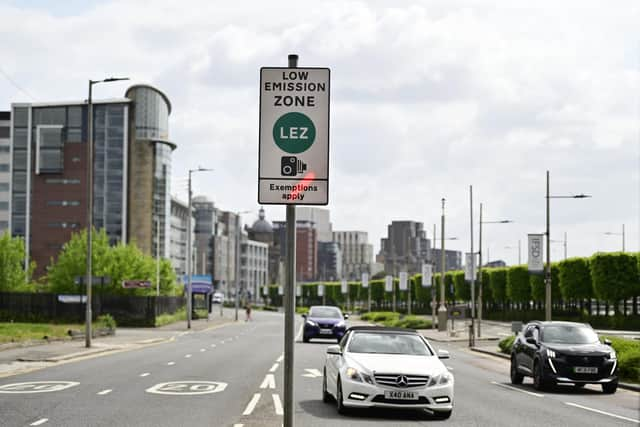 Now Lady Poole, one of the newest Court of Session and High Court judges, has given permission for a judicial review of the Glasgow scheme. In her ruling, she said the most significant factor that supported allowing the court bid was it "raises an important matter of public interest".
She said that interest included the "wider issues of air quality and climate change which underlie the matters challenged ... and the legality of the scheme".
William Paton, who runs Patons Auto Repair Centre in Glasgow's Townhead, is fronting the challenges against the LEZ. He said the judicial review gave real hope the Glasgow scheme could be quashed.
Mr Paton described the system as "illegal" and "disproportionate" and said he believed victory in court would end enforcement of LEZ schemes.
"Without the fines, there are no LEZ schemes," he said. "It can be shown that in 2022 the air quality targets were met. They achieved the goals."
A spokesman for Transport Scotland said: "It would be inappropriate for us to comment further until the judicial review process has concluded."
A Glasgow City Council spokesman said the authority was "satisfied that it correctly assessed available air quality data when taking the decision to implement LEZ phase two" and would "vigorously contest this case in court".
The fines system was put in place under the Low Emission Zones (Emission Standards, Exemptions and Enforcement) (Scotland) Regulations 2021.
Enforcement using the penalty charges structure began in Glasgow at the start of June, and is expected to be rolled out in Edinburgh, Dundee and Aberdeen in June 2024.
Comments
 0 comments
Want to join the conversation? Please or to comment on this article.