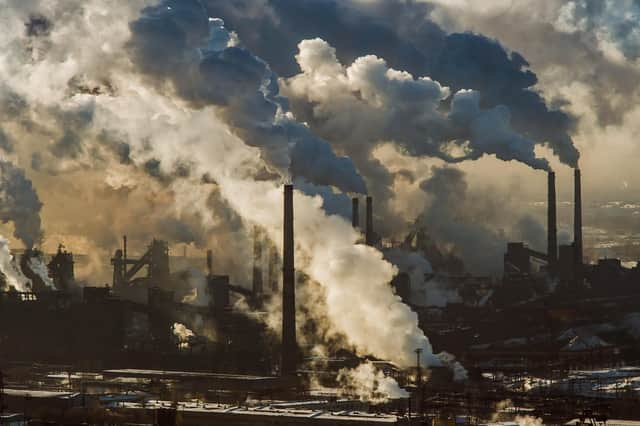 The world comes to Glasgow later this year
The scale of the emergency is clear to all. The half-decade since Paris has been studded with natural disasters, killing tens of thousands and displacing millions more. Though 2020 will always be remembered for the pandemic, it was also the year of the Australian wildfires; the year a quarter of Bangladesh was left under water, the year the World Meteorological Organisation (WMO) had to turn to Greek symbols for hurricanes after running out of letters in the Roman alphabet.
Nor have the world's biggest polluters risen to the occasion. Last year, a report by a panel of top climate scientists concluded the majority of the carbon emission reduction pledges for 2030 weren't nearly ambitious enough to meet the Paris goal. And the last COP - COP25, held in Madrid, which ended with no agreement on rules for carbon markets - was generally regarded as a failure.
Since then, much has changed. Tackling the pandemic has consumed governments across the world and caused COP26 to be delayed a year from November 2020. On the plus side, however, President elect Joe Biden's decision to rejoin the Paris Accord has lifted the mood and brought a fresh momentum. "There's a lot riding on Glasgow," says city council leader Susan Aitken.
Susan Aitken, Leader of Glasgow City Council
Aitken knows COP26 is crucial for the world, but it is also an excellent opportunity for her city to raise its profile, flaunt its climate change achievements and use its position as leverage to gain funding for transformational projects, such as the development of a city-wide metro system or the building of a Clyde barrage.
Of course, Scotland - not yet a nation state - has no seat at the negotiating table. Last year, it emerged Boris Johnson had refused to give Nicola Sturgeon an official role at the summit and for a while the UK and Scottish governments engaged in unseemly jostling over the hiring of conference venues.
"There was a febrile moment early on, but everything has calmed down considerably," says Roseanna Cunningham, cabinet secretary for the environment, climate change and land reform.
Ms Cunningham says that - as the European co-chair of the Under2 Coalition [a global community of state and regional governments committed to climate action] - Scotland's voice cannot be excluded, and the Scottish Government will be doing a lot of work throughout the event.
"I think unless you have actually attended a COP - and I've been to four of them - you cannot understand the scale of it and the layers involved," she says. "It's like the Edinburgh International Festival and the Fringe. The parties sitting round the negotiating table are obviously the high level governments from nations round the world, but there are all these other formal and informal events happening at the same time.
"When I have attended COPs, they are frantically busy. You are constantly in meetings. You are constantly speaking at events. There is a huge interchange of thinking and understanding and you come away with more understanding, better networks and more effective ways of working."
Ms Aitken, too, is finding ways to ensure her city plays an active role in the summit. For the last year, she has been pushing "the Glasgow message" - that climate change and social justice are inextricably linked - with such success the LGMA (Local Governments and Municipal Authorities) has added this as the seventh pillar of its roadmap to COP26.
She believes Glasgow - a city at the forefront of the industrial revolution - is the ideal backdrop for a conference that seeks to reverse the effects of decades of carbon emissions. It is a city scarred first by the heavy industries that defined it, and then by the poorly managed decline of those industries, which left entire communities devastated.
Glasgow's regeneration - while remarkable to those of us who lived there in the 1980s - is nevertheless a work in progress. The city continues to face environmental challenges, including traffic congestion, and its 70,000 tenement flats, which are bound up in the city's image, but have terrible thermal performance.
"For a lot of people round the world, Glasgow remains synonymous with heavy industry even though it hasn't been for a long time," Ms Aitken says.
"But it is that very story that makes us the perfect host city. Our transition is far from complete, but what we have achieved so far serves as momentum, a motivator and a wellspring for innovation.
"We have more low carbon businesses and industries than any UK city outside of London and more of them generating all the time in the city innovation districts we have established. Combine that with the social justice message, with saying that - as we tackle climate and carbon emissions - we are simultaneously tackling health inequality, fuel poverty, the skills gap. That is a source of inspiration for people."
Scotland's history also puts a particular onus on it to lobby for the voices of those disproportionately impacted by climate change.
"Countries in the global south benefited least from the industrial revolution, but are the hardest hit by climate change," Ms Cunningham says. "You only have to speak to people from island nations around the world, who face the prospect of their home effectively disappearing [to understand that] and yet these countries are often left out of the conversation.
"We will be arguing for those who are frequently under-represented or not represented at all to have their voices heard at COP26."
Ms Aitken, meanwhile, is working to ensure the people of Glasgow feel the summit is something they are part of rather than something imposed upon them. Taking place in November, as opposed to June, and bereft of big sporting fixtures, this will prove more challenging than it did for the Commonwealth Games in 2014.
But a similar volunteer programme is to be launched, and communities are being encouraged to put forward their own schemes for increased sustainability, such as pop-up bike lanes or an urban forest on a previously derelict plot of land. "We decided early on we would connect with communities and ensure there was a two-way engagement between the event and the city," Ms Aitken says. "That is the Glasgow way."
Scotland and, separately, Glasgow have ambitious targets to bring to COP26. Glasgow's is to be carbon neutral by 2030. Scotland's, enshrined in the Climate Change (Emissions Reduction Targets) (Scotland) Act 2019, pledges a 75 per cent reduction in emissions by the same year - 5 per cent higher than the Committee on Climate Change considered feasible. It aims to be carbon neutral by 2045.
Targets are broadly positive. They put pressure on countries to act. But there are those who believe climate change diplomacy has become too targets-focused; that countries compete to set impressive goals, without developing strategies to achieve them.
Ask Ms Cunningham if she thinks Scotland's targets are overly ambitious and she points out it over-shot the last one. "When the 42 per cent emissions reduction by 2020 was put in 2009 legislation that was considered to be at the absolute limit of possibilities, and we are already at 50 per cent," she says. " It would be a brave person who would suggest we will overshoot 75 per cent, but we are setting out early to achieve it."
Climate change diplomacy is also full of buzz phrases. One of these is 'Just Transition'. Just Transition is a recognition the decline of heavy industries left a terrible legacy and a promise that, this time round, it will be different; that the move towards a green economy will be carefully managed so no-one is left behind.
Ms Cunningham cites several initiatives as evidence of the Scottish Government's commitment to its goals: its £180m Emerging Energy Technologies Fund (EETF), its £100m Green Jobs Fund and the fact it incorporated Just Transition principles into its climate change legislation. Last month, the Scottish Government also announced one million net-zero homes by 2030 and an additional funding of £120m for zero emission buses in its updated Climate Change Plan.
Others, however, are less impressed. The Scottish Greens say the 2009 target was achieved almost inadvertently, through the closure of Longannet coal-fired power station and that, if the Scottish Government was truly invested in preserving and creating green jobs, it would have done more to save renewables manufacturer BiFab.
The renewables manufacturer went into administration after the Scottish Government withdrew a £30m guarantee from a bid to make parts for offshore wind farms, citing state subsidy rules.
"BiFab is not the whole renewables industry, but it has become symbolic of the failure of governments to plan for transition," says Mark Ruskell, Scottish Greens spokesperson on Climate, Energy, the Environment, Food and Farming.
"So, yes we have had renewable energy developed in Scotland. Fifteen years ago, a lot of onshore wind farm developers came in and built projects that made a huge contribution to decarbonising electricity. But if you want to go beyond that and capture the economic benefits; if you want to become an energy exporter to the rest of Europe, then you have to be prepared to invest and be more interventionist about it."
Mr Ruskell claims that, unlike Denmark, which recently decided to end oil and gas explorations in its section of the North Sea by 2050, the UK and Scottish governments are wedded to maximum extraction and are allowing oil and gas companies to control the agenda.
"What we are going to get at COP is the oil and gas industry riding in with lots of solutions," he says. "They will attempt to capture the idea of 'just transition', but the solutions they will want global governments to buy into will be their corporate solutions. They will be about maximising oil and gas extraction with some kind of mitigation on the side. That might involve carbon capture, but they won't say when or how much, or it might be hydrogen, but produced without any carbon abatement, and all the while governments will keep on issuing licences to extract more and more."
Back in Glasgow, Ms Aitken has another message for the Scottish Government. She says that while nation states pledge, it is local authorities which have to deliver - and that requires resources.
As you would expect, she trumpets her council's achievements: its Avenues project, which will see the transformation of 23 city centre streets; its Connectivity Commission, which diagnosed some of the problems with its public transport system, its plan to replace its existing bin lorries with hydrogen-powered alternatives, thanks to £6.3m in UK Government funding.
Ms Aitken says while Covid-19 has hindered some initiatives, the Spaces for People programme, brought in to help social distancing, allowed it to speed up its efforts to reduce the amount of the physical space in the city given over to private cars.
"The Scottish Government's emergency legislation has suspended some of the traffic regulations and the slow consultation process we would usually have to go through," she says. "So now we have all the pop-up bike lanes, we have closed Kelvin Way, we have plans for a low traffic neighbourhood in Dennistoun."
Glasgow City Council also has plans for major schemes that would address some of the biggest obstacles to it reaching its climate change target. For example, it has teamed up with Govan Housing Association and academics from Glasgow and Edinburgh universities in an attempt to retrofit a tenement block in the southside to the 'Passivhaus' standard. Buildings which meet the Passivhaus standard require very little energy for heating and cooling. If this can be achieved, the council would like to retrofit all 70,000 tenement flats in the same way.
Ditto its vision for the development of the metro system, which it hopes will feature in the Scottish Government's Strategic Transport Project Review, or the construction of a Clyde barrage, which would simultaneously reclaim vacant and derelict sites, mitigate flooding, harness the potential energy from the river, and create new, green jobs.
The council and the Sustainable Glasgow Board, which Ms Aitken chairs, are working with the UK Government's Energy Systems Catapult to turn such projects into costed proposals.
"Once that is done, we would be able to go to the UK or Scottish government or to investors and say: 'Right, we have cutting edge technology at Glasgow Recycling and Renewable Energy Centre at Polmadie which turns waste into energy, but the next stage - which is to get that energy into people's homes and businesses - isn't there yet. To do that is going to cost us, say, half a billion pounds, will you work with us to deliver the project?"
Ms Aitken believes it is in the UK and Scottish governments' interests to support Glasgow's efforts. "Obviously the Scottish Government thinks on a national level, but this is about us as a city government saying 'in order to reach your ambitious targets, you need to prioritise action and investment where most of the carbon emissions are, and most of the carbon emissions are where most of the people live, which is the Glasgow metropolitan region'.
"Action here won't just benefit Glasgow because the innovations, the learning, the spin-offs that come from it, will spread out right across Scotland, but also because Glasgow city centre has the most concentrated area of economic activity in the country. If we are creating more low carbon jobs and the skills pathways to access those jobs, it will benefit people in Falkirk, Ayrshire and Fife, too."
Central to the success of COP26 are the updated Nationally Determined Contributions (NDCs) - climate action plans those countries which signed the Paris Agreement are required to submit to the United Nations Framework Convention on Climate Change (UNFCCC). The NDCs embody those countries' efforts to reduce national emissions and adapt to the impacts of global warming.
The UK Government's NDC, submitted in December, commits the country to reducing greenhouse gas emissions by at least 68 per cent by 2030, compared to 1990 levels.
As Scotland is not a nation state, it is not required to submit one, but at the SNP conference Ms Cunningham announced the Scottish Government planned to produce an indicative NDC focused on its 75 per cent emissions reduction by 2030 target.
"I think it's a brilliant move," says Ms Aitken. "That's the scale of ambition we need to be showing, but, alongside that NDC, there needs to be detail on practical delivery."
Last year, Lord Deben, chairman of the Committee on Climate Change (CCC), queried whether Scotland could meet its targets.
"[It] has outperformed the rest of the UK in cleaning up its economy, resting on the rapid closure of coal," he said. "But so far, we haven't seen the same progress in other sectors.
"The spotlight is now on Scotland's plan to deliver meaningful reductions across all sectors of the economy, including from buildings, road transport, agriculture and land use. With the right policies and the committed support of Westminster, it can lead the way."
But we are only a tiny part of the equation. The success of COP26 relies not merely on Glasgow's ability to host a major summit, or on the Scottish Government delivering on its pledges, but on the behaviour of the biggest global players.
Here too, there are reasons to be cautiously cheerful. Not only has Mr Biden's recommitment to Paris buoyed the mood, but the head of the UN climate office, Patricia Espinosa, has said deadlines set by some of the biggest polluters have made it more likely the pact's goals will be met. These include the recent announcement by China that it will phase out emissions by 2060, and pledges by Japan and South Korea to do the same by 2050.
"These announcements are really extraordinary," Ms Espinosa told the Associated Press. "Just a few months ago, I don't think anybody would have really predicted that we would see these kinds of announcements at this time. And especially in the middle of the pandemic."
Ms Aitken, too, believes countries are finally waking up to the urgency of the situation.
"I think in the years since Paris, we have seen so much loss and damage particularly in the global south," she says. "The evidence is undeniable as is the fact we don't have time to hang about and argue about this any more..
"There is a growing sense that this is the last chance to deliver, but also that this is the COP that can deliver; that this COP is the best chance since Paris of the world coming together to do the right thing."
A message from the Editor:Thank you for reading this article. We're more reliant on your support than ever as the shift in consumer habits brought about by Coronavirus impacts our advertisers.
If you haven't already, please consider supporting our trusted, fact-checked journalism by taking out a digital subscription.