Humza Yousaf under fire on Scotland's missed targets after New York climate week speech
Humza Yousaf has come under fire for Scotland's missed emission targets after using a speech in New York to accuse world leaders of "catastrophic negligence" on climate change.
Speaking at Climate Week NYC, the First Minister said young people "have every right to be angry" that not enough is being done, and went on to allocate spending of a further £300,000 to help those impacted by Storm Freddy in Malawi, as well as £1 million for Scotland's humanitarian emergency fund. This will be used to address loss and damage caused by climate change.
Campaigners said the funding was welcome, but added the failure to reduce Scotland's emissions "risks making the First Minister's international climate efforts akin to repeatedly throwing a brick through someone's window while offering to pay for the damage".
Scotland is often touted as a world leader in climate action due to its tough environmental ambitions. But its performance on achieving these goals has fallen short in recent years, with the Environmental Rights Centre for Scotland last week threatening legal action over missed targets. Annual targets for cuts to greenhouse gas emissions have been missed in four out of the most recent five years, with the 2020 goal achieved only due to Covid lockdowns.
In his speech yesterday, Mr Yousaf said: "Government pledges come in by the billions, but far too often, the money doesn't go out the door.
"When you have a crisis, you have to act with urgency, the urgency the crisis demands. And I'm afraid that those of us in the global north are simply not responding fast enough. I ask other heads of government, are we really moving with the urgency that this crisis demands?"
The First Minister said world leaders should ask those impacted by wildfires and floods across the world, including in Hawaii, Greece, Pakistan, Libya and South Korea "if they think the world is prioritising its response to the climate emergency". "No, the truth is that we are collectively guilty of catastrophic negligence."
Responding, Liam McArthur, environment spokesperson for the Scottish Liberal Democrats, pictured right, said: "Humza Yousaf might want to fly across the world to try and talk up Scotland's climate credentials on the world stage, but the truth is the SNP's commitment to tackling the climate emergency is lukewarm at best.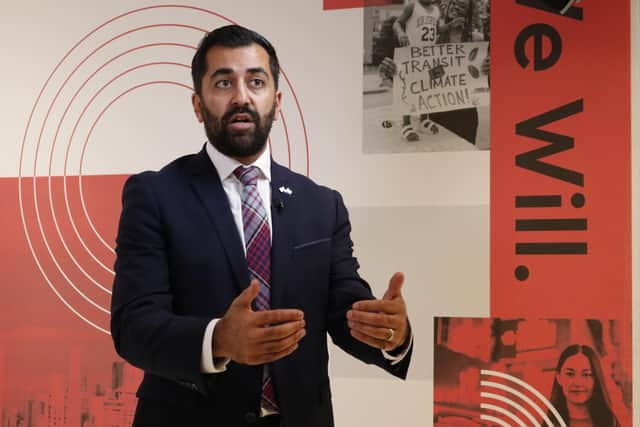 "This SNP/Green Government are serial failures on the climate emergency, having consistently missed emissions targets. We need to see more action to tackle the climate emergency at home than hot air on the world stage."
Lewis Ryder-Jones – a policy adviser for charity Oxfam Scotland – said the Government should be "commended" for its climate justice funding, but added: "However, the Scottish Government's recurrent failure to both meet its own emission reduction targets and to unequivocally oppose new oil and gas, risks making the First Minister's international climate efforts akin to repeatedly throwing a brick through someone's window while offering to pay for the damage.
"The Scottish Government needs to urgently scale up its domestic climate action; but that action will be costly.
"Who foots the bill is a test of political courage and will.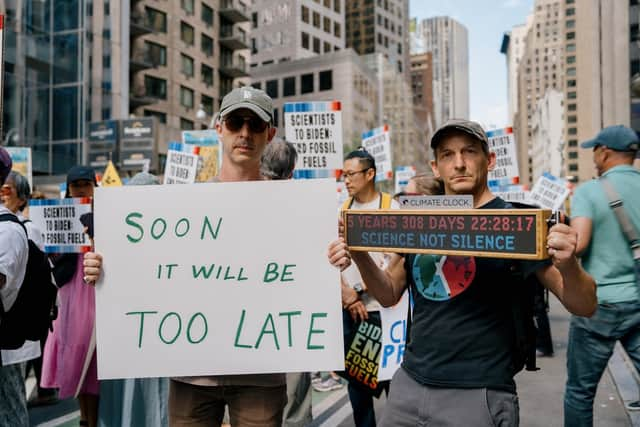 "The First Minister must demonstrate the same leadership he's shown on climate finance by maximising the use of devolved tax powers while also pressing the UK Government to use all of the levers at its disposal to fairly tax the biggest and richest polluters who've done the most to cause the climate emergency.
"Their time is up, and their payment is long overdue."
Opposition politicians also criticised the timing of Mr Yousaf's trip – in the week when the Scottish Government's legal challenge against Westminster's use of section 35 legislation to block the Gender Recognition Reform (GRR) (Scotland) Bill comes to court – as well as his credibility as a climate leader after "serial failures" to achieve home-grown environmental goals.
The case against Scottish secretary Alister Jack's use of a section 35 order gets under way at the Court of Session today and is expected to conclude on Thursday.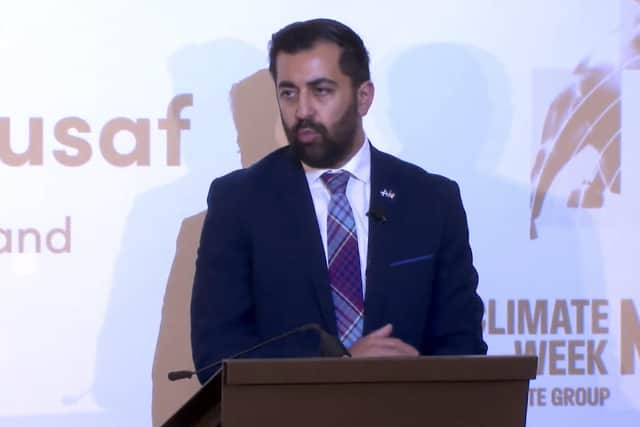 It represents the start of a pivotal week for the SNP, which continues to deal with internal squabbles. Senior SNP figures will hold a meeting tomorrow to discuss possible disciplinary action against veteran MSP and former minister Fergus Ewing for rebelling against his party in a series of votes.
SNP MSPs are expected to learn today whether any vote to suspend Mr Ewing will be held in secret.
Mr Yousaf is also set to miss First Minister's Questions on Thursday as a result of the US trip, with deputy Shona Robison standing in.
Scottish Conservative shadow net zero, energy and transport secretary Douglas Lumsden, said: "It is little wonder Humza Yousaf is happy to have jetted off to New York, given his bulging in-tray at home.
"Nobody would deny the importance of tackling the climate emergency, but the public will be raising eyebrows at the timing, given his Government's costly gender reform legal battle and the prospect of one his most senior MSPs facing suspension.
"Humza Yousaf is also speaking on a subject where his Government are failing to meet his own targets to reduce emissions.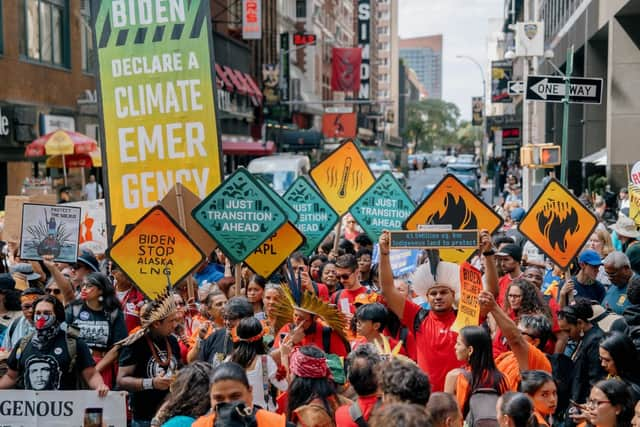 "This trip shows that the First Minister is far more in his comfort zone away from tackling Scotland's real priorities and getting on top of the bitter in-fighting in his party."
A Scottish Government spokesperson said: "Travel is an essential part of official Government business and ministers continue to work on domestic responsibilities with online meetings and calls while promoting Scotland internationally.
"As is standard when the First Minister is unavailable, the Deputy First Minister will lead FMQs.
"Ministers obviously have no role in this week's proceedings regarding the GRR case, where the Scottish Government's case will be advanced by the Lord Advocate."
According to the Scottish Government, business flights taken by ministers and employees are offset by a carbon levy, which is used to fund carbon-reduction projects that compensate for the emissions generated.
Mr Yousaf delivered his speech as Scottish Green MSP Maggie Chapman said the Court of Session case around the blocked gender reforms makes this week an important one for "equality and democracy in Scotland".
The UK Government has claimed the GRR Bill would have an adverse effect on the operation of the Equality Act 2010, which is reserved to Westminster and covers the whole of the UK.
But Ms Chapman said: "Everybody deserves to be treated with dignity and respect, and to be recognised as the person they are.
"GRR has always been a simple step towards doing that.
"Yet UK Government ministers and others have knowingly scapegoated, demonised and ridiculed a small and vulnerable minority as part of a shameful and cynical culture war. It is shocking that we have been put in this position.
"If the section 35 order is allowed to stand, it will set a terrible precedent for human rights and devolution. If the UK Government succeeds in overriding the decisions of our Parliament, then we can be sure it won't be the last time they try it."
Climate Week NYC, run by the Climate Group, takes place alongside the United Nations General Assembly and brings together international leaders from business, government and civil society to showcase global climate action.
During the trip, the First Minister is meeting meet with a succession of people and organisations, including with the Under2 Coalition co-chairs, World Health Organisation director general Dr Tedros Adhanom Ghebreyesus, and business representatives with interests in Scotland and climate leaders. He will also host a showcase of Scottish climate tech companies pitching for investment to venture capitalists in New York.Scotland became the first country to pledge loss and damage funding at the United Nations climate meeting COP26, which was staged in Glasgow in 2021. An initial £2 million was pledged, followed by another £5m at the following year's COP27 in Egypt.
The Prince of Wales is also in New York for Climate Week for a two-day whistle-stop visit to celebrate the finalists of the 2023 Earthshot Prize. He was meeting for talks with UN secretary general António Guterres during the UN General Assembly yesterday.MondayAround 75,000 demonstrators took to the streets of New York City as part of the March to End Fossil Fuels on Sunday, including a global youth delegation from the campaign group Climate Clock, Succession star Jeremy Strong and award-winning author Naomi Klein.
Comments
 0 comments
Want to join the conversation? Please or to comment on this article.