How a Scottish firm is creating new uses for old wind turbine blades
What do you do with massive chunks of fibreglass weighing several tonnes and measuring up to 80 metres long that can no longer do the job they were made for?
Well, you could smash them up and chuck them in the bin. Or else you could transform them into new useful objects.
That's exactly what a pioneering Scottish start-up is doing with giant wind turbine blades that have come to the end of their productive life generating renewable power.
ReBlade, which has bases in Glasgow and Dumfries, takes blades which have been damaged or are being replaced with more modern versions and turns them into a host of useful everyday products.
After just two years of operation, the firm has already created everything from outdoor furniture, including benches and tables, bus shelters, bike parks, play equipment, walkways, garden sheds and canopies for electric car charging hubs from the waste materials.
And there are plans to develop many more items.
Wind farm turbines usually have three blades, which each have a lifespan of about 20 or 25 years and can weigh anything from 12 to 30-odd tonnes.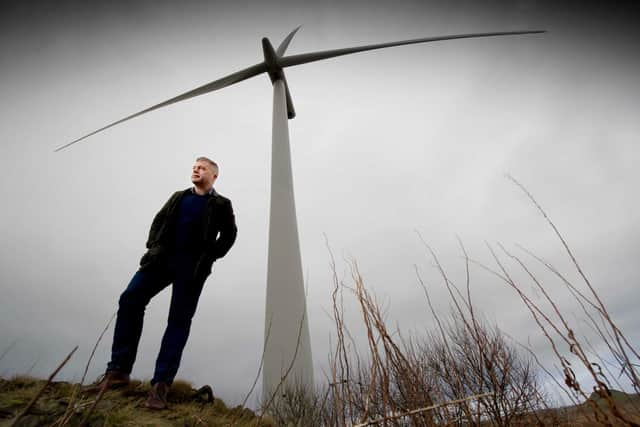 Made primarily from fiberglass and other composite materials, they are notoriously difficult to recycle so many end up incinerated or stuck in storage until new disposal solutions can be developed.
ReBlade was set up in 2021 by husband-and-wife team Steven and Fiona Lindsay, who both have considerable experience working in the renewables industry, and is the UK's first specialist wind turbine and nacelle decommissioning service.
They are committed to avoiding landfill, using innovative approaches that dramatically cut waste, and believe the family-run company can become a global leader in removing and converting the blades.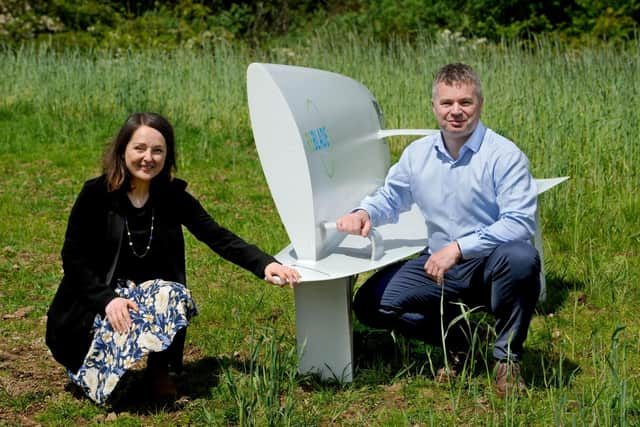 The idea for the business germinated in 2015, when Mr Lindsay was asked by a client to get rid of three damaged turbine blades.
"It would have been the easiest thing in the world to have landfilled them," he said. "But I didn't."
"After more than a decade of working in renewables I knew just how many turbine blades there were in the UK. And I knew we couldn't landfill them all.
"I'm a born problem-solver and I love tackling difficult problems, but that wasn't the only reason."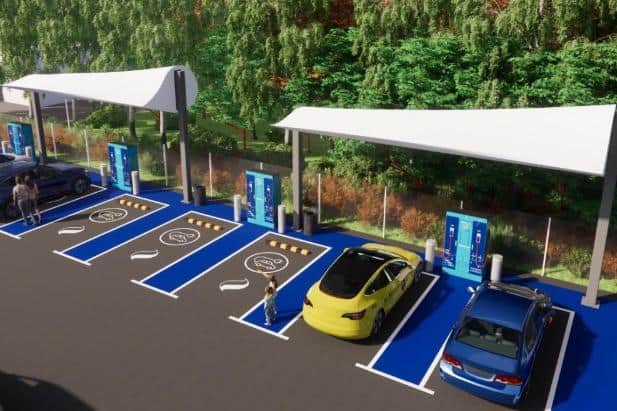 The father-of-two says parenthood inspired a determination to take care of the environment.
"An interest in sustainability had planted itself within me, and like a seed it was growing," he said.
"I had already decided that I'd spend the rest of my working life helping to secure my children's future."
The couple are currently collaborating with clean energy investment company Thrive Renewables to upcycle the blades from its 1.3MW Sigurd turbine, which has for the past 22 years been harnessing some of the strongest winds in the country atop Burgar Hill on the Orkney mainland.
Sigurd is currently being repowered with new blades and Thrive was determined to make use of the old ones.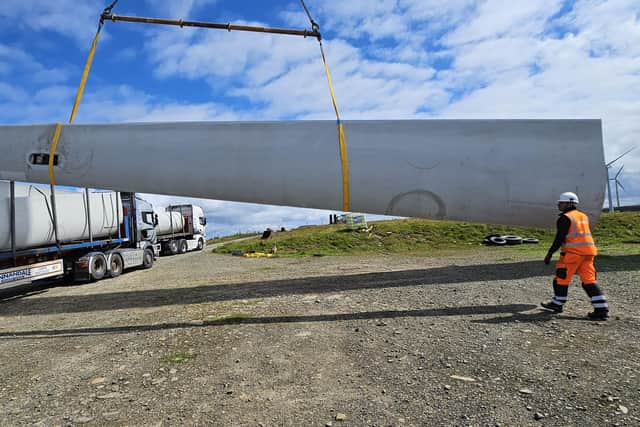 Mr Lindsay, ReBlade managing director, took charge of the blade decommissioning process.
"Located in one of the best sites for wind generation in Europe, the Sigurd turbine blades demonstrate the strength and efficiency of onshore wind," he said.
"This turbine is arguably one of the most productive in the UK and, while the blades have been maintained exceptionally well, after eight million miles of flight it's time for these blades to find a new purpose.
"We are delighted to be working with Thrive Renewables on designing items that maximise the material reuse of these blades, and we look forward to seeing a new set of blades on Sigurd generate clean energy for decades to come."
Adrian Warman, head of operations at Thrive Renewables, said: "As we work towards net zero it's important for us to take a circular approach with our projects wherever we can.
"Doing so not only helps to reduce carbon emissions, but supports the development of long-term, sustainable supply chains.
"As one of our first clean energy projects, Sigurd has had a tremendous life so far and replacing the rotor will give the turbine a new lease of life, ensuring it can continue delivering clean electricity to power local homes and businesses.
"We're pleased to be teaming up with ReBlade and hope to see more and more asset owners exploring ways to sustainably recycle or repurpose materials when the time comes."
In another UK first, RebBlade is supplying canopies for the Kingsway West electric vehicle charging station in Dundee, a project led by power company SSE.
Comments
 0 comments
Want to join the conversation? Please or to comment on this article.