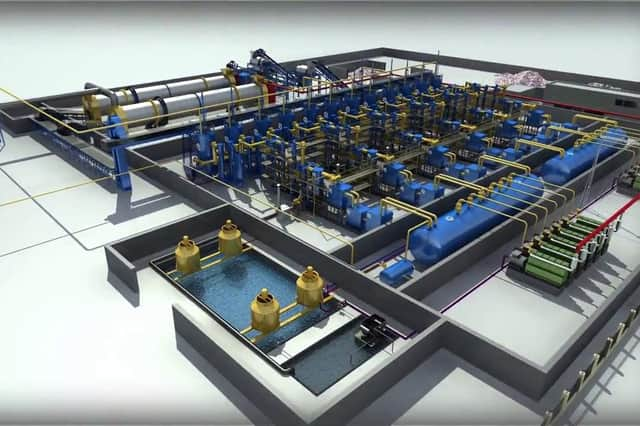 Plans have been unveiled to construct a large-scale renewable energy park in Aberdeenshire, designed to deliver up to 200 megawatts of environmentally friendly power to the Scottish grid.
It will host a range of different generation technologies, including a mixed fuel gasification and biomass plant, a green biodiesel production facility and an aerobic digestion plant.
These will be housed alongside solar PV and wind energy schemes, and supported by a green hydrogen production facility and large-scale battery storage facilities.
The potential for harnessing deep geothermal energy will also be explored at the 40-hectare site, which will be located close to the existing Peterhead Power Station.
Projections suggest 1,500 jobs will be created to build the energy park and a further 250 permanent positions will be needed to run the operation.
Chinese investors have backed the scheme, with North China Power Engineering investing £800 million.
The energy park is designed to "break addiction to fossil fuels", according to Edinburgh-based Holistic Energy, the developer behind the scheme.
Construction is due to start in 2023, with the first power to be produced by 2026.
Dr Gen Cannibal, director of Holistic Energy, believes the ground-breaking venture will demonstrate both the benefits and the capabilities of interlinked renewable technologies and help achieve decarbonisation targets set out in Scotland's Climate Change Plan.
Dr Cannibal said: "The facility will have three primary purposes – to produce a local renewable power station in Peterhead which can approach the most commonly identified barriers to renewable uptake, to form a major research and development facility for new technologies that have reached the marketable stage but have not, as of yet, attained large-scale market application in the UK, and thirdly to provide a significant replacement to gas-powered plants in satisfying Scottish electricity demands and, hence, decarbonising the Scottish economy.
"The ambitions for the development of the Renewable Energy Village are to showcase Scotland and the UK as a world leader in energy transition projects and enhance our delivery timeline to low or zero carbon energy sources."
Green hydrogen can be produced by using a renewably generated electric current to break water into its component elements, with oxygen as the only byproduct.
Deep geothermal energy is the natural heat found beneath the earth's surface, which comes from the red-hot core of the planet, the friction between rocks and the decay of radioactive elements in the earth's crust.
Support for the proposed Renewable Energy Village has come from Aberdeenshire Council Economic Development Service and Opportunity North East, a private sector catalyst driving transformational change in north-east Scotland's economy.
The Scottish Government has set the country a legally-binding target to cut greenhouse gas emissions to net zero by 2045, five years ahead of the date laid out for the UK as a whole.
Holistic Energy has been planning and developing renewable and conventional petrochemical energy facilities for a number of years.
The new Renewable Energy Village is its most ambitious project to date.
A message from the Editor:
Thank you for reading this article. We're more reliant on your support than ever as the shift in consumer habits brought about by coronavirus impacts our advertisers.