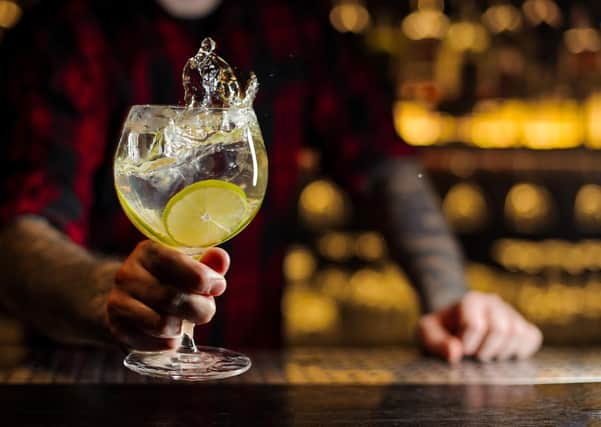 Juniper, the key botanical used to give gin its distinctive flavour, is under attack from an aggressive pathogen that causes withering and often death of the shrub.
The fungus-like pathogen Phytophthora austrocedri is spreading across Scotland, which produces 70 per cent of the UK's gin.
It lives in the ground and spreads in both soil and water, infecting juniper roots and killing large numbers of trees – especially on wet sites.
In Scotland, significant outbreaks have occurred in the Cairngorms National Park and Glen Artney in Perthshire. There have been smaller epidemics elsewhere, including southern Scotland.
Now experts are warning members of the public and land workers to take extra care when out and about to minimise the possibility of spreading the disease between sites and help protect Scotland's home-grown gins.
Efforts include cleaning soil from boots, bike tyres and dog paws before and after visiting forests and moors.
The warning comes from experts at the Plant Health Centre in a blog to mark Plant Health Week, which runs until 27 September.
The team also highlights dangers faced by the Scotch whisky industry from diseases that can slash barley yields.
Professor Fiona Burnett, from Scotland's Rural College, says everyone can play their part in protecting Scotland's plant assets.
"The principles of best plant health practice, such as sourcing seed and plants with care and avoiding moving problems inadvertently in soil, apply equally to field crops and the plants in our moorlands, gardens, forests and fields," she said.
Professor Sarah Gurr, from the University of Exeter, added: "At a time of heightened awareness of the impact of epidemics on human health we must also remember that disease has a huge impact upon plant health.
"Food security and crop protection rely heavily on breeding for disease resistance and upon the widespread spraying of fungicides and insecticides.
"However, despite such disease protection strategies we still lose around 20 per cent of our crops to disease. We hope Plant Health Week will raise awareness that disease devastates not only human life but also crops and the very calories we need to sustain us."
Juniper is one of only three conifer species native to Scotland – along with Scots pine and yew. It grows in a wide range of habitats, from moors and heaths to forests and hillsides, and can live for well over 100 years.
However, the species has been declining throughout the UK, with around 80 per cent of the total population nowadays found north of the border.
Luckily, researchers have discovered some specimens are resistant to the affliction.