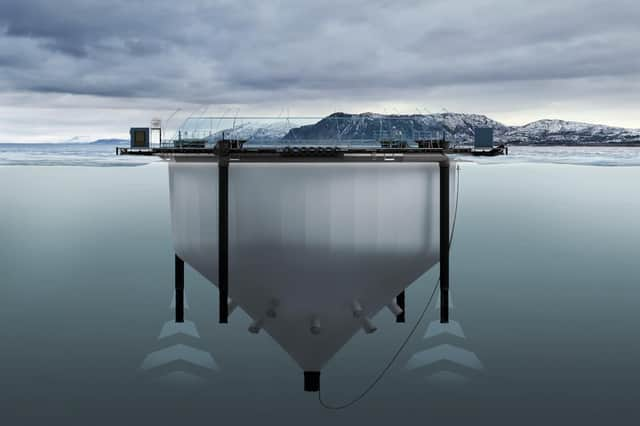 Loch Long Salmon Company (LLSC) is proposing to construct a new 'semi-closed' scheme that will be able to house 8,000 tonnes of salmon in floating pens near the east shore of Loch Linnhe in Argyll. With capacity for around 1.6 million fish, it would be more than double the size of the current largest site.
The development will comprise nine enclosures with outer walls made from a flexible, impermeable material and a mesh inner liner to house the fish, with waste from unwanted food and faeces collected and pumped ashore for treatment. The technology has never before been used in Scotland but has been trialled in Norway and Canada.
According to LLSC, the system will have a much smaller environmental impact that an open-pen farm of the same size, helping solve many of the worst problems facing the aquaculture industry – such as heavy use of chemicals and medicines to tackle infestations of pests such as sea lice, pollution of the seabed and reliance on harmful deterrent devices to ward off predators like seals.
The firm had originally set its sights on setting up the country's first semi-closed fish farm in Loch Long, but planning permission for the scheme – which would have been about half the size of the Loch Linnhe project – was refused at the end of October.
Stewart Hawthorn, managing director of Loch Long Salmon, said: "We are continuing to explore the possibility of bringing transformative semi-closed containment aquaculture technology to Scotland, which will support rural jobs and produce a low-carbon animal protein with significantly reduced environmental impacts and increased fish welfare."
He said the technology had been endorsed by a number of environmental groups, including some focused on wild salmon conservation.
A scoping request for the Loch Linnhe site has been submitted to Argyll & Bute Council, with the firm promising to "engage fully and openly with local people to outline the benefits of this technology and answer any questions.."
But some campaigners have expressed concerns over the development, particularly because of its scale. Argyll-based wildlife film-maker and environmentalist John Aitcheson agrees there are good things about semi-closed containment pens but warns there are also issues that could be exacerbated with high quantities of fish.
"We believe that semi-closed containment cages like this only have a place if they are used to replace open-net cages at existing farms," he said.
"Crucially, if that happens, they should not be used as an excuse to increase the biomass of the fish being farmed at those sites, or the overall pollution and other risks – except for sea lice – will increase."
Activist Don Staniford, director of campaign group $camon $cotland, described the plan as "sheer lunacy". He added: "The farming of salmon in cages, whether they are open, closed or semi-closed, is a welfare nightmare with serious ecological impacts.
"Even if closed containment can mitigate the risks of escapes and interaction of marine mammals, the problems of mass mortalities, infectious diseases and unsustainable feed resources will never go away. The lesser of two evils is still evil."