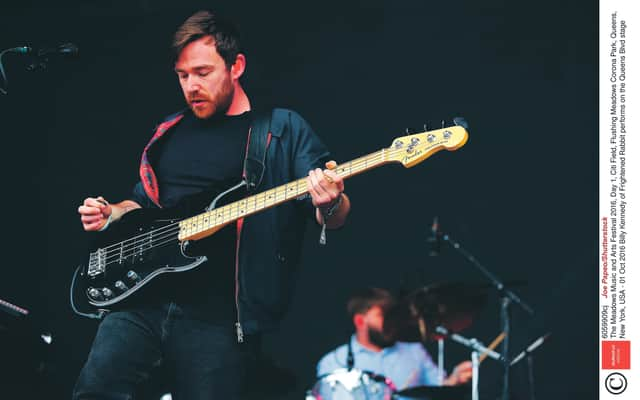 Mandatory Credit: Photo by Joe Papeo/Shutterstock (6059909cj) Billy Kennedy of Frightened Rabbit performs on the Queens Blvd stage The Meadows Music and Arts Festival 2016, Day 1, Citi Field, Flushing Meadows Corona Park, Queens, New York, USA - 01 Oct 2016
Inspired by words of wisdom from a Buddhist monk, he and business partner Suzie Bowman have launched a new social enterprise company selling eco-friendly alternatives to synthetic products.
Profits from the new venture, called Last, will be ploughed into environmental education for Scottish schoolchildren and green projects.
Although Frightened Rabbit has been inactive since the tragic death of founder Scott Hutchison in 2018, Kennedy is still active in the music industry.
"We're still a band but not really a functioning band. We're not performing or touring," he said.
He is currently working with a digital distribution company and creating new material with bandmate Andy Monaghan.
Now the guitarist has spoken out about how he was moved to take action after witnessing "shocking and disgusting" piles of litter in one of the world's beauty spots and a growing horror at the throwaway culture of touring with a band. "I was on holiday in Sri Lanka and I noticed the amount of plastic waste on the beach. It was such a beautiful setting and all this litter was just floating up the shore.
"It was kind of disgusting and shocking. I wasn't really aware of it before. It was disturbing, a real eye-opener.
"Then we had a meeting with a monk over there, who was a friend of a friend and ran a few social enterprises of his own.
"He spoke to us about what he was doing and it made us think it would be great to do something here, to give something back and at least help a little bit.
"It was before Blue Planet came out, but it just seemed that plastic was a huge thing.
"We realised something needed to be done.
"I also noticed that on tour we would go through a lot of plastic bottles. At every venue you'd see all this plastic waste.
"We made a point of cutting all that out, making sure everyone in the band and crew carried reusable water bottles and cups. If we could refill our containers then we would do that rather than just open a new bottle of water, have a sip and throw it away."
More than 300 million tonnes of plastic waste is generated across the globe each year, half of which has been used only once before being thrown away.
Up to 12 million tonnes is estimated to end up in oceans and seas, where it can kill or injure marine life and end up in the human food chain.
Around 1.26 million tonnes of plastic is binned in the UK annually, with only around 46 per cent going on to be recycled or reused.
Research has shown plastic pollution has a significant negative impact on both human health and the environment.
While the campaign against single-use plastics has taken a back seat during the coronavirus pandemic, Kennedy and Bowman have taken the time to assess how folk can be encouraged to switch to greener habits as life begins to return to normal.
Kennedy said: "Single-use plastics are unsustainable and as people start to emerge from lockdown we must all think again about our behaviour – this should be an opportunity to make a resolution not to use unnecessary plastics.
"We looked around at what was stopping people from making changes for the better and the two issues were a lack of choice and a lack of education.
"Through our online shop we provide people with that choice, and through our profits we will work with schools to bring about lasting change through education."
Bowman added: "The speed we were getting through plastic in this country is unsustainable and it must stop.
"We hope to be able to change the way people shop. From the kitchen to the bathroom and when we're out and about, there are many ways that simple swaps can reduce our own plastic use."
A pop-up Last shop featuring a range of eco-friendly products is at Cafe Salmagundi in Glasgow. See makeitlast.co to see what's on offer in the online shop and to find out more about the initiative.