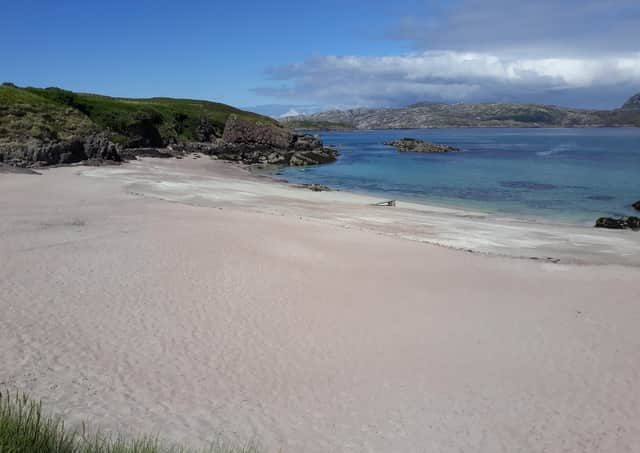 Now the vintage plastic wrapper from a packet of biscuits eaten when Maragret Thatcher was prime minister has been found by conservationists cleaning up a remote Scottish island.
The packaging – from McVitie's Hobnobs produced in the 1980s – was among "huge amounts" of manmade litter found washed up on the shores of Handa by Scottish Wildlife Trust rangers.
The team, who have continued their work on the isolated outpost during lockdown, were shocked to find such an old piece of rubbish in almost pristine condition despite almost four decades being battered by the elements.
Household rubbish and abandoned fishing gear made up the major proportion of the rubbish collected.
In their latest blog, the rangers wrote: "Beach cleans have taken up a large amount of our working hours over the last six weeks, with huge amounts of litter washing up on the shores of the island over winter.
"Most of it is fishing industry waste such as nets, fish boxes, fish pipes and rope but there is also lots of domestic refuse too.
"Of note was one McVitie's Hobnob wrapper that after a bit of research seems to be from the 1980s.
"It is quite incredible and sobering that it is not only still intact, but also perfectly legible."
Another unusual find was a full can of Coca-Cola that had not passed its expiry date – which they decided should not go to waste. "Things taste much better when you've worked for them," they added.
Handa, which is located three miles off the coast of Sutherland in the far north of Scotland, was once home to a crofting village with its own parliament and 'island queen'.
But famine and an exodus to Canada has left it with no permanent human residents since the 19th century.
Nowadays it is a nature reserve of international significance, hosting important colonies of seabirds and other wildlife. Estimates suggest nearly 100,000 seabirds – including guillemots, razorbills, puffins and great skuas breed there each summer.
Owned by Scourie Estate and managed in partnership with the Scottish Wildlife Trust, the island is usually a magnet for nature-lovers.
But since the coronavirus emergency halted tourism rangers Erika Faggiani from Spain, Johnny Rolt from Bristol and assistant ranger Roxana Buhus from Romania have been there alone with nature.
As well as picking up rubbish they have been monitoring wildlife on the island over the past few weeks.
They said: "Since our last update Handa Island has sprung into life. The primroses, bluebells and buttercups are in full flower, and when out on the pre-laying puffin count we even spotted our first heath spotted orchid.