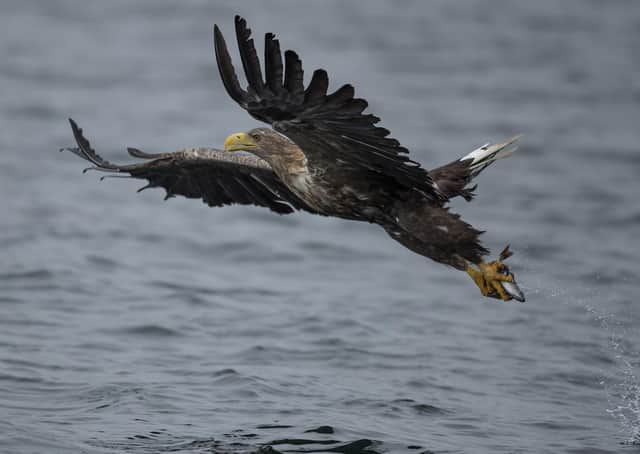 The calls come a day after appeals for help to find a golden eagle whose tag went dead in a raptor persecution 'hotspot'
Members of the Tayside and Central Scotland Moorland Group (TCSMG) say they are being unfairly targeted by conservationists and campaigners when tagged birds disappear, with professional reputations often left in tatters.
They say they are "sick" of allegations suggesting estate workers have illegally harmed protected birds of prey whenever trackers go offline.
They insist there are many reasons why the devices can fail and why bodies of dead birds are sometimes not found, citing collisions with wind turbines, power lines and other obstructions as well as a lack of sunshine to power their solar batteries.
A spokeswoman for the group said: "If a satellite tag stops signalling, persecution could be a factor. That is fully acknowledged. But it is only one of many possible factors when tags stop.
"Campaign groups, who fit the tags, claim persecution has occurred every time a tag stops abruptly. This has been proven to be false, and community members feel the publicity is being used to trash their reputations, without evidence. They believe this is happening to add political urgency to demands for the licensing of grouse moors."
A government report into the fate of 131 golden eagles tagged and tracked in Scotland between 2004 and 2016 concluded that at least 41 - almost a third - "disappeared (presumably died) under suspicious circumstances significantly connected with contemporaneous records of illegal persecution".
The report also states: "Some, but not all, areas managed as grouse moors were strongly associated with the disappearance of many of the tagged eagles."
RSPB Scotland is among a number of environmental organisations campaigning for shooting estates to be licenced in a bid to help stamp out crimes against birds of prey and other wildlife.
Ian Thomson, RSPB Scotland's head of investigations, said: "For a number of years this highly reliable technology, strictly regulated and used all over the world, has shone a very bright light on the appalling level of raptor persecution occurring in Scotland – almost exclusively on grouse moors.
"The increasing evidence base for this includes Scottish Government-commissioned and other peer-reviewed research."