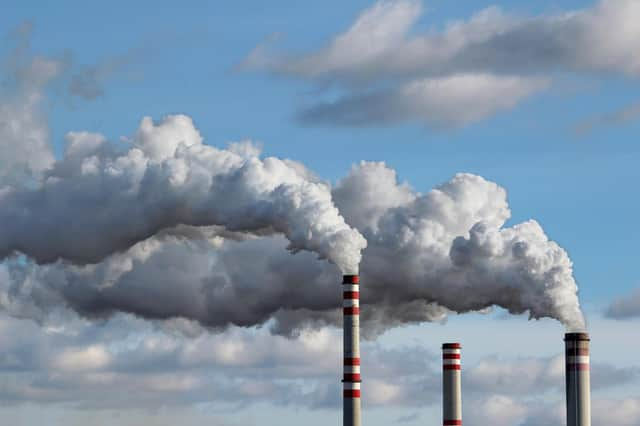 Results from the first global stocktake of countries' efforts to reduce greenhouse gas emissions since the international accord was adopted in 2015 have just been released.
The analysis was carried out by the UK's University of East Anglia (UEA), Stanford University in the US and the Global Carbon Project.
The findings show 64 nations lowered their emissions between 2016 and 2019.
However, researchers say the rate of reductions needs to be ten times faster to keep warming below the internationally agreed 2C – and ideally no more than 1.5C.
The report comes just months before Glasgow is due to host the United Nations climate summit Cop26, billed as the most important meeting since the Paris Agreement was set out.
The conference will hear how countries are progressing towards climate commitments made under the treaty.
Estimates suggest carbon emissions must be reduced by one to two billion tonnes of each year to stay on track to meet the Paris goal.
But data shows worldwide reductions have amounted to around 0.16 billion tonnes annually – just 10 per cent of the level of cuts needed.
The report also reveals that while 64 countries lowered emissions, 150 others generated higher levels of greenhouse gases than before.
Across the world, emissions were 0.21 billion tonnes per year higher from 2016 to 2019 than from 2011 to 2015.
Corinne Le Quéré, Royal Society professor at UEA's School of Environmental Sciences, led the analysis. She said: "Countries' efforts to cut carbon dioxide emissions since the Paris Agreement are starting to pay off, but actions are not large-scale enough yet and emissions are still increasing in way too many countries."
The world has heated up by more than 1C since the Industrial Revolution because of emissions of greenhouse gases from human activities.
Scientists have unanimously agreed that uncontrolled warming will cause catastrophic climate change, sparking increasingly extreme weather, large-scale flooding, droughts, loss of arctic ice, ocean acidification, sea level rise and mass extinctions.
The researchers say lessons can be learned from the effect on emissions of the coronavirus lockdown.
Professor Le Quéré added: "The drop in CO2 emissions from responses to Covid-19 highlights the scale of actions and of international adherence needed to tackle climate change.
"Now we need large-scale actions that are good for human health and good for the planet.
"It is in everyone's best interests to build back better to speed the urgent transition to clean energy."
The report shows 25 out of 36 high-income countries saw their emissions fall in the period 2016-2019 compared to 2011-2015, including the US, EU and UK.
Of 99 upper-middle-income countries, 30 also saw emissions drop over the same period, suggesting actions to lower emissions are now in motion in many countries worldwide. Meanwhile, China's emissions grew by 0.4 per cent – although at a much lower rate than the 6.2 per cent annual growth of 2011-2015.
A message from the Editor:
Thank you for reading this article. We're more reliant on your support than ever as the shift in consumer habits brought about by coronavirus impacts our advertisers.