Donald Trump's second golf course mapped out in dunes as diggers move in
Footage from filmmaker Anthony Baxter shows work beginning at Menie in Aberdeenshire with sections of a second golf course mapped out in the dunes.
Diggers have moved in to start work on the second Trump course in Aberdeenshire.
Mr Baxter, whose film You've Been Trumped documented the struggle of local residents against the first Trump International development, returned to the site this week to witness progress on the second course.
Footage shows diggers clearing a large parcel of land with signs placed in the dune system to mark out the 10th fairway and 11th green.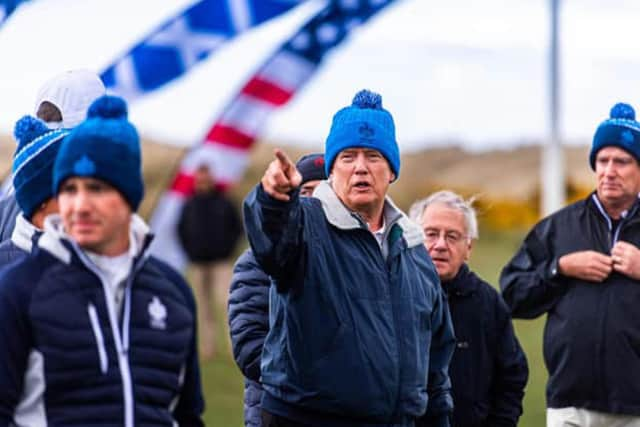 The filmmaker said dunes were "being completely destroyed" but Trump International denied the claims and said only preparatory works had been carried out.
The footage comes three weeks after Donald Trump visited Menie to "cut ribbon" on construction of the second course, which was approved by Aberdeenshire Council planners in 2020.
Mr Baxter said: "It seemed like déjà vu. It feels like history is repeating itself. This land, which has been untouched by man and enjoyed by generations, will be lost forever.
"They are doing exactly what has been approved to do so it is the regulation that is failing. It is hard to imagine that permission could be given for this."
The land is marked in the local development plan for two 18-hole golf courses, a resort hotel, 36 "golf villas" and 950 holiday apartments in four blocks and up to 500 houses.
The plan was approved given the expected social and economic benefits but the hotel proposal has been shelved and no properties have been constructed.
The resort, which was incorporated in 2005, has yet to turn a profit with figures showing it lost more than £696,000 in 2021, down from £1.3m the year before.
A spokesman for Trump International Scotland said of the footage: "This is biased, distorted and inaccurate drivel perpetrated by those with their own agendas. Far from destroying dunes, this world-class course will preserve this wonderful part of the coastline for generations and has approval from Aberdeenshire Council. To date, only enabling work has been undertaken as part of the preparatory stage prior to the commencement of any construction work."
In 2020, government agency NatureScot removed the Site of Special Scientific Importance (SSSI) at Foveran Links, the dune system next to the first course, given the loss of "special, natural features" for which they were designated.
The agency said no protected sites were directly affected by the second course but added there was a "likelihood" that coastal erosion would impact on area close to the dune ridge.
An Aberdeenshire Council spokesperson said council officers had been in "regular contact" with the developer and their professional team over the past few months to ensure "all the relevant planning conditions have been met prior to the commencement of the works for the second golf course."
A statement added: "While they are fully aware of the enabling works that are being carried out to facilitate the approved archaeological investigations, there is also work being carried out to form a works site compound, which is temporarily permitted as an ancillary part of the overall approval of planning permission. As with any development which is looking to formally commence, site visits will form part of the pre-approval process."
Comments
 0 comments
Want to join the conversation? Please or to comment on this article.