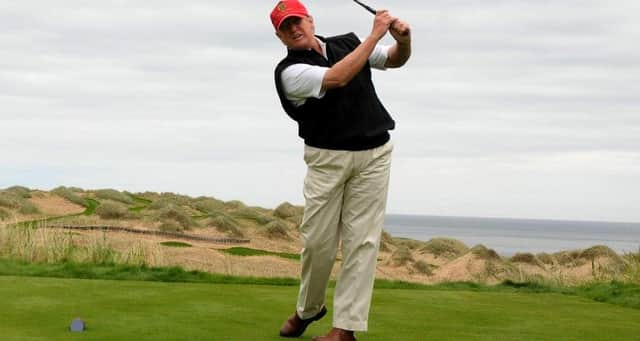 Donald Trump at the Trump International in 2009.
The decision from the Protected Areas Committee, acting on behalf of NatureScot Board, comes after a three-month consultation on the future status of Foveran Links SSSI was started in June 2019, as reported by The Scotsman last year.
Foveran Links was previously home to a high quality sand dune system exemplary of those located across north east Scotland. It was considered to be a highly significant area for its diversity of landforms and a site of geomorphological interest for its dynamic nature, being deemed a Site of Special Scientific Interest (SSSI).
The Trump International Golf Links, built partially on these dunes at the Menie Estate, opened in 2012.
As a result, the remaining area of SSSI dunes at Foveran Links will be merged with the nearby SSSI spots of Sands of Forvie and Ythan Estuary next year.
Eileen Stuart, NatureScot's Interim Director of Nature and Climate Change said:
"There is now no longer a reason to protect the dunes at Menie as they do not include enough of the special, natural features for which they were designated.
"Trump International Golf Links Scotland have undertaken to deliver nature conservation management on the golf course and we value the work they have done to protect the remaining rare habitats and the rare plants on their site however they no longer have sufficient scientific interest to merit special protection."
"It's about time" said David Milne, a neighbour to the Trump International Golf Links. "This is official confirmation of something that we've known since around 2008, when the public enquiry results were given."
"The claim that the economy was more important than the environment has been shown to be inaccurate, inappropriate and not acceptable to the people of this country. It's just a pity that it's taken them about 12 years to realise that.
"Trump's approach to the environment is that if he can use and abuse it, he will. Any consideration of long term care, or it being preserved for our descendants and people who come after, is as far as he's concerned a joke. He has no interest in preserving anything other than his own name, his notoriety, and his bank balance."
Planning consultant and former local councillor for Ellon and District, Debra Storr also added:
"Trump said he would thread this golf course through the wonderful natural environment of the Menie Links. Rather than that, he used bulldozers. Therefore, this is simply a consequence of Donald Trump's bulldozing approach to everything."
"It was unnecessary, it always has been unnecessary - I will point to the wonderful Machrihanish golf course also built on a SSSI, and the SSSI there has been maintained."
Trump International has been approached for comment.
A message from the Editor: Thank you for reading this article. We're more reliant on your support than ever as the shift in consumer habits brought about by coronavirus impacts our advertisers.
If you haven't already, please consider supporting our trusted, fact-checked journalism by taking out a digital subscription.