Juggernauts delivering goods across Scotland will soon be able to fill up with environmentally friendly fuel made from manure, cutting greenhouse gas emissions and helping the country achieve its climate change targets.
The move comes as Scotland's first filling station offering 100 per cent renewable biomethane at the pumps gets set to open up near Glasgow later this year.
The new outlet is being set up by CNG Fuels at the Eurocentral industrial estate, off the M8 close to Bellshill.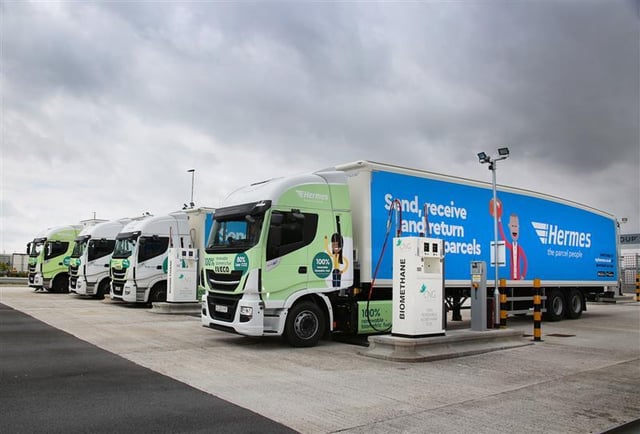 Scotland's first filling station offering 100 per cent renewable biomethane at the pumps is set to open up near Glasgow later this year
It will have capacity to refuel up to 450 lorries each day, with potential customers including supermarket giants and big-name delivery companies that have opted to switch their fleets to biomethane in a bid to shrink their carbon impacts.
Biomethane is chemically identical to natural gas, a fossil fuel, and can be used as a low-carbon alternative to diesel.
It is considered renewable because it is created through biological decomposition of dead plant and animal material such as manure and food waste.
It is the cheapest and lowest-carbon alternative to diesel for HGVs, cutting greenhouse gas emissions by 85 per cent and costs by up to 40 per cent.
The new facility, at Eurocentral, will have the capacity to refill 450 lorries each day with biofuel made from manure
Transport, including international shipping and aviation, is responsible for around 37 per cent of Scotland's total greenhouse gas emissions, with heavy goods vehicles alone accounting for nearly five per cent.
The new refuelling station will support Scotland's target to achieve net-zero carbon by 2045.
Its location means HGVs will be able to make low-carbon deliveries across a large area of Scotland, including all cities.
Most of England and Wales are already within a 300-mile round trip of a biomethane refuelling station and the new facility will put Inverness and Aberdeen within this range.
It is due to open in November, the month when Glasgow will play host to the Cop26 climate meeting – one of the most important events in the global environment calendar.
Philip Fjeld, chief executive of CNG Fuels, said: "Fleet operators keen to cut carbon and save money are switching to biomethane in droves, and our first station in Scotland will play a vital part in our network, allowing gas trucks to make deliveries throughout Britain.
"Biomethane can play a key role in helping the country meet its net-zero targets and it is fitting that the station will open just as Glasgow hosts the UN climate summit."
Warburtons, the UK's largest bakery brand, is the latest major name to announce it is adopting biomethane, following companies such as Hermes, John Lewis, Waitrose and Asda.
David Landy is head of fleet at delivery firm Hermes, which has a depot at Eurocentral and already has 90 gas lorries.
He said the new filling station was "welcome news" for Hermes.
"This will allow us to run our Scottish-based fleet on 100 per cent renewable biomethane fuel and push the range of our existing CNG-powered HGV fleet, so vehicles can travel between England and Scotland and take even more emissions off UK roads," he said.
Steven Gray, national transport manager for Warburtons, said: "After extensive alternative-fuel vehicle trials, Warburtons has chosen CNG technology, and specifically biomethane fuel, as our preferred strategy to decarbonise our primary HGV fleet.
"CNG Fuels' progressive Bio-CNG Station roll-out plans across the UK will allow us to begin our decarbonisation strategy and the Eurocentral refuelling facility is a key location for our fleet."
From next year CNG Fuels will dispense fully carbon-neutral fuel by sourcing biomethane from manure.
Manure gives off methane, a greenhouse gas 28 times more powerful than carbon dioxide.
Using methane as an HGV fuel prevents it from going into the atmosphere and reduces overall emissions.
The EU's revised Renewable Energy Directive (RED II) recognises biomethane from manure as a carbon negative fuel - the UK is expected to adopt the same rules in 2022.
A message from the Editor:
Thank you for reading this article. We're more reliant on your support than ever as the shift in consumer habits brought about by coronavirus impacts our advertisers.