Counting penguins and looking for slugs - how you can help nature research from home
Whether it's recording the spiders found in your house, looking out for hedgehogs and slugs in your garden or counting penguin chicks and eggs from photographs taken in Antarctica, there is a raft of important work needing done to help create a fuller picture of biodiversity at home and across the globe.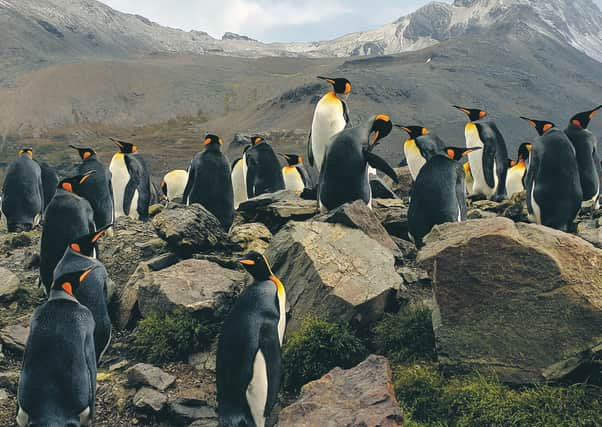 Nature-lovers of all ages who are stuck at home during the coronavirus lockdown are being called on to become citizen scientists and contribute to a wide range of projects that will expand the knowledge base and help future conservation efforts.
Scottish Natural Heritage (SNH) has a section on its website listing numerous projects that people are being invited to get involved in.
Some focus on spotting wildlife in particular parts of Scotland, such as Swift Surveyors in Tayside, while others require participants to record plants and animals found in whatever part of the country they live in. These include RSPB Breakfast Birdwatch, the Cellar Spider Survey and the Garden Butterfly Survey.
Home-based volunteers are also required to help with monitoring of habitats much further afield, such as counting penguins – via webcams – on the other side of the world.
The calls come just weeks after please to help digitise historical rainfall records generated a massive response from members of the public with time on their hands, resulting in the work being completed in record time.
Rebecka Bergh, from SNH's biodiversity strategy team, said not only is the work invaluable to scientific research, it also offers people a sense of purpose and pleasure while unable to go about their usual lives.
"In these unprecedented times more people are taking a greater interest in nature, from identifying the birdsong in our quieter cities to noticing the onward march of spring in our gardens and local parks when exercising," she said. "At Scottish Natural Heritage we want to encourage and support people to develop this interest, learn more and get involved.
"When much professional field work is restricted, citizen science is key in helping to expand our scientific knowledge.
"When people up and down the country record individual sightings of plants, animals and birds in their homes, gardens and parks, or take part in online projects, it becomes a powerful tool.
"Together these records provide a vital source of information to give scientists and researchers a clearer picture of how our habitats and species are faring and help target conservation measures where they are most needed.
"Our guide includes surveys run by many of our fantastic partners that people can get involved in from their home, garden or out on a local walk, many of which don't require any previous knowledge.
"Connecting more with nature is not only fun and can really benefit our physical and mental health, but it is also crucial to help us secure a nature-rich future for Scotland. The more people get involved, the bigger the difference we can make."
Glasgow-based Grant Miller is project manager for the University of Oxford's Zooniverse, the world's largest platform for people-powered research.
The platform currently hosts more than 100 live projects on a diverse range of topics from wildlife to diseases and astronomy.
He said: "We know for a fact there are kids as young as four or five taking part with their parents, and there are also adult scientists taking part. Penguin Watch is the archetype of a good Zooniverse project – an extremely simple and engaging task for members of the public to do that cannot be done as accurately by machines, and that cannot be done in a reasonable timescale by the small research team.
"The key reason we need people to help on our projects is clear. This research cannot feasibly be done any other way than by asking a large crowd of volunteers for help.
"In addition to this it engages the public in cutting-edge research, breaking down the barriers between professional academics and amateur volunteers.
"Finally, our research shows that it is also a great educational resource. Volunteers learn more about the research topics as they take part in Zooniverse projects."
Comments
 0 comments
Want to join the conversation? Please or to comment on this article.