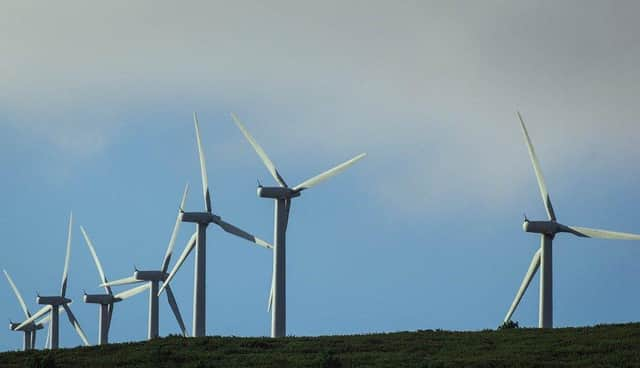 Stornoway Community Council is urging local planners to accept an offer from Scottish ministers to hold a public enquiry into proposals to build a giant wind farm on the edge of the islands' capital
The calls come as Comhairle nan Eilean Siar councillors are today being asked give their views on a proposal by Stornoway Wind Farm Limited to erect 35 turbines standing up to 180m tall on moors less than a mile from the island capital.
Permission for the 184MW scheme was granted by Scottish ministers back in 2012, but a revised application proposing fewer, more powerful turbines has been submitted.
Now a report from planning officers is recommending the local authority should turn down an offer from the Scottish Government to hold a public inquiry into the proposals, on the grounds that "there is no public interest".
But Stornoway Community Council (SCC) has disputed the report's findings, claiming a significant number of islanders have concerns over the revamped Section 36 application.
An online survey asking for local feedback has already seen nearly 300 people in support on an enquiry, compared to around a dozen against.
The original application proposed turbines with a maximum tip height of 145m but the new plan will use devices between 156m and 180m tall – among the largest of any onshore wind farm in the UK.
It is believed the turbines would be the biggest sited near a town anywhere in Scotland and would be visible from miles around.
Community councillors agree a public inquiry should be held.
A spokeswoman for SCC said: "We realise the issue of whether Stornoway Wind Farm should get planning consent is a big economic decision for the islands.
"But it is also a big decision for the town of Stornoway, and one which is important to get right – for now and for future generations.
"We know there is much public interest in this matter.
"Therefore we feel that, since the Scottish Government has asked if we would like a public inquiry, it would be wise to accept, to ensure that all the potential issues have been addressed and to make sure that everyone – particularly the community of Stornoway and its environs – is comfortable with the situation."
Meanwhile, exports of excess green energy produced in the Western Isles remain suspended after the failure of an undersea cable between Harris and Skye in October.
The fault has resulted in existing community wind farms on the islands, which generate important income for local causes, being ordered to shut down.
Electricity distribution operator SSEN has said it could take a year for the damaged cable to be repaired.
SCC members have written to Scottish energy minster Paul Wheelhouse calling for a 100MW upgrade to the link to be carried out at the same time.
Proposals have also been laid out to install a new high-powered interconnector to allow greater levels of renewable power to be produced in the islands and sent to the mainland.
But realisation of the project depends on future generating capacity.
A message from the Editor:
Thank you for reading this article. We're more reliant on your support than ever as the shift in consumer habits brought about by coronavirus impacts our advertisers.