Blades from Scotland's first wind farm sent into storage
Wind turbine blades are difficult to recycle and campaigners fear they could end up in landfill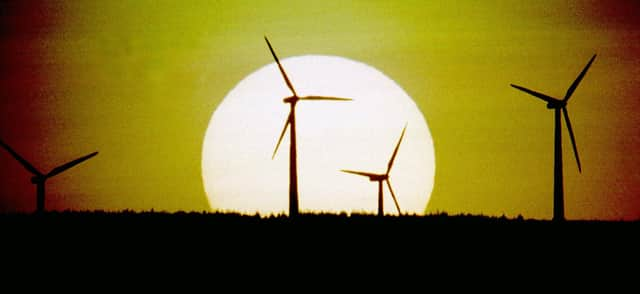 Almost 100 giant turbine blades from Scotland's first wind farm are being sent into storage while the industry battles to solve major problems over their recycling.
Hagshaw Hill, near Douglas in South Lanarkshire, which opened 28 years ago, is currently being "repowered" by Scottish Power Renewables as the first generation of turbines is dismantled, throwing around 80-plus blades on the scrap heap.
The company plans to replace them with fewer, larger turbines using updated technology to generate renewable energy more efficiently after permission was granted by Scottish ministers for a 14-turbine wind farm - Hagshaw Hill Repowering wind farm.
The new turbines will have a ground to blade tip height of 200 metres, almost four times the size of the previous 55m turbines.
The blades are difficult to recycle and campaigners fear many may already have ended up in landfill.
A Scottish Government spokesperson said "a landfill ban on turbine blades is not in effect in Scotland, or anywhere else in the UK". They said, as far as they were aware, only Austria, Finland, Germany and the Netherlands, have agreed to such a ban.
Turbine blades - on average 116ft long – are difficult to recycle due to the glass fibre or carbon fibre materials used in their construction. They are also very robust having been built to withstand harsh weather.
Scottish Power Renewables or SSE Renewables - which operate 22 and 18 onshore Scottish wind farms farms respectively - would not confirm whether they had sent redundant turbine blades to landfill sites in the past.
A spokesperson said: "The turbines from Hagshaw Hill will be going into our own storage just now whilst we work to identify how the materials can be repurposed.
"Currently, some of the components and materials can be reconditioned, re-used, used for research and training, whilst others can be recycled and repurposed in many other innovative ways."
Campaign group Scotland Against Spin (SAS) says that while 85 per cent of wind turbines can be recycled - including the steel towers and components in the gearing and generator - the blades, each weighing around eight tonnes, are a different matter.
SAS Spokeswoman Aileen Jackson said: "The point, of course, is that the environmental impact of non-recyclable blades should have been dealt with long before it arrived at the stage where decommissioning is now taking place.
"The Scottish Government had plenty of time to deal with it but didn't bother and it has now become a major concern. It seems extraordinary that Scottish Government policy is to at least double onshore turbines over the next 20 years and yet there is no clear provision for recycling."
SSE Renewables said they were focused on finding solutions to avoid redundant blades being sent to landfill.
A spokesperson said: "The vast majority of SSE Renewables' portfolio was constructed after 2010, so we have no plans for decommissioning at scale until after 2035 at the earliest.
"We are taking action now to establish commercial, scalable solutions for waste at the end of a wind farm's operational life so that we can prevent any turbine blades being sent to landfill."
As of April this year, there were more than 4000 turbines operating in Scotland and, as many of the first tranche are coming to the end of their 25-year life span, it means there will be around 5500 redundant blades by 2050.
A spokesperson for the Scottish Government said: "Whilst it is acknowledged that the first generation of wind turbines developed globally can be more difficult to recycle, the renewables sector is deploying increasingly innovative designs, processes and decommissioning approaches to move towards a more circular model."​