A change in approach to investments is needed to fund major infrastructure changes
There are no easy answers when it comes to financing all the necessary changes across all walks of life to allow Scotland to meet its net-zero ambitions by 2045.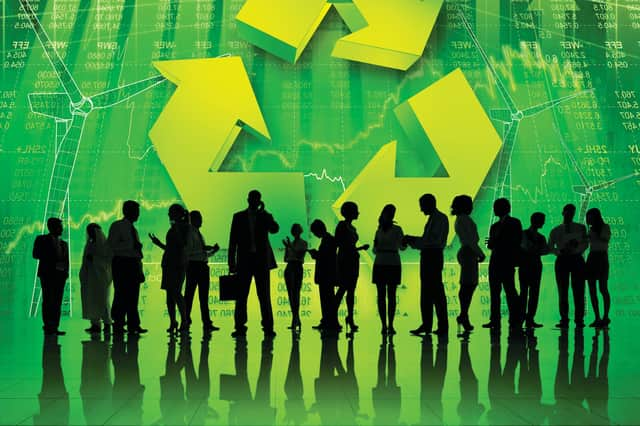 Picture: Shutterstock
Paying for the significant societal shifts needed to transition to net-zero will require eye-watering sums. The bill for replacing gas boilers with air or ground source heat pumps is likely to run into tens of billions in Britain. The UK Government has so far pledged £450 million over three years.
That is just one of many huge green infrastructure projects that will be needed. So how do we plug that funding gap if we accept governments cannot do everything? How far are financial institutions prepared to go to invest in these massive projects so that the country can move towards net-zero?
Until now, green finance has been largely about banks supporting specific projects like wind farms, but experts say this must be replaced with a broader assessment of the environmental credentials of a whole business, plus longer-term investment in strategic infrastructure.
Chris McLauchlan, who leads the Scottish banking team at legal firm Womble Bond Dickinson, says financial institutions must get involved in those projects linked to major societal change.
He says: "We need to look more closely at how funding is provided for the sort of changes that need to be made by individuals –replacing gas boilers, installing more solar panels on houses. It's about moving away from project-specific lending by banks, to looking instead at every aspect of the financing of a business and individuals and exploring what can be done better from an environmental perspective.
"In Scotland, the transition away from oil and gas is happening and the banks know they need to support this. It will come, but it isn't properly mainstream yet, there's quite a way to go."
One institution seeking to address those challenges and help to support the transition is Royal Bank of Scotland. It is part of NatWest Group, which has committed to provide £100 billion in climate sustainable funding and financing for customers by the end of 2025.
"That will have a significant impact," says Judith Cruickshank, RBS's managing director for business banking. "We're exploring what that will look like in terms of a specific green loan that would provide discounted rates, where businesses are investing for green purposes."
RBS met its own net-zero target in 2020. It is now looking to benet-positive by 2025, and also aims to halve its "financed emissions" by 2030.
"That's essentially taking every business we lend money to, determining their carbon footprint, and holding ourselves to account for those emissions," Cruickshank explains. "For large corporates, we're doing it in line with industry standards and the Paris agreements. And it's really mapping that through business by business."
Working out the carbon footprint of smaller businesses is still difficult, Cruickshank says, and relies too much on industry averages. She highlights the fact that RBS is working with carbon footprint calculator CoGo to support those businesses to better measure their impact.
Gbenga Ibikunle, a professor and chair of finance at the University of Edinburgh, also recognises CoGo for its positive work on measuring carbon footprints – but goes on to say that it is still difficult for investors and funders to know with certainty which businesses are serious about sustainability, and about wider ESG (environmental, social and governance) goals.
"There is a lack of coherence around standards for measuring ESG, and reporting is also poor. A lot of the investment in ESG is because some investors are keen on contributing to society in a positive manner, rather than being driven by economic factors.
"The overlap between the doing good part of ESG, and the need for profit is still way too small for ESG to be meaningful [in investment decisions] at this time."
Tom Caplen, a partner and expert in banking at Womble Bond Dickinson, agrees, saying: "Green and sustainable lending frameworks rely on honesty and meaningful commitment. So we might see them publicising something that isn't yet green or isn't sustainable, but hopefully one day will be.
"That's where 'greenwashing' can come in.
"As the green lending market gets bigger, we could see more greenwashing – the risk is that everyone sees the amount ofgreen money out there and wants a piece of the action. So your processes and governance must stand up to scrutiny."
He adds: "The fundamental shift is how we finance all transactions with a green or sustainable element – that permeates through every part of a business.
"There are three limbs for me in terms of green finance and the wider ESG debate. What are businesses doing for theirclients, what are they doing themselves as businesses, and what are they doing for individual employees?"
McLauchlan says that investment by large financial institutions in broader projects must happen to reduce prices and change behaviour.
"On electric vehicles, for example, the price will need to reduce significantly to drive demand for people to buy," he says. "It's the same for people having to repurpose their houses. How do you make it possible for everyone, not just those with money? Attractive financing packages are needed in these areas to make that market work."
And to get those financial institutions down that investment path might need a tougher approach, he suggests. "Currently, sustainability clauses in loans are written in such a way that ifyou've failed to hit your green targets, a funder will not default the loan.
"If you're marketing yourself as a 'green' business operating sustainably but miss your targets, that has a consequence in terms of how your employees and stakeholders perceive you.It can have a financial and reputational impact – but it's less direct than saying, 'you haven't delivered on your sustainability commitments, we are defaulting your loan.'"
"Banks might move towards a bit more stick and a bit less carrot – at some stage they may look at defaulting loans when targets are missed, but we're not there yet."
"I think the direction of travel is clear, but the pace is not. Everyone agrees it's the right thing to do, but not everyone wants to pay to achieve it – yet."
The bank designed to plug green funding gap
The creation of the Scottish National Investment Bank in November 2020 was a clear signal that the open market is not quite ready to take a punt on certain environmental projects.
The bank was set up to provide "patient" (long-term) capital to firms and projects in Scotland to "support the development of a fairer, more sustainable economy".
Richard Cockburn, partner and head of energy at Womble Bond Dickinson, says: "The Scottish National Investment Bank is looking at areas where there's not yet enough investor confidence in projects seen as strategically important in the longer term. Maybe the technology isn't quite there, costs are still high, or there's not yet a proven revenue stream. One example might be wave and tidal power, due to the harsh environments for its technology to survive." The bank has already invested in tidal turbine business Nova Innovation.
Cockburn says the bank is there to "plug that uncertainty gap" before the private sector can see revenue flowing and has confidence to invest.
The bank has already invested some £133.9 million in nine projects in a range of sectors, including electric vehicle charging (Forev), affordable and energy-efficient mid-market rental homes (PfP Capital), woodland creation and management (Gresham House), natural fibre insulation (IndiNature) and thermal energy storage (Sunamp).
But during COP26, bank chairman Willie Watt warned the £2 billion of public funds allocated to the bank wasn't enough. He said: "The Scottish Government has given us a promise of £2 billion over the first ten years of the bank's life. It is insufficient to crack the missions. We need to be able to raise third-party capital and we want to earn the right to borrow on our own balance sheet."