HMS Glasgow construction paused as 'deliberate damage' investigated
Work on a Royal Navy warship has been paused while an investigation into "intentional damage" is carried out at a Scottish shipyard.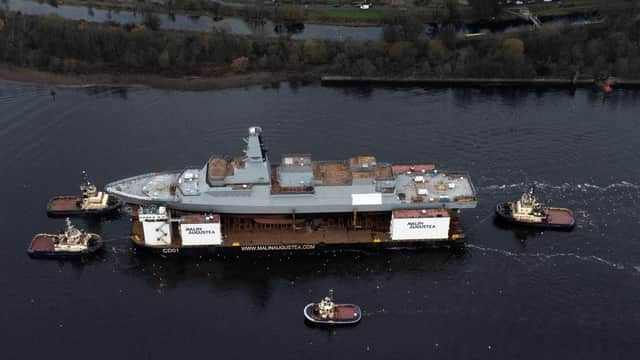 Over 60 cables have been damaged on the HMS Glasgow, currently being fitted out at Scotstoun on the River Clyde, leading defence contractor BAE Systems to halt production and launch an internal investigation.
Police Scotland has also confirmed it is investigating. A spokesperson for the police force said: "Around 4.50pm on Thursday, 11 May, 2023, we were called to a report of damage discovered on a vessel in a dry dock at South Street, Glasgow.
"As a precaution, the ship was evacuated and enquiries are ongoing."
The military news website UK Defence Journal, which first reported the incident, suggested that it may have been sabotage. However, BAE Systems has not confirmed this.
A spokesperson for BAE said: "We uncovered a limited number of cables on HMS Glasgow earlier in the week, which appear to have been damaged intentionally.
"We immediately launched an internal investigation, alongside our suppliers, and temporarily paused work on the ship to inspect every area of the vessel and ensure our high standards and quality controls are met."
The HMS Glasgow is the first of eight Type 26 vessels being built, after Prime Minister Rishi Sunak announced in November that BAE Systems has been awarded a £4.2bn contract to build five more Type 26 frigates, on top of the three already under construction.
BAE has confirmed that work has now resumed on the HMS Glasgow and an assessment is in progress "to scope the repairs needed".
Around 23,000 cables are due to be installed on the frigate, including data cables for communication and electrical cables to power the ship's systems.
The HMS Glasgow made its first trip in December, when the frigate was moved down the River Clyde on a specialist barge and lowered into Loch Long, before being towed back to the yard at Scotstoun for fitting out.
The next two Type 26 ships, HMS Cardiff and the HMS Belfast, are already under construction by BAE Systems on the Clyde.
Comments
 0 comments
Want to join the conversation? Please or to comment on this article.