Deaf musician Evelyn Glennie on finding new ways of listening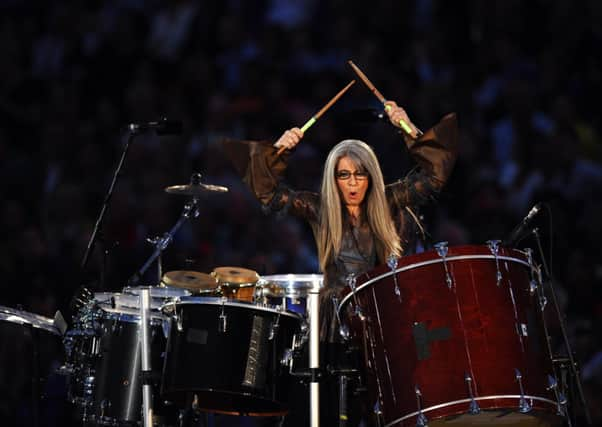 For Dame Evelyn Glennie, the world's first professional solo percussion player, her deafness is no more important than the fact that she has brown eyes.
She would like you just to enjoy the music, and forget the rest.Where others have judged, the farmer's daughter from Aberdeenshire has played on - and has since stunned audiences around the world with her talent while transcending the belief that you can only hear with your ears.With her body turned in into what she describes as a 'resonating chamber', sound vibrations are picked up through her limbs and bones, from the tiniest phalanges in her hands to those in her cheeks and her head.Usually, she will play in bare feet or socks to pick up how the sound runs across the floor, but she doesn't want you to bother much about all this.These techniques of listening were first developed with her school music teacher, Ron Forbes, at Ellon Academy.Dame Evelyn, 51, who had lost most of her hearing by the age of eight, stood with her hands against the wall as Forbes played the timpani with the young musician distinguishing where on her body she could feel the notes.To Dame Evelyn, this was truly listening,Her mission now is to teach the world to do the same."We all need to realise why listening amounts to more than hearing," said Dame Evelyn, who is now working on her legacy, the creation of an internationally renowned centre of sound and listening.She added: "I am also proud that I have discovered news ways of listening, without which I would never have been able to pursue my career."I want to encourage other people to do the same thing - to unlock their own potential."In 2015, Dame Evelyn was awarded the Polar Music Prize, the music industry equivalent of the Nobel Peace Prize which honours musical achievement and broken boundaries. Bob Dylan and Sir Elton John have been past recipients.Thirty solo albums and three GRAMMY awards tell part of Dame Evelyn's success story as do the long list of honorary doctorates and accolades that she has picked up around the world.There have, of course, been challenges. She was originally rejected from the Royal Academy of Music as it was unsure how a deaf musician would fare, Dame Evelyn recently said in a TED talk.Her refusal to accept the academy's position led to a second audition, and a change in the admissions process which has allowed musicians of all backgrounds and circumstances to learn at the institution, she said.Dame Evelyn added: "There were times when I was judged on my deafness before I even played a note, and times when I had played and still the deafness outweighed their decision to accept me as a musician."I knew I could be a professional musician and create a solo percussion career. Belief and determination were paramount, not to mention a good dose of humour."UpbringingDame Evelyn grew up weaning lambs and doing chores on the family game near Methlick, with a strong work ethic, responsibility and team work developed.While now spending large amounts of time in the United States, she now lives in Cambridgeshire with her collection of around 2,000 percussion instruments and her motorbike.Despite her global profile, her roots remain dear, she said,She said Scotland "never ceased to amaze the world with its forward vision, bold action and great educational institutions."Nothing makes me more proud than to promote this wonderful land with all its richness and diversity wherever I go."It is as important today as it has ever been to be able to feel a connection to where my roots are as I am proud of what Scotland offers and can represent in a wider sense."When not on tour or focusing on business - she also has her own jewellery range - she spends her time metal detecting or poking around antiques fairs.But when the beaters and down, the concert halls have emptied, journeys completed and the front door closes, there is another way to relax for Dame Evelyn."I simply enjoy the silence," she said.