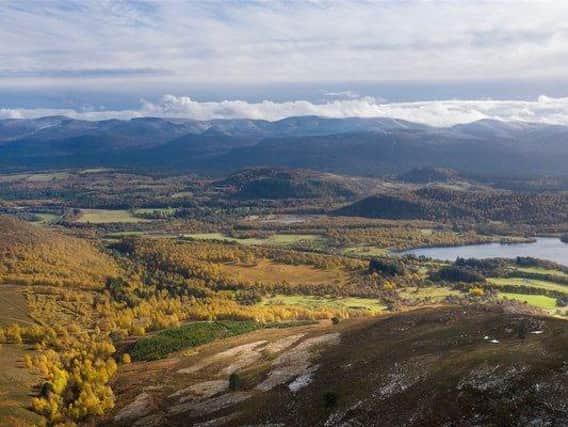 The Ellon-based brewer has purchased the Kinrara Estate and announced plans for its Lost Forest project, including an eco-hotel, distillery and outdoors centre, which it says that it will be the biggest native woodland establishment and peatland restoration project ever carried out in the UK.
The company intends to start work on the regeneration scheme this summer with reforestation led by Edinburgh-based forestry agents Scottish Woodlands.
In August of 2020 BrewDog became the world's first carbon negative beer business and has, so far, invested over £50m in reducing its environmental impact.
The Lost Forest project is part of the company's drive to reduce twice as much carbon from the earth's atmosphere than it creates.
Chief executive and co-founder James Watt announced the project on LinkedIn:
"Located just west of Aviemore, work will begin at the Lost Forest in August after we have completed our environmental surveys.
"We will be planting millions of native trees to create a bio-diverse broadleaf woodland and ecosystem. Overall, the Lost Forest is capable of pulling one million tonnes of carbon dioxide out of our atmosphere.
"The Lost Forest is also going to be home to a hotel built from sustainable cabins, a campsite, a distillery, hiking and biking trails as well as kayaking on our beautiful loch.
"We want the Lost Forest to enable people to reconnect with nature and by doing so become far more cognisant of the impact that we, as humans, are having on our planet."
A Scottish Forestry spokesman confirmed they had held initial discussions with BrewDog's forestry agents, Scottish Woodlands, over the plans for Kinrara Estate.
He said: "Their plans are at an early stage and therefore no applications for the project have been made to Scottish Forestry just now.
"As with any woodland expansion proposal of this size, the landowner will need to follow the Woodland Creation application guidance.
"Before developing detailed planting proposals, they would need to undertake extensive due diligence including discussing their outline plans with neighbours, communities and other interested stakeholders.
"They would also need to carry out surveys to inform the woodland design and carefully consider any environmental impacts.
"When an application is submitted to Scottish Forestry, we will carry out a public and stakeholder consultation as part of our wider assessment of the proposals.
"We look forward to working with BrewDog and Scottish Woodlands as their proposals develop."
The company announced in August last year that it had bought more than 2,000 acres of farmland north of Loch Lomond where it plans to plant one million trees.
BrewDog last year reported the carbon footprint of its business worldwide as 67,951 tonnes of CO2 equivalent.
It already employs measures including capturing CO2 from fermentation and using it to carbonate its beers, recycling brewing waste into dog food and powering production and pubs with wind power.
The Kinrara Estate is next to the Glenfeshie Estate which is owned by Scotland's biggest landowner Anders Holch Povlsen who own more than 200,000 acres across the Grampian Mountains and Sutherland.
The Danish billionaire has embarked on a tree planting programme at Glenfeshie, home to the remnants of the Caledonian Forest, and across his Scottish estate which is aimed at reversing years of land management practises which have proven damaging damaging to native woodlands.