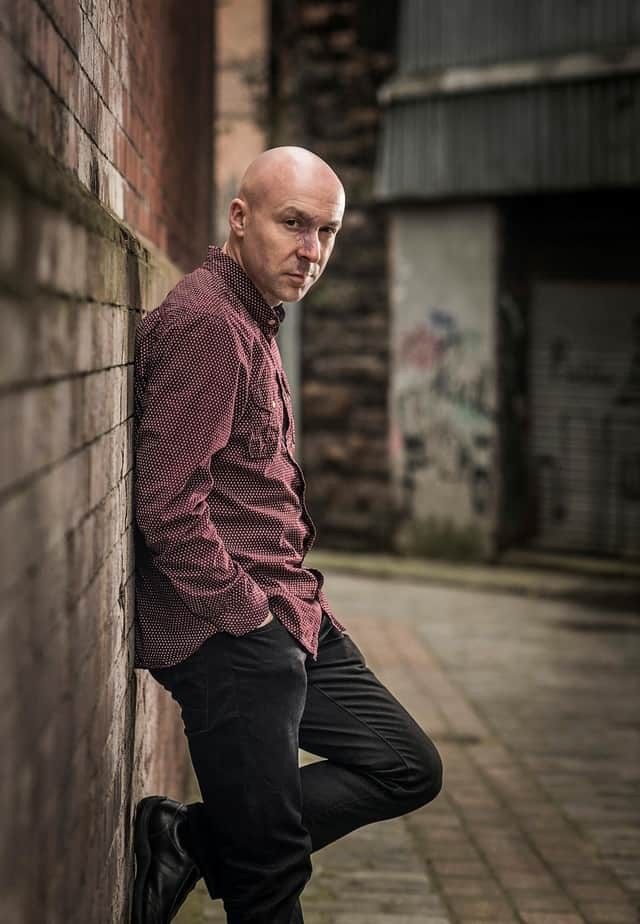 Chris Brookmyre.
One of the UK's biggest-selling crime writers, the 52-year-old has won or been nominated for 21 awards, including a CWA Dagger, Theakstons and the McIlvanney and has sold over two million novels, many of them being adapted for film and TV, including the recent Black Widow.
We're on Zoom so we chase to The Cut, his latest book which is published this week [Thursday 4 March], and is another twisting, turning, thriller that displays Brookmyre's original touch, this time with reference to an intimate knowledge of death metal T-shirts and video nasties, as ever served up with liberal helpings of gore and humour.
"I grew up on video nasties," he says, "I am part of that generation who were the first to have home videos and the first thing we all got was horror movies because these were things you couldn't see otherwise. "
Teenage favourites included Zombie Flesheaters and the Sam Raimi Evil Dead Movies.
"I watched Zombie Flesheaters again and again and again," he says. "There's a notorious scene of a splinter of wood going through an eyeball and you're supposed to be horrified but when you're younger you just rewind it to see how it's done: you're fascinated by it. And the Evil Dead Movies were favourites because there's that knowing humour. Yes they're scary and really tense, but there's something slightly ridiculous and contrived about it and Sam Raimi's movies acknowledge that. Evil Dead was banned by the DPP, and withdrawn, even though it had already won various awards. Again it was supposed to be corrupting us.
"It was exciting to me at the time. You got a real buzz out of seeing something that was kind of forbidden. I was really inspired by those. When I was a kid all my English essays were always absolutely blood spattered and hugely inspired by watching slasher movies and so the moral panic surrounding them just seemed absurd.
"When you're 14 you're finding it hilarious that the front page of The Sun is saying that a few horror movies are responsible for all that's wrong in society, especially in the 1980s when there was Thatcher's policies ripping the social fabric out of the country, but yet it's a few horror films that are causing people to riot in the street.
"Now you turn on Netflix and there's Ash Versus Evil Dead, comedy horror and it's kind of the same thing. The special effects are better and it's actually more violent and more gruesome, but it's played for laughs and nobody's thinking it's going to corrupt the youth."
For Brookmyre horror films were just one ingredient of "the big soup" of ideas that come together to form his books, "a whole load of ideas that don't entirely belong together at first, and then I'll come up with something" and The Cut was no different.
In it a special effects artist wakes up and finds her lover dead in bed beside her, serves 25 years in prison and emerges completely scunnered with life. But she meets Jerry, a film student and when they start digging into the past, discover that all was not as it seems.
What was the genesis of the book?
Fun Lovin' Crime Writers Stuart Neville, Luca Veste, Val McDermid, Mark Billingham, Doug Johnstone and Chris Brookmyre.
"Like many of the best ideas," says Brookmyre, "it started with a conversation with my wife who was saying how in Scandinavia there's a programme whereby older people offer free accommodation to students so they get good quality accommodation and make themselves available for a certain amount of the day on a social basis to interact with the residents. This means both generations get exposed to each other: the older generation think in younger terms and the younger generation don't see older people as some kind of old husks. I immediately thought what if there was something like that here? And the next thought is always how do you bring that into a crime scenario? They team up and fight crime."
So Millicent, described in the book as "a mad bitch in her seventies", teams up with Jerry, a film student and reluctant petty criminal.
"I can't remember now why I decided she'd been in prison for all that time…" he laughs, but he can remember why it was important to him to have an older woman at the heart of the book.
"There are very few protagonists over a certain age, in crime fiction especially, with the notable honourable exception of Miss Marple obviously. There's a tendency to depict old people in fairly passive roles in stories and I wanted to show that the crucial thing about a 72-year-old woman is that she doesn't think she's old. That's why at the start of the book I quote Oscar Wilde saying 'the tragedy of old age is not that we're old but that we're young'.
The Cut, by Chris Brookmyre is published 4 march, by Little, Brown, hardback, £18.99
"I wanted this to be a life-affirming story of someone who has lost so much and forgotten her joy of life, but rediscovers it, rediscovers travel, rediscovers her sense of purpose."
Having come up with the story arc for the character Brookmyre went on to create her and her foil, Jerry.
"You start thinking 'what would she be like?' She'd be bitter and she'd be difficult. One of the things she and Jerry have in common is they're both self-sabotaging: she can't really believe, because she's been so badly treated down the years by so many people, when her flatmates take her in that they would want her, so she's constantly unpleasant to them, and she's unpleasant to everybody."
"Jerry is from a fairly impoverished background, going off to university and feeling like he's about to get thrown out, is also self-sabotaging. I wanted two really unlikely people to end up having a complex relationship, two people from completely different worlds."
Video nasties, violence and crime, they could make for a grim read, and there's plenty of grit in there, but in Brookmyre's hands, there's humour too and it adds up to an uplifting read.
"I wanted it to be a life-affirming story," he says. "I was joking to my editor about the fact that it's kind of UpLit, you know that term that's used just now for this uplifting, heart-warming type of literature, and I said this is essentially a cross between crime fiction and UpLit."
Scotland vs England crime writers football Match at Bloody Scotland, Scotland's International Crime Writing Festival in Stirling in 2018. Paul Reich
"It's a book that is supposed to make you feel good by the end. It's not some grim, despairing tale trawling through the darkness, so really for that to work you have to start off in quite a dark place. You have to show that Millie has literally nothing to live for at the book's start."
Over the years Brookmyre has tried to turn his work into a vehicle for his passions, whether that was video games or the paranormal, and in this case it is horror movies. His teenage love of film was compounded by working with Screen International during the late 1980s and early 1990s, an experience he has long wanted to write about.
"People talk about Hollywood and Cannes and think of something glamorous, but the Cannes film festival is a tiny part of what goes on during that fortnight, the majority of which is the film market and most of what is traded is trash, or certainly not big prestigious projects. I wanted to write about that side of it, about Exploitation Cinema, and crucially about the video nasty and the legacy of the video nasty, the moral panic that gripped us first in the 1980s and then again in the 1990s.
"Because I'm a great believer that If you don't acknowledge that and learn from the stupidity of it, not only are you going to be vulnerable to making the same mistakes, but it means the same people get to essentially pull the same con trick again."
The moral panic headlines are something that have always stuck with Brookmyre and through The Cut he wanted to show not only how ridiculous he felt they were, but also show how dangerous.
"When you whip up that level of moral opprobrium, people are going to get hurt," he says.
In this case it's his character Millicent who gets hurt.
"One of the reasons she ends up serving so long is she becomes one of these totemic hate figures for the tabloid press."
Brookmyre says moral panic has always been with us, finding different targets in each era, from horror comics in 1950s through rock and roll in the 1950s and 1960s to heavy metal and video nasties in the 1980s, "and then we had the video nasties moral panic sequel in early 1990s after the Jamie Bulger murder," which he alludes to in The Cut.
"I looked up the judge's exact words, he had absolutely no evidential reason for mentioning this, but it started another wave of hysteria," says Brookmyre. "Fast forward a couple of years and it was video games and it's been video games for a while. Look at Columbine. Columbine is where they all come together: they blamed heavy metal, video games and horror movies. But not guns, apparently.
"To me there will always be a certain cohort that will be looking for the next moral panic to really just prosecute their own agenda. They don't care really about the movies and the effect on people, they just care about the fact that it gives them a certain degree of clout."
If the young Brookmyre hadn't been fascinated by horror and spy movies with their crime and violence, would he have grown up to become a different kind of writer?
"I think I had an instinct always to write and watching things like that just gave me ideas for what to write about. I would always imitate that which inspired or impressed me so when I was a teenager I would write short stories inspired by things like Robert Ludlum or Ian Fleming or Cold War Spy novels. I read lots of those, but what I would tend to be watching would be horror, so it would be one or the other. Anything that had a visceral impact on me I would want to imitate.
"But I never really set out to write horror until I wrote Pandemonium, which started off as a horror film script. It got so far into development then went into turnaround and I didn't want it to disappear so I turned it into a novel. That's my only real contribution to the horror genre."
Brookmyre also wanted to write something escapist, even before the confinement of Covid which just compounded Brexit for him, so half of the book sees the central characters on the run in "exotic, exciting places".
Cannes, Venice, Paris, Paisley, remember them?
"I kind of feel we were all missing travel even before pandemic and this was my way of dealing with Brexit, dealing with anger and also in a way this book was a love letter to Europe. It's about how enriching travel is especially for a young person, so when Jerry goes off to Europe he realises how small his horizons are.
"And I used Millie's story as a way of dealing with my own anger about Brexit because she's someone who's had a terrible wrong done to her. If she only dwells on her anger about what's been taken away, she will feel like she's no reason to live. So it became about how she has to embrace the future and think about what she has still got, rather than what has been lost. But at the same time blame has to be apportioned, blame has to be acknowledged."
With The Cut completed last year, two weeks into the first lockdown, Brookmyre set about co-writing with his wife Marisa Haetzman the third novel in their historical crime series under the joint pen name Ambrose Parry (after the 16th-century French surgeon Ambroise Paré).
Stacking up alongside The Way of All Flesh and The Art of Dying, A Corruption of Blood is again set in the Victorian Edinburgh world of pioneering Scottish medic James Young Simpson, and due out in August.
Brookmyre and Haetzman are the dream team, with her background of working as a doctor in anaesthetics in Edinburgh for 20 years. "She took a break and did a masters in the history of medicine and never went back," says Brookmyre. "She found out all this stuff about Simpson and I said this would make a novel so we decided to follow through on the idea. We realised actually this would make several novels because Simpson's life and achievements, there's just so much scope."
"We wanted in a way to make James Young Simpson more of a household name. There are so many people who have been born in various iterations of the Simpson maternity who don't know why it's called that or who walk past the statue in Prince Street Gardens, or along Queen Street where he lived and don't realise this is one of the colossus of world medicine and medical history.
"Also he was such a warm, humanitarian and mischievous individual we wanted to bring him into people's lives. We wanted them to realise the legacy and influence of Simpson.
And also be very, very grateful for having medicine in the 21st century."
The Ambrose Parry books are in development for TV, with Sky considering them, while Brookmyre's Jack Parlablane novels have been taken up by Glasgow-based Blazing Griffin who have combined Black Widow and The Last Day of Christmas in a script.
"Similarly Pandemonium is in an advanced state of development for a film and if it shoots at all it's going to shoot in New Zealand, so that might work in its favour," says Brookmyre.
While they wait, Brookmyre and Haetzman get on with the day job, writing and for Brookmyre walking. His process is to write while he walks, dictating into his phone then returning home to transcribe, elaborate and polish.
"I really can't write if I can't walk, and I was coming to the end of this book [The Cut] during early lockdown when we were only allowed out once a day. I went for some very, very long walks. Other physical activity has the same effect, so if I'm cleaning the bathroom it can sometimes take me a long time because an idea forms and I have to run downstairs and take note of that and then get back to cleaning. Neuroscientists have documented this and there's some reason why part of your brain is able to tick over in the background when you're sufficiently distracted by being busy and it is really useful for creativity. So if I couldn't have gone out walking then we would have had a spotless house."
"Alexei Sayle joked that The Great Wall of China was actually built by a writer who had a deadline. 'Oh just a couple more bricks and then I'll get back to what I'm supposed to be doing…'" He laughs. "You shake loose the ideas because you're not thinking about them directly."
Aside from walking and writing, and playing guitar (he's one sixth of Fun Lovin' Crime Writers with Mark Billingham, Val McDermid, Stuart Neville, Luca Veste and Doug Johnstone), what else has Brookmyre been doing in lockdown? Bingeing on slasher movies and blood-splattered box sets? Revisiting Zombie Flesheaters?
"I've been reading a lot of Marian Keyes recently, which I've found a massive source of comfort and warmth," he says. "Obviously I've read a lot of great crime fiction, but there's something about Marian Keyes, the humour, and the fact that on the surface they seem to be about small things in people's lives, but actually they mean everything. I'm just finding it like slipping into a warm bath, reading that, so I've read quite a lot of Marian.
"And listening-wise, I've been going to comfort stuff again, Jimmy Eat World, one of my favourite acts and lots Blink-182. I'm terribly limited in what I'm listening to at the moment, to be honest. Watching? I've gone blank on that one....We've just discovered Call My Agent! on Netflix and that's really enjoyable."
The Cut by Chris Brookmyre is out 4 March, Hardback, Little, Brown, £18.99.
Tickets for the online launch of The Cut on Thursday 4th March at 7pm are available from theportobellobookshop.com and include a signed (and dedicated) copy of the book.
Twitter status https://twitter.com/TheScotsman/status/1307976189248786433
A message from the Editor:
Thank you for reading this article. We're more reliant on your support than ever as the shift in consumer habits brought about by coronavirus impacts our advertisers.
If you haven't already, please consider supporting our trusted, fact-checked journalism by taking out a digital subscription.
Chris Brookmyre and Doug Johnstone performing at the Curly Coo at Bloody Scotland, Scotland's International Crime Writing Festival in Stirling, 2017.
Chris Brookmyre photographed at The Golden Lion Hotel at Bloody Scotland, Scotland's International Crime Writing Festival in Stirling in 2017.
Author Chris Brookmyre at the Bloody Scotland, Scotland's International Crime Writing Festival, Stirling Launch in 2017.