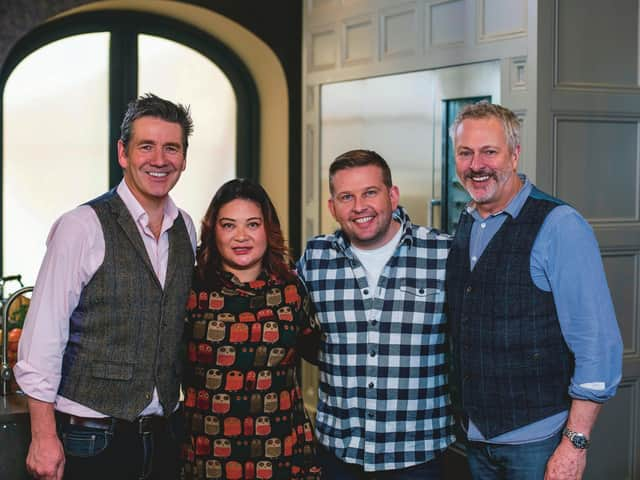 In the first episode of The Great Food Guys, filmed before lockdown, Dougie Vipond and Nick Nairn are joined in the kitchen by Edinburgh chef Kaori Simpson of Harajuku Kitchen and The A Word actor Greg McHugh. Picture: BBC Studios
Watch: Dougie Vipond and Nick Nairn talking about their BBC show, The Great Food Guys on, BBC Scotland, Thursdays 8pm, and BBC1, Saturdays 11:30am
Fantasising about eating out again? On the weekend the hospitality industry opens up over the Border in England, in Scotland we're still in lockdown which makes us even more hungry to feast our eyes on chef Nick Nairn and presenter Dougie Vipond cooking up a storm with a new series of The Great Food Guys on BBC Scotland. After the BBC Scotland and network BBC1 ratings hit pulled in a million and a half viewers, we're being treated to a new series celebrating the amazing range of food and drink Scotland has to offer. Pre-lockdown the duo are in their countryside kitchen in Fettercairn, Aberdeenshire cooking up food inspired by their road trips on the long-running BBC farming and countryside show, Landward.
Socially distant friends - Dougie Vipond and Nick Nairn are pals in and out of the kitchen and live near each other in Bridge of Allan, where Nick has a restaurant. Picture: BBC Studios
In the opening episode they'll be dipping into Asian fusion and cooking up salt chilli squid with a Vietnamese sauce with award-winning chef, Kaori Simpson of Edinburgh's Harajuku Kitchen and actor Greg McHugh of The A Word, aka Gary Tank Commander.
Producers are also celebrated on the show and in the first episode they visit a farm growing Asian veg in East Lothian and Dougie hot on the trail of chillies in Langholm, while the popular sample sessions treat lucky locals in North Berwick and Moffat.
Other guests in the Fettercairn kitchen include crime writer Val McDermid, Still Game's Jane McCarry, comedian farmer Jim Smith, TV presenter JJ Chalmers, Call the Midwife's Laura Main, weather presenter Judith Ralston and River City's Sanjeev Kohli.
Dougie Vipond and Nick Nairn, who are back with a new series of The Great Food Guys on BBC Scotland and the BBC Network. Picture: John Devlin
From lockdown, after recovering from what may have been Covid-19 – they had the symptoms but weren't tested – Dougie Vipond and Nick Nairn join me via Zoom to talk about The Great Food Guys, what lies ahead for the Scottish food and drink sector after lockdown and how they feel about each other.
DOUGIE VIPOND appears in a room in his house, patting down wayward hair he describes as "a bit mullet-y", in front of a backdrop of stars spread along a wall. "Some people go for bookcases but I'm frivolous," he says, beaming at the prospect of launching a new show.
Can you tell us about series two of The Great Food Guys on BBC Scotland?
It's a step up from series one which was on BBC Scotland Channel and also on the network on the Saturday morning slot at 11:30am and that's been going incredibly well. We managed just before lockdown to record a new series with guests and producers and using some archive from Landward where we go around the country with the food van sourcing ingredients and letting people taste what we cook. So it's another celebration of all that's great within Scottish producers and Scottish food.
Can you give us a sneaky preview of your guests?
Yeah, amazing guests. Greg McHugh reveals a wonderful thing about where the Cheesy Pasta thing came from for Gary Tank Commander, we've got Sanjeev Kohli, Val McDermid … and Jane McCarry explains about how beetroot was the inspiration for Isa. Extraordinary! But I'm not going to tell you anything else, you have to watch the series to find out.
Everyone's been making soda bread, but what is your top lockdown recipe?
I don't have the patience for soda bread. My favourite lockdown recipe 'cos it's dead easy and makes you look like you're a lot better than you actually are, is Spanish chicken and chorizo stew. I do it slightly healthily by cooking the chorizo first then taking it out of the pan, then cooking the chicken in the juices from the chorizo. Then I put the vegetables in, throw it all into a casserole, put tomatoes over the top, bang it into the oven and leave it on a low heat for a long, long time. All the tomatoes come through and the chorizo, and all the loveliness. It's sensational, easy-peasy and delicious.
As a founder member of Deacon Blue, music is important to you, so what are you listening to while you cook, and generally in lockdown?
What I love and what I listen to changes every 20 minutes, but I've been having this renaissance of David Bowie. In fact I was up till 1:30 last night listening to a fantastic live version of Moonage Daydream. There's a massive back catalogue of Bowie – we've been in lockdown for more than three months – but there are still plenty of Bowie tunes to listen to and I'm loving that.
On The Great Food Guys, Nick Nairn does the cooking and you do the tasks he gives you. How do you get on both on and off TV?
Weirdly enough... Nick is currently cutting down a tree in his garden. This is actually true.
OK, so you're saying you have a psychic bond?
No, Nick lives 70 yards away from me [in Bridge of Allan] and if I stand up and go to the left I can see his house. I can look out of the window and see parts of the tree coming down into his garden.
He's stalking me. I told him that I lived elsewhere but he came and lived here. I would say our relationship is built on mutual disrespect. We have a disdain for each other that works on screen.
In all seriousness, he's a genius. He got a Michelin star when he was very young and he has continued to be at the forefront of Scottish cooking, at the forefront of celebrating and shouting from the rooftops the quality of the producers and the things we have, taking produce and not doing too much to it, just enough to enhance it. He's been doing that and saying that for a long time and remains intensely passionate about it. And that's a great thing in a guy who's 150 years old.
Is he as good at cutting down trees as he is with knives in the kitchen?
Not particularly. Hopefully he'll have a man in doing it, socially distanced. Or maybe he is, I don't know!
NICK NAIRN joins us from his garden, having overseen the surgery to the tree, and keen to talk about the challenges facing the hospitality industry and restaurateurs. He and his wife Julia's food outlets include the Nick Nairn Cook School in Port of Menteith, Nick's restaurant in Bridge of Allan and overseeing The Kailyard by Nick Nairn at the Doubletree by Hilton Dunblane hotel. A popular TV face from numerous shows including Landward and Paul & Nick's Big Food Trip with friend Paul Rankin, he's fired up about the new season of The Great Food Guys.
How are you after possibly having had coronavirus?
Fine, thank you. I don't know if I had it 'cos I wasn't tested but I spoke to the doctor and the symptoms were there. I'm fairly certain Dougie gave it to me because he had it as well. No cough, but I lost my sense of taste and that's the tool of my trade so that was horrendous. I felt run over by a steamroller, was in bed for 10 days, then for a week after would get up then go back to bed. I was sleeping 16 hours a day, bonkers. I think had it mildly and I'm absolutely fine now. Maybe I'm immune, I don't know.
Can you tell us about the new season of The Great Food Guys?
The new show's a step up from the first. We had something to show, so we got great guests, great contributors and more cameras, which meant we were able to let it flow live, start to finish in one take, which is fantastic.
Luckily Dougie and I are good mates and know one another pretty well so the interaction is good. We have a very similar sense of humour, so it was easy to make and just flowed.
Series one had a great slot after Saturday Kitchen on BBC1 at half eleven and we built an audience of one and a half million. To get that for a regional production is fantastic. I'm cock a hoop about it and can't wait to see the public reaction to this series.
Yes. Woohoo! Grey haired, bearded. Well, you're allowed to have white hair and a beard if you're 62.
What do you see as the way out of lockdown for the Scottish food industry?
There are so many imponderables. The first set of instructions about social distancing in restaurants is unclear – is it one metre, better to be two, one and a half – that's pretty unhelpful. And the ruling that you can't have a gathering of more than 30, does that mean we can't have more than 30 in a restaurant? The legislation is not clear; it's obviously been hurried through.
So will people feel safe coming out again?
I think a lot of people will be really nervous about going indoors to eat out. Outdoors I can see being an option, but we live in Scotland and the weather is unpredictable. We might be lucky, Nick's in Bridge of Allan has two terraces, but with social distancing, we can only get about 30, in them.
Everybody's getting excited about opening up again but I don't see how restaurants can survive on half their business, still paying their staff the same and the associated costs. So until such time as the government recognise this and says we'll give you a VAT break or delays HMRC payments or some form of financial aid, we will not re-open.
When we do it's going to require staff, customers, suppliers to be flexible, use technology where possible, perhaps expect simpler food that may be more expensive. Only by doing that can we balance the books.
Until the public are confident about going out and we can control the virus, either through vaccination and contact tracing, maybe learning to live with it, we're in survival mode.
I want to keep together the DNA of our business so that come next Easter we're still here. Because next year could potentially be a good year – staycation is going to happen, people are going to be nervous about flying and there will be a pent-up demand for accommodation and restaurants. I think 2021 should be good, but we've got to survive until then.
The danger at the moment is our industry could be wiped out. The independent sector, if we're not careful, could be lost and the chains will predominate – McDonald's, KFC, Burger King – and all the individuality, the hard-bought purchasing local produce, seasonality, proliferation of highly-skilled chefs returning to work in Scotland opening their own restaurants, that could all go.
Unless somehow, the government, whoever, acknowledges this problem. We're not looking for charity, we just want to survive. There's every chance if nothing happens then a whole slice of the independent restaurant industry in Scotland could disappear.
So when will your restaurants and cook school partially re-open?
It depends. I need to see what does one metre plus, gardens of no more than 30 mean? I'm certainly not going to unfurlough guys until I have to, because the chance of a spike or an infection through staff or a customer, is significant and would be catastrophic.
Are you heartened by what's happening in England with pubs opening today, Super Saturday?
I tend to think they're rushing it down there for economic reasons... och it's incredibly hard to make a judgement. Let's see what happens after Super Saturday. It looks like the weather's going to be good and the first time Britons will be allowed to the pub, it will be carnage. Then we need to wait ten days to see what kind of spike we get. If there is no reinfection then fine, we'll think about going for it ourselves, but I want to wait and see.
It's incredibly tricky times. We traded through the banking recession of 2008-9, we traded out of the oil crash in Aberdeen in 2015 but I've not seen it like this. This is way off the scale.
On the plus side, there is a massive audience hungry to enjoy everything foodie during lockdown.
Yeah, I'll stop talking about the business side of things. Ha, ha.
I've cooked virtually every night. Every Tuesday, we do At Home With the Nairns on Facebook Live, and we get 10,000 watching, a lot online on their telly – I don't know how it works, I'll have to ask my children. It's just Julia and myself chatting away, doing some cooking. Our social media reach has gone up by about 25 per cent since the lockdown.
I made pasta and tomato sauce, but not any tomato sauce – really good olive oil, finely chopped shallots, finely chopped chillies, finely chopped garlic, lemon zest, cherry tomatoes, cooked that down, a little bit of water from my pasta, lots of basil. And in the freezer I had three stonking big scallops from Orkney that I'd got off Willie Little Fish in Crieff, when we were filming for Landward, and I had some prawns and salmon, we chucked it all in and had the home made pasta, really good olive oil – and it was one of the best things I've eaten in a long time.
And I've been cooking my way through the Dishoom cookbook – it's brilliant, a great read, it's got a passion for Bombay. I spent time there when I was younger and recognise some of the places.
Was that when you were in the merchant navy?
Yeah. First time I had a curry was in Bombay, aged about 19. My dad was a very plain eater, said garlic and onions 'gave him The Boak', so my culinary childhood was very much mince and tatties, stew and broth, good Scottish food, with no herbs and spices. My original travels in Asia were the thing that inspired me to cook, and I've always enjoyed a lot of Asian food, Vietnamese salads and satays and stuff like that, so I've been cooking lots of curries, a lot of Asian food.
What changes do you see coming out of lockdown for the way you cook?
There's been a huge interest in scratch cooking and I own a cook school … so if we can work out how we can get the number of people into it. We'd just built this big outside extension for a barbecue school and an outdoor kitchen. And we bought a restaurant in Bridge of Allan, Jules did a new interior, and reopened it as Nick's on 1 March. It was fantastic, one of the best restaurant experiences I've ever had. Broke every projection. We had that for two weeks...
So we'd spent all the money doing the restaurant and cook school and then bang, no business, so it's been pretty tough. But where there's a will there's a way, there is opportunity in adversity and we will work out how to do it. But I can't overstate how dodgy a situation it is for the Scottish and the British independent restaurant industry.
How is your relationship with Dougie in and out of the kitchen?
The great thing about Dougie is he does what you tell him. Well, mostly. And he's really keen to learn. He genuinely loves cooking. He was pretty poor when we started. He's now getting a little bit cocky sometimes, and he's started doing that chopping quickly thing which is going to end badly for him. I keep pointing out his hands are important to him because of his career – the drumming thing…
We get on, we are genuinely mates. It's not a forced relationship. I've known him for 28 years; we were introduced as new BBC talent on the same day back in 1994. Actually I knew him before then 'cos he used to go out with my sister, bizarrely – they were at the Royal Scottish Academy together, she was a cellist and he was a drummer.
And now you live very close to each other.
Yes, that's a bit bonkers. If I look over there, about 100 yards, that's Dougie's house. I can see the gable end out of our bedroom window, just over the top of the telescope. We had to cut down the tree to get a better look. Just to keep an eye on things, in case they're not social distancing properly...
And your guests this time round?
Yeah, JJ Chalmers [TV presenter and Invictus Games medallist who was injured in a bomb blast in Afghanistan in 2011, while serving as a Royal Marine] started telling us what happened to him and you could hear a pin drop. He's been through hell and back and somehow he's still got his sense of humour… who else did we have?
Yeah, She's lovely. And so not like Isa. She told this brilliant story…..
And great contributors, like Billy Boyter from The Cellar, a young Michelin star chef who did a bit of foraging for us. And we had fabulous ingredients, so the food was really good. I'm totally self-critical, so if it wasn't I would say.
I try really hard to make it good, 'cos I know Dougie will react. If I've cooked something and it really works, he'll go 'woa-ooohhh!' If he doesn't go 'woa-ooohhh!' I know it's not quite right. It's like a little incentive for me.
To get the Dougie woa-ooohhh!
Sounds like something we can all try at home. Woa-ooohhh!
The Great Food Guys begins on Thursday, BBC Scotland, 8pm, repeated on BBC1 on Saturdays from 11 July at 11:30am
xxxxxxxxxxxxxxxxxxxxxxxxxxxxxxxxxxxxxxxxxxxxxxxxxxxxxxxxxxx
A message from the Editor:
Thank you for reading this story on our website. While I have your attention, I also have an important request to make of you.
With the coronavirus lockdown having a major impact on many of our advertisers - and consequently the revenue we receive - we are more reliant than ever on you taking out a digital subscription.
Subscribe to scotsman.com and enjoy unlimited access to Scottish news and information online and on our app. With a digital subscription, you can read more than 5 articles, see fewer ads, enjoy faster load times, and get access to exclusive newsletters and content. Visit https://www.scotsman.com/subscriptions now to sign up.
Our journalism costs money and we rely on advertising, print and digital revenues to help to support them. By supporting us, we are able to support you in providing trusted, fact-checked content for this website.