The Long Read: Outlander stars Sam Heughan and Graham McTavish take us on a Highland road trip with Clanlands
Who isn't dreaming of escape right now, a dash around the Highlands whatever the weather, and who better to take you on this road trip than Outlander's Sam Heughan and Graham McTavish?
The stars of Amazon Prime Video's long-running time-travelling historical fantasy drama Outlander which began with the 1745 Jacobite rising are celebrating their passion for all things Scottish with their debut book, Clanlands: Whisky, Warfare, and a Scottish Adventure Like No Other.
A travel diary come history lesson come bromance with original maps and illustrations, it started with a plan to make a podcast then grew legs to become a book and then a forthcoming TV series, Men in Kilts: A Roadtrip With Sam and Graham.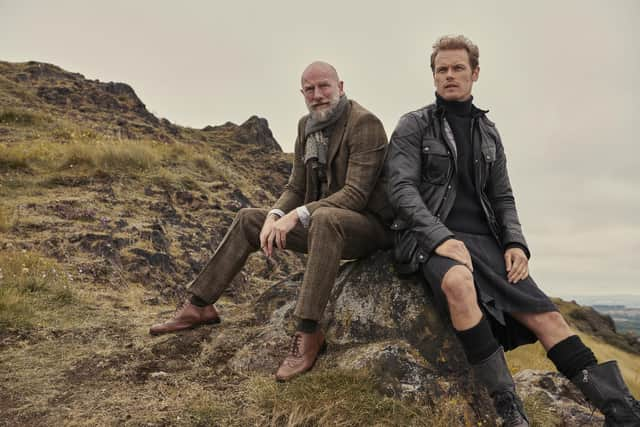 Best known for Outlander and also the The Hobbit in McTavish's case, they share a love of Scottish history.
McTavish had been thinking about a book based around the clans since the 1990s, while Heughan was thinking of making a podcast about Scotland or Highlanders and so the idea took off, that they would hit the road and take a light-hearted look at Scotland's history, culture, food and drink, traditional crafts, and people they met along the way. The podcast became a book, with photographs, original maps and illustrations, and when they retraced their steps with a film crew, sometime soon, an eight part TV show, Men in Kilts, to be transmitted next year on Starz.
A breath of fresh Scottish air in lockdown, it's one to stick in your sporran and consult when compiling your wishlist of places to escape to once restrictions are lifted. And with filming on the latest series of Outlander interrupted, it'll keep fans happy until the new 12 episode sixth series based on Diana Gabaldon's book, A Breath of Snow and Ashes, resumes production and hits the screens.
Clanlands sees the duo travel by campervan, boat, kayak, motorbike and tandem, from Glencoe to Inverness and Culloden battlefield, site of the final confrontation of the Jacobite rising of 1745. En route they visit various sights such as Loch Ness, Cawdor Castle, the prehistoric Clava Cairns burial site, play shinty, make tartan, and taste whisky and tell tales of their careers and friendship so far.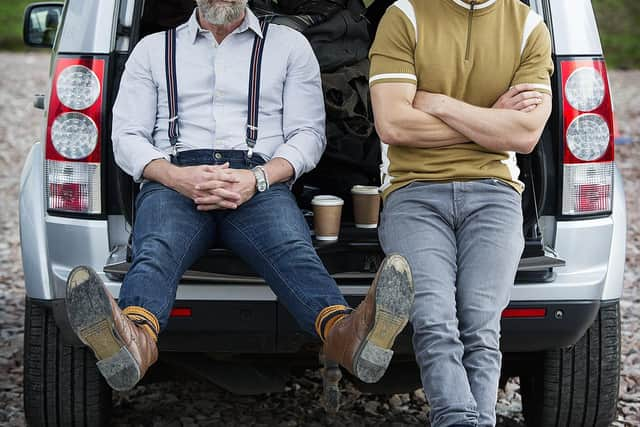 Sam Heughan (Jamie Fraser) and Graham McTavish (Dougal MacKenzie, who was killed off in the second series but has now returned as his illegitimate and incredibly hirsute son Buck MacKenzie, as you do in Outlander with its tangled bloodlines and time travel) both join me on Zoom.
Heughan is at home in Glasgow and McTavish in New Zealand, sipping on time-appropriate beverages, McTavish, night-time wine glass in hand, and Heughan on morning coffee.
Scotland and its history have always been a passion for both of you but was it being in Outlander that crystalised that and made you want to write the book?
Sam: Yes. I always felt in Outlander that a great appeal to the show was the Highlanders and the Scottish side of the story. Obviously we follow Diana Gabaldon's books and we end up in America but I always wanted to go back, and I think the fans do, to the great first season where we have all the Highlanders. I wanted to create a TV show around that and Graham was absolutely part of that main initial ensemble of actors. There was something really special about it wasn't there?
Graham: Oh yeah, very much. For me, that initial season was a sense of coming home. My acting career really began properly in Scotland and that's where I did all my theatre for many years. On Outlander I got to work with a lot of the people that I'd done Scottish theatre with again. So the book is sort of an extension of that, a love letter to that story, the story of us working together, getting to know each other and Scotland again through the trip we took.
There's a lot of talk about Sam's hair-raising driving of the campervan. Is he really that bad?
Graham: It's not that he's a bad driver, it's that he pretends he's a bad driver, which is almost more frightening. As I say in the book, for Sam consequences are just fun that hasn't happened yet. That leads a lot of his behaviour and that includes driving, and he delights in my discomfort.
Sam: I was always in control . And certainly I think I am a pretty damn good driver.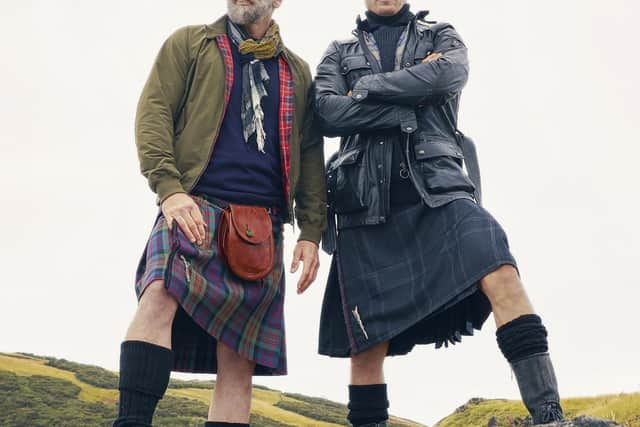 Graham: You are. You are. You are!
Sam: But one of my greatest joys is to wind Graham up. It's so fun to see him uncomfortable or angry or tired or hungry, which is generally all of those things at the same time, and I think the world needs to witness this.
What do you think is different about this tour guide of Scotland and is it Outlander fans, history buffs, or anyone with an interest in the country?
Sam: I think it's for everyone. It really is a unique book and very different to other travel guides because it's not only that, it's a personal reflection on our relationships with each other and our relationship to Scotland. There's this back and forth banter and competition and friendship. I think it has a bit of everything and is a reflection on our careers too. The original idea came out of a conversation between me and Graham, and as he says 'it's one long conversation'.
Graham: It's like a strange married couple going on holiday in a weird way. We didn't plan to write the book in this form - contrasting reflections on the same experience, but that's how it evolved because my remembrance would be different from his. We were constantly not arguing, but mildly disagreeing, on things we both had gone through. It's like 'no that's not what happened at all', from people who know each other well, so it's not forced. It's very honest.
As well as frank, the book's funny. Do you think it captures what a good time you were having on the road?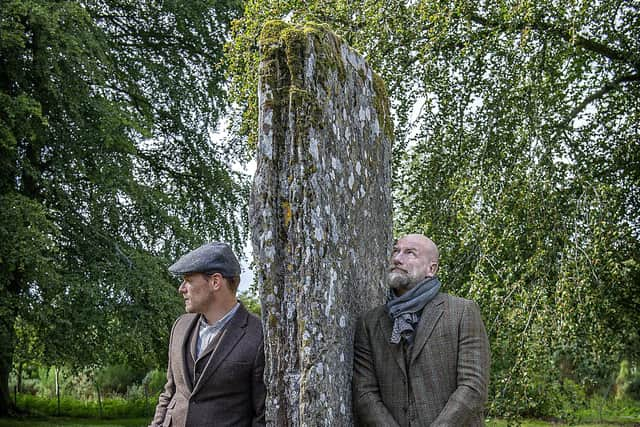 Sam: Yeah. For the TV show side of it, when we're together in the camper van just talking rubbish, that's some of the most enjoyable stuff between us. And I think you hear it in the audio version of the book - there's even more banter and off-the-cuff stuff and it's fun.
How did you approach the road trip?
Sam: Initially we wanted to concentrate on six clans and like Scottish history as a whole, it was all interwoven and a lot more complex than black and white, which we tried to show. We go to Outlander sites as well as others on the way but end up at Culloden which is the culmination of our road trip and also of the Scottish story of Outlander, so they're interconnected.
Graham: I had the idea of the clan theme back in the 1990s and thought you could talk about the Macdonalds, Campbells and Camerons as stand alone, but when you start looking into it, they're all mixed together; they intermarried, fought, allied with each other then raided each other, so it was so much more interesting than the idea that these people were living separately from each other. They were literally on each others' doorsteps and as a result were constantly feuding over hundreds of years.
Graham: Yes, for example the McGregors and the McLarens, I mean these are people who very politely, bear a huge grudge. They're not joking. And that was a surprise because you think obviously by now, they might have relaxed a bit. But they literally do talk about the 17th and 18th centuries as if it was yesterday.
How did Clanlands make the history you were driving through and its complexities come alive?
Sam: It was the very personal stories about individual people that you learn about. Like the Lochiel (chief) of the Clan Cameron, to get to see his sword or at Glencoe you hear about specific people and what happens to them and suddenly it brings it all home. OK it was 200 years ago, but actually it wasn't that long ago - there are the remains of the house or the sword that was used in the battle.
Graham: We saw Bonnie Prince Charlie's folding knife and fork, and drinking cups, that he had at the battle of Culloden. And his duelling pistols and dirk that used to be part of a Claymore.
Sam: At Glencoe Folk Museum they showed us a pistol that was found at Culloden, and just to know that somebody really used this in the battle, you REALLY feel the history.
Graham: They would have fired it then thrown it away in order to keep charging the enemy.
And the other thing I really discovered was that the perception that there is this kind of binary culture, that there's the Highlanders and the Scots and then there's the nasty Brits is wrong. Actually it was so much more complex than that and really the story of Scotland, a lot if it, is about Scots fighting against Scots, denying each other rights and land and stealing from each other, selling each other out, killing each other. It's a bloody history, but it's just so interesting.
Sam: And the landscape... you can drive through Scotland as we do and pass so many landmarks, things you wouldn't even notice, whether it's a rock in a field or a ruined castle or whatever. And then when you touch it or walk around it and learn more about it you realise just how much history there has been and what happened there. It's fascinating.
What did you learn about each other on the road?
Graham: Barely each other's names. No, to my mind Sam seems to not suffer from hangovers but apparently he does, but he shows no evidence of suffering from them, whereas I do. Also he's a great travelling companion. He's very easy going and very positive. I don't think I ever saw Sam in a bad mood the entire time we were doing it. Mainly because I was being in a bad mood for both of us.
Sam: It's so amusing when you're in a bad mood that I was always in a good mood. It brightens up my day.
Is 'old married couple' a good description of your friendship?
Graham: Yes. The best old married couples have an enormous affection for each other, despite any niggling that might go back and forward between them, it's all couched in an enormous affection and I feel that for Sam.
Sam: Absolutely. Graham's a great travel companion and it's a lot of fun. There's this banter and competition between us and I think the book's a lot of fun.
Graham: He's very competitive.
Sam: This is all reflected in the book and in the audio book and I hope people when they read it will want to be in that campervan with us.
Are you hoping people will go out and discover these places for themselves when we can?
Graham: Yes, hopefully it will be a stepping off point that inspires them to visit some of those places and beyond.
What does Diana Gabaldon, who wrote the books on which Outlander is based think of Clanlands?
Sam: She's been a great supporter of Outlander and our work so I asked her to write a foreword, and she was delighted to do it. She said she'd never read a book like it, which initially we thought, what does that mean, but we think she likes it.
Graham: She's got a great sense of humour, Diana, very dry, wicked, so hopefully some of our book will appeal to that side of her.
Food is important in any road trip and you celebrate Scotland's larder in the book. Where were your favourite pit stops?
Sam: We stopped at the Loch Leven Seafood Cafe which was a veritable feast of seafood. That was fun. Graham has to be fed every two hours or he gets angry.
Sam: We had some great meals and in the TV show too we look a lot at Scotland's food and drink.
Graham: My final meal of the trip, which sadly Sam wasn't able to join me at, was at the Monachyle Mhor Hotel which was truly wonderful. I raised a glass to you though Sam.
Speaking of raising a glass, has Sam, who is launching his own Sassenach whisky on St Andrew's day, 30th November, converted you to being a whisky lover Graham?
Graham: I do love whisky - I have a bottle on the cabinet here, an Aberlour 14-year-old which I picked up in Edinburgh - but I absolutely confess I do not have the encyclopaedic knowledge that Sam has and I drank a lot more whisky with Sam than I normally do.
Sam: The thing about travelling around Scotland and whisky… I just think it's part of the landscape and I love all the different characteristics, how they all have their own unique story and places. It somehow doesn't count as a road trip around Scotland if you're not having a wee nip of something.
Graham: There was a beautiful moment, where we were at the top of the chairlift in Glencoe and I took a flask and raised it to my late friend and we toasted him. That's something that whisky does that a glass of wine doesn't. It's a special moment.
Sam: It creates an emotional reaction and memories when you drink whisky. When I go climbing, I'll always take a hip flask and have a drink at the top of a Munro. There's just something about it. There's a reason they call it the water of life.
If Graham were a whisky which one would he be?
He would be an aged, not really old, but sort of mid aged, Highland Malt that's probably been aged in oak 'cos he loves a good glass of wine.
Graham: I'd take the oak yeah. And you're slightly less mature, an early tipple, you may be getting the five year...
Sam: Barely whisky, right?
Graham: Well, I'd push it to 10-year-old. Something strong.
Graham: Yes, cask strength.
Travelling the length and breadth of the country, what do you think of the rising poll support for Scottish independence, and do you think it's more likely as a result of Brexit and Covid?
Sam: Scotland voted to remain in Europe and has been forced to accept Brexit against its wishes. It's a time for unity, worldwide collaboration, but I do believe an independent Scotland would be an interesting and exciting prospect.
Filming of the sixth season of Outlander was interrupted by Covid, can you tell us when it's likely to resume?
Sam: We are gearing up as we speak. We will be back but it's a big show and lots of people so the logistics are being worked out. Shooting Men in Kilts we were almost guinea pigs for one of the first things to be shot in Scotland, seeing how it all worked with social guidelines. It went without a hitch. I think everyone was just so excited to be back on the road and shooting again. So we're hoping to be back really soon.
Can you tell us anything about the plot of the new season?
Sam: I could tell you but I'd have to kill you. No, we are just receiving scripts at the moment. So I think I've read the first four, and that's all I'm going to tell you.
Will the story lead back to Scotland?
Well, we're still in America, at Fraser's Ridge - but you never know…
Clanlands: Whisky, Warfare, and a Scottish Adventure Like No Other by Sam Heughan and Graham McTavish (Hodder & Stoughton, hardback £20, also in eBook and audio) is out now.
A Message from the Editor:
Thank you for reading this article. We're more reliant on your support than ever as the shift in consumer habits brought about by coronavirus impacts our advertisers.
If you haven't already, please consider supporting our trusted, fact-checked journalism by taking out a digital subscription.