Sue Black forensic anthropologist talks bones, books and the secrets they uncover
The world-renowned forensic anthropologist and anatomist makes the dead come alive in her latest book, Written in Bone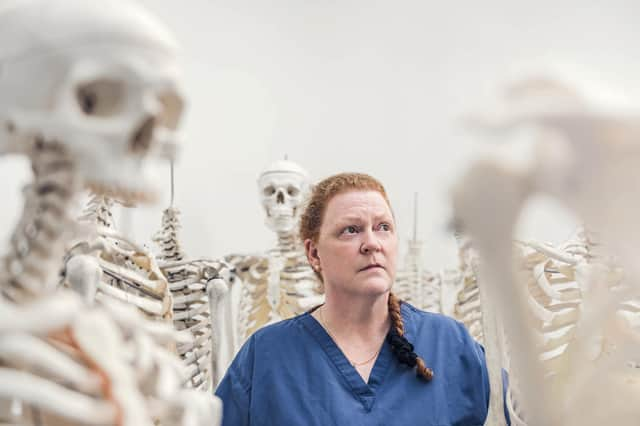 "My bones are really boring," says Forensic anthropologist, anatomist and academic Sue Black. "No real sharp force or ballistic trauma, no exotic diseases, nothing. I'm really very dull."
This is her apology to Dundee University's Centre for Anatomy and Human Identification where she wants her body to go after her death. There, in the facility she was part of creating, it will be dissected, embalmed, boiled down then hung as a skeleton in the dissecting room where she taught, so she can "continue to teach for the rest of her death."
"They will tell I'm female, my ancestral origin as a Caucasian, my height, my age when I die, they will bear evidence of bones I have broken in the past, I suspect they will show evidence of my being of a post-menopausal age - they're starting to thin with age, bit of arthritis in my toes, bit of a crick in my neck - but they're pretty boring. I apologise to the anthropologists that have to look at me."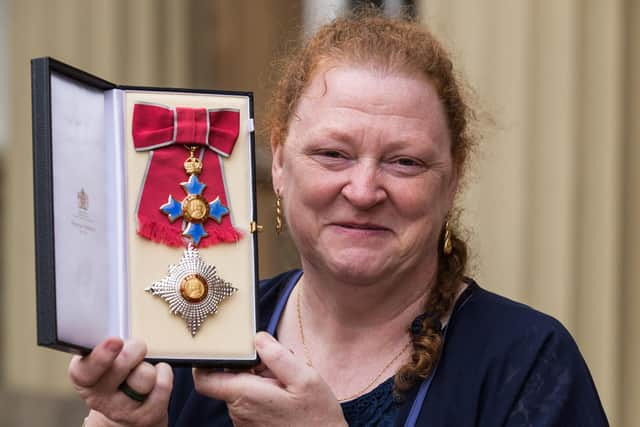 But 59-year-old Black is far from dull, especially as she sits smiling in her wood-lined attic room with the north-east daylight flooding through the Velux window behind her as we Zoom.
The multi-award winning former professor of Forensic Anthropology and Anatomy at Dundee University and now Vice-Chancellor of engagement at Lancaster University, is the international go-to if you have a body part you need to identify, dead and often alive.
She's worked in uncovering the stories behind the murdered, the missing, the abused, leading to those responsible being held to account
Her titles include OBE, dame, president, professor, chair, mum, granny, wife, daughter, not necessarily in that order. Labs and morgues, crime scenes and courtrooms, disaster zones, war torn territories are all the landscapes of her professional life, but this is Sue Black working from home.
She's a hug of a woman, a riot of red curls trying to escape from a hair claw on the back of her head and crinkles zing out from behind her specs when she smiles. A silky blue scarf drapes around her neck and there are rings on each third finger of what is a safe pair of hands - if anybody was going to deal with your body after you'd left it, you'd want it to be her.
Today she's telling me about her new book Written in Bone. It's an addictively informative read about what we're left with after death that she also manages to infuse with life. Along with the insight into those who make sense of trauma and tragedy, there are laugh out loud bits that are dead funny, such as a cracking story about a finger bone key-ring lost and found in a lover's tiff.
Inverness born, after human anatomy at Aberdeen university she went into forensic anthropology and anatomy. Increasingly her work took her into crime scenes and war zones - she was the lead anthropologist for the British Forensic Team's work in war crimes investigations in Kosovo and she travelled to Thailand to identify the 2004 Tsunami dead. Decades of police work informed her BBC 2 series, History Cold Case.
Black's book is aimed at a general audience, people who like non-fiction, partly inspired by the unlikely figure of Bruce Forsyth.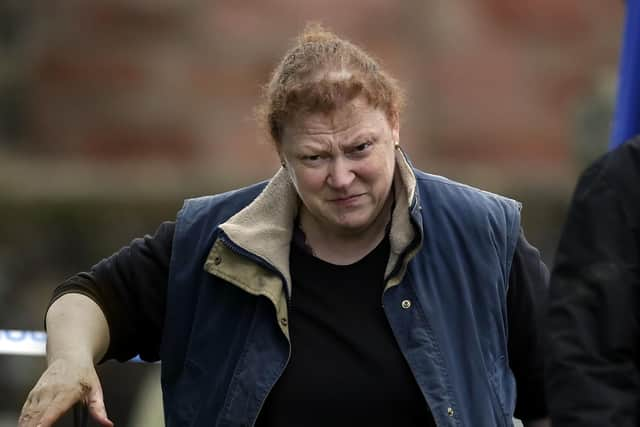 "On The Generation Game," she says, "one of the games was drawing the liver or kidneys on a figure, and they were always wrong. Our research at Lancaster [University] shows that people's understanding of their own anatomy is very poor, and there's a lack of understanding of the words used by GPs or in hospital, so I wanted to bring anatomy into the conversation as a general subject people could relate back to themselves."
It's clear Black's interest in bones is professional: "I want to uncover the stories that are in remains," But what about the rest of us? Are we just prurient and or is it natural human curiosity?
"Well, we are narcissistic. We are the species that developed the mirror so we can look at ourselves, and we like to look at other people. So the fact that stories are written in bones is intriguing.
"Recently I was speaking to somebody who had gone through trauma in their life who said they had never thought about their body recording those stories.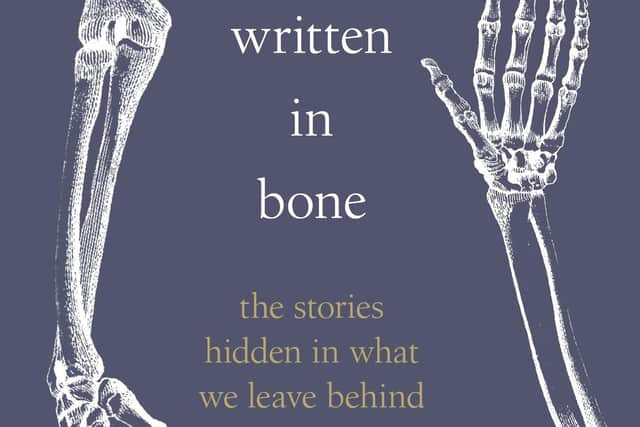 Black explains that trauma can cause Harris lines on the bones, which the body remodels over time until they disappear.
"This person got a huge sense of release knowing the body was removing these insults we go through in life. They got strength from the fact there is recovery from events that perhaps hold us back at times."
Then there's our voracious appetite for crime writing and TV. Is any of it realistic?
"Most of it is a lot less exciting. There's a lot of standing around in the cold, head scratching, very few lightbulb moments at the crime scene. Crime writers do a lot of research so I have a lot of respect for them. For television it has to be moulded into 45 minutes and the story's got to have a beginning, a middle and an end, even real crime documentaries. But often the work we do doesn't have a conclusion. Sometimes it takes years. It's a long game."
Part of the power of Black's book is her matter of fact rendition of the story her own body tells, the trauma as much as the joy of her three children. For example she talks about being raped as a nine year old by a stranger when her parents ran a hotel on Loch Carron. Why did she choose to be open about that now?
"I had no intention of writing that in the book. Often writers say when you are into a book, it starts to write itself. So when I was writing the section on the long bones, and was talking about being in the mortuary looking at the X-Ray of the child who had committed suicide, it seemed natural to talk about it."
The link was that Black had spotted Harris lines on the child's bones, markers of trauma, the regularity of which indicated an annual event, ultimately leading to the imprisonment of a relative who had looked after and abused the child when the parents were on holiday. Over time the lines disappear, but as the child had died close to the time of the abuse, they were still present.
So it was natural for me to say, "Did I have Harris lines? Yeah I probably did and they are no longer there because the bones will have remodelled themselves long ago. It wasn't that I was trying to shock, or finally reveal. It was that at the age 59, it's in the past.
"There's the most wonderful quote in The Lion King - I'm a great Disney fan, my girls were brought up on it - where Rafiki says 'Why worry? It's in the past, it can't hurt you.'
Because it's happened. It carries on with you and you behave differently, but it can't hurt you any more. So for me it's the honest truth and it was just the next part of the story."
"I've spent most of my professional life talking about professional things and as I've got older there comes a perspective which is a wonderful thing. The barriers you thought were there inside your head, of things you are willing to talk about, actually aren't there."
Professionally Black has seen forensic science develop hugely, especially in Scotland with much of that down to her Dundee University team. And despite the imbalance in the ratio of women to men in science, forensics is an exception.
"You are as likely to get to the top if you are a woman as you are as a man and the majority of senior academics in forensic anthropology are all female," she says.
What's interesting is how such an experienced anthropologist can still be squeamish.
"I hate feet," she says. "They're horrible. Feet are difficult to dissect and they're often contained inside socks and inside a shoe and by the time you have to turn a sock inside out, it is this horrible sort of gloop - there's just no other word for it - with lumps of bone and lumps of toenails in it. I just think feet are very unattractive."
"But they ARE really useful," she says, once more pragmatic. "We'd struggle without them and in terms of identification sometimes they're the only thing that's presented to us, because feet, inside their floatation devices - shoes - are washed up. So they're very, very useful. But I don't have to like them."
Feet, or a foot, are often what's left of us, particularly if we've died at sea, so we might want to give those toenails a bit of attention.
"Very thick trainers often have air spaces inside them so act as great flotation devices," says Black. "Hobnail boots are rubbish - they're just too heavy and sink. Feet can float for an incredible distance in the sea."
It seems the noir version of a message in a bottle is a foot in a trainer.
If feet are unsettling but prized, is there anything that makes the hair stand up on the back of her neck.
"The only time I have felt unquestionably threatened is in the case of the Monster of Terrazzo Gianfranco Stevanin [who was convicted of murdering six women between in Italy in the 1990s.]
"I think that's the closest I have come to witnessing somebody who was cold, evil, presumably a sociopath or a psychopath, and the stare that he gave me as he walked past me in the courtroom I won't forget.
"That's probably the closest I've come to being spooked. I'm never spooked by the dead, only by the living. The dead are incredibly well behaved, don't make a noise, move around, surprise you, but the living do. The living are the ones that we need to be afraid of."
As a scientist Black is big on professional detachment, which she attributes to upbringing and advice.
"My father was a great shot and we'd go shooting pigeons, rabbits and deer and I'd carry them home and pluck, skin and gut or gralloch them from when I was seven or eight, so I didn't have any squeamishness with dead animals. Then when I was 12 my father asked me what job I was going to get. I assumed he meant when I grew up, but he meant when I was 12." She laughs.
"Classic Scottish Presbyterianism; you need to get a work ethic and pay half your earnings to your mother for board and lodgings, so I did. It seemed very natural to have a Saturday job in a butcher's whilst all of my friends were on the makeup counter or in a fashion shop. I loved it. I was comfortable with bone, muscle, blood, guts, viscera, you name it.
At university in Aberdeen - she was the first in her family to go - she didn't connect with her studies until human dissection in third year.
"It was another way of interacting with blood, bone and muscle and it felt very comfortable. I knew I could deal with dead animals, I knew I could deal with dead humans."
The next step was going into a mortuary.
"Could I deal with a situation where a human had met a traumatic incident? I found I could. So I had this almost acclimatisation to what I do.
"Also early on in my career Charlie Hepburn, who was head of CID in Northern Constabulary, said: 'Don't own the guilt. Whatever's happening, you're not responsible for it, you didn't cause it, it's not your job to find somebody guilty of it. Your job is to go and find the evidence, recover it, analyse it and present it. That's all you have to do.'
"That was critical advice because it's not your situation, you can be slightly removed, and you need to be, if you're going to be impartial."
As a result Black counts herself lucky to have had no problems sleeping at night or having flashbacks to scenes she witnessed in Kosovo, Syria, Iraq, the 2004 Tsunami or Sierra Leone.
"I do know a lot of colleagues who have suffered from that and I'm not so naive as to think it will never happen to me.
"In my younger years I was more of an adrenaline junkie so they were all great adventures but I never lost sight of my role as an expert witness. Sometimes it's more difficult, but I'm not aware of a particular toll it's taken. Actually quite the opposite. I think it's given me a much more healthy perspective on what's important.
"I genuinely don't care if the hoover goes round the floor - my mother would turn in her grave. I don't care if there's a scratch on my car. But I did care that my children got a hug and a kiss every single night before they went to bed. These things remind you of the frailty of human life and what IS important."
Written in Bone is the second of Black's non-text books (there are 14 of them) and is dedicated to her husband Tom. Of him and their three daughters (now 23, 25 and 36) she writes simply: "Without them I have no purpose."
"From the moment that first tiny bundle went into my arms I knew my job was to stay alive long enough to allow them to become adults and make sure they had the best possible start. It was a huge but welcome weight of responsibility that landed from that moment, and my husband's always felt the same."
Right on cue Tom arrives with lunch and there are smiles and banter. Best friends at school and university, they married after Black's first marriage ended.
"He was the year above me in school and his girlfriend at the time asked me to look after him at university. And so I still am," she laughs.
"He started off as an anatomist, but decided that wouldn't give him the lifestyle he wanted so did a postgraduate in finance. He spent his life as finance director but he understands what I do.
Does she understand what he does?
"No. Haven't got a clue. He manages the money and I spend it."
Black is determined to ensure that the work she has been involved in continues, especially the research she took from Dundee to Lancaster which involves identifying paedophiles by body parts.
"The first case was in 2006, but that work is ongoing and I'm going to make sure enough people are trained by the time I retire so they can do it.
As we talk, her phone pings and it's obvious she's a busy woman. "Sorry. University's mad at the moment," she says.
She left Dundee in 2018 after 15 years to become Pro-Vice Chancellor for Engagement at Lancaster University. "I thought I've spent my life engaging with people, the public, police, courts, wouldn't it be fantastic to do it for a career.
But she didn't expect to be doing it during a pandemic.
She laughs. "Engagement involves being involved with people and it's really challenging to do that when you are sitting looking at them on a screen rather than meeting them. But we are where we are."
"Who knows what will happen? And this is a four year contract until 2022, then there's the option of another four. I might do that, or go and do something else entirely different. I don't know what. But it'll be fun."
Whatever it is, it won't be dull. Not like her bones...
CREDIT: Written in Bone, hidden stories in what we leave behind, Sue Black, hardback by Doubleday, £18.99
A message from the Editor:
Thank you for reading this article. We're more reliant on your support than ever as the shift in consumer habits brought about by coronavirus impacts our advertisers.
If you haven't already, please consider supporting our trusted, fact-checked journalism by taking out a digital subscription.